Career Spotlight: Pharmacy Technician
What Is a Pharmacy Technician?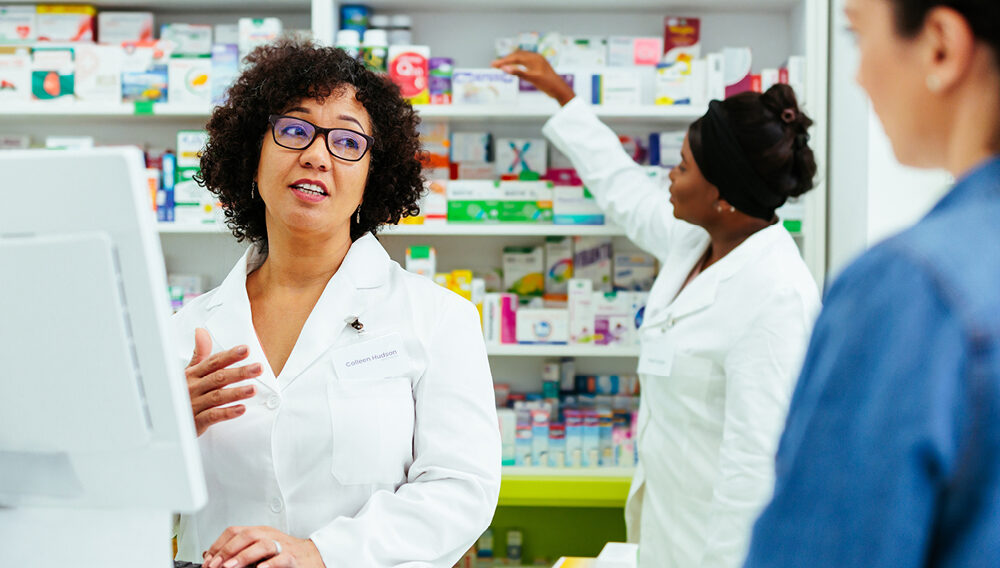 You know when you go to the pharmacy and there are staff working steadily behind the counter, stocking medications, answering telephone calls, and helping customers at the counter update their medical history in the computer? Well, those people are pharmacy technicians, and they are an integral part of the pharmacy team. Pharmacy technicians work directly with pharmacists to help serve customers.
Where Do Pharmacy Technicians Work?
Pharmacy technicians work in a variety of places, including:
Retail pharmacies–In retail pharmacies, pharmacy technicians fill prescriptions, provide vaccinations, and educate customers on basic health matters.
Compounding pharmacies–Pharmacy technicians in compounding pharmacies work in laboratory settings, in highly sterile, controlled environments where they can create alternatives to various forms of medications. This includes custom dosages, adding flavors, deleting an ingredient someone may be allergic to, and combining medications or supplements.
Hospitals–In hospital settings, pharmacy technicians help fill orders for patients and ensure they are delivered to the right places.
Nursing homes and extended care–In nursing homes and extended-care facilities, pharmacy technicians ensure patients get the medication they need.
Military–Pharmacy technicians serving in the U.S. Army help mix and fill prescriptions, maintain records, and carry out administrative duties.
Mail-order pharmacies–Pharmacy technicians working for mail-order pharmacies focus on the medical and administrative side of their roles because interaction largely takes place over the phone and online.
Pharmacy Technician Duties
Pharmacy technicians are often the friendly faces at the pharmacy counter that locate our prescriptions and help us check out. But they do many other things too; they fill and label prescriptions, help answer customer's questions, and maintain records. Let's take a look at some of their other daily duties:
Assemble, stock, and distribute medications
Sort and label medications
Process prescriptions electronically
Refer various inquiries to the pharmacist
Comply with rules, regulations, and procedures to maintain a clean and safe pharmacy
Prepare and distribute patient medications
Perform calculations
Collect accurate patient information
Process third-party billing claims
Maintain patient records, medication inventory, and orders
It's important to note that state laws specifically outline the duties that pharmacy technicians can perform.
Pharmacy Technician Requirements
Good pharmacy technicians are, above all, personable and helpful in nature. They are responsible for interacting with customers and making sure those customers have a good experience. Let's take a look at some other requirements of a pharmacy technician:
Problem-solving skills
Supply management skills
Good team player
Excellent customer service skills
Great organizational skills
Advanced written and verbal communication skills
Attention to detail
Mathematical skills
Computer skills
Pharmacy Technician Educational Requirements
In addition to the skills listed above, there are educational requirements you need to become a pharmacy technician. Many employers require candidates to have at least an associate degree in pharmacy technology or a related field, but many others still prefer candidates hold a bachelor's degree.
Excelsior University's bachelor's in health sciences program covers the scope of responsibilities related to a spectrum of health care careers, and teaches students how to succeed in roles at treatment centers, public health agencies, hospitals, long-term care facilities, and other medical service or nonclinical health organizations.
With Excelsior's generous transfer policy, you can also transfer up to 24 credits when you complete the pharmacy technician certification.
Pharmacy Technician Certification
Depending on the state or employer, you may need to obtain the Pharmacy Technician Certification Board (PTCB) National Certification. Excelsior's online Pharmacy Technician Training prepares you for this exam and helps you complete an externship.
According to the U.S. Bureau of Labor Statistics, pharmacy technicians earn an annual salary of $32,700 and demand for these professionals will grow 12 percent through 2028—that equates to over 30,000 new jobs! If you'd like to enter this growing career field, check out Excelsior's health sciences program to get started.