Career Spotlight: State Trooper
The Ins and Outs of Being a State Trooper: Is This the Right Career for You?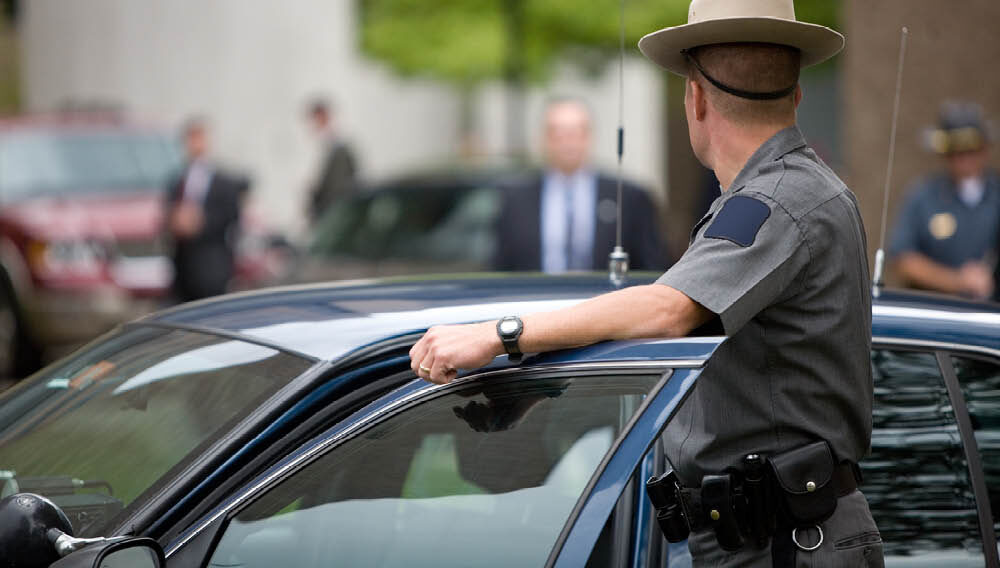 You have probably been in a situation where you are driving down a highway and suddenly a car rushes by you. A few seconds later flashing lights appear in your rearview mirror, and a state trooper passes you on their way to pull over the speeding car. It's a familiar scene, but what you might not be aware of is that state troopers actually do a lot more than just pull over motorists who break the speed limit. Let's take a look at this unique career in law enforcement.
What Is a State Trooper?
A state trooper is a law enforcement officer who works to enforce the laws of state and federal roadways, highways, and freeways to ensure public safety. You most often find them patrolling freeways and highways to impose motor vehicle laws, but they also have other duties, including responding to accidents, issuing traffic citations, pursuing offenders fleeing from other officers, assisting stranded motorists, and investigating car crashes. They can also make arrests and sometimes they are called in to provide assistance to local police officers in a given area.
What Is It Like Being a State Trooper?
You might already be able to tell that being a state trooper is unlike other police officer careers. Many troopers claim that it is a fulfilling and high-paying career. Many troopers feel they are making a difference in their communities, helping to prevent dangerous and reckless driving, and protecting citizens.
Being a state trooper can lead to many career advancements, too. Some become lieutenants or captains, and others move to other units like canine, bomb, or work in the training academy. Still more, the health benefits for a state trooper are comprehensive and competitive.
On the other hand, being a state trooper means working long hours, in a variety of extreme weather conditions, even on holidays. Dealing with tense situations can be stressful and cause emotional anxiety, particularly when arresting or interviewing difficult motorists or suspects. State troopers must also maintain emotional and mental control when responding to horrific accident scenes.
State Trooper Job Duties and Responsibilities
The most important thing to remember about a state trooper's job is that their jurisdiction is limited to the road, but just like other police officers, they have the important job of maintaining public safety and enforcing laws. Some of their day-to-day duties include:
Patrolling roads, highways, and interstates
Enforcing speed limits and other laws
Compiling accident and crime reports
Making arrests and detaining arrested individuals
Investigating vehicle accidents
Responding to emergency calls
Giving first aid to accident victims
Providing support to local law enforcement
Managing road closures in evacuations, severe weather, and crashes
Testifying in court
State Trooper Salary
According to the Bureau of Labor Statistics (BLS), state troopers are categorized under the broad group of "Police and Sheriff's Patrol Officers." The site shows the average salary for this group as $70,750 as of 2021. The BLS estimates jobs in this category will grow by 8 percent between 2020 and 2030, which is about average for all other occupations.
How to Become a State Trooper
If becoming a state trooper sounds like it might be the career for you, you should be aware of the steps you must take to become one. Each state's requirements can vary and can be quite lengthy; for example, some states may require written examinations, certain physical requirements, certain levels of education and experience, etc. Let's explore some of requirements that are similar in most states.
While some states only require you to have a high school diploma or GED, many others require you to have a degree in criminal justice, forensics, criminology, corrections, law enforcement, or similar. If you are a veteran or have experience as a police officer, you may be able to use this experience in lieu of the educational requirements.
As mentioned, many states may require you to pass a physical abilities test. This exam tests your basic endurance and strength as well as other physical abilities that would be required on the job. You many also be required to pass a written exam that tests your basic grammar, spelling, math, and related skills.
Additionally, you may have to pass a polygraph test that questions your past criminal activity, drug use, inappropriate behavior, questionable decisions, etc. That's not all. You will also have to pass a background investigation to check your education, criminal history, employment, and other factors. Friends and family might be interviewed.
Finally, to become a state trooper, the last step you must complete is successfully completing and passing the state's trooper training academy. Read more about that in the section below.
Important Skills and Competencies to Be a State Trooper
In addition to the above, there are some other things you should be aware of to become a state trooper. Just as important as completing a background check and trooper training academy is possessing certain skills and competencies. They are:
Being team-oriented
Good problem-solving skills
Good conflict resolution skills
Good oral and written communication skills
Ability to multitask
Being mentally and emotionally stable
Good physical health
Compassion
Courage and bravery
State Trooper Education Requirements
Educational requirements to become a state trooper vary from state to state. As previously stated, some states only require a high school diploma or GED while others require an associate or bachelor's degree. It's important you check where you are applying to make sure you have the appropriate amount of education.
Excelsior University's Associate in Science in Criminal Justice, Bachelor of Science in Criminal Justice, and Master of Science in Criminal Justice are beneficial programs if you are just beginning a law enforcement career, like becoming a state trooper, or if you are moving up in your career and wish to boost your experience and elevate your passion in criminal justice.
State Trooper Training Requirements
If you want to be a state trooper, it is important that you complete and pass your state's state trooper training academy.
The trooper training academy is a 24–28-week program (depending on your state) that tests knowledge, strength, and skills in preparation for life on the job as a state trooper. Many training academies emphasize themes like teamwork and ethical decision making and provide opportunities to demonstrate skills through real-world scenarios. Recruits often participate in physical training like cardiovascular exercises and weight training. Additionally, they build relevant knowledge as they learn about various laws, firearms, emergency response situations, and other important concepts.
If becoming a state trooper sounds like the direction you're headed on your career path, consider speaking with an Excelsior admissions counselor to get started on your criminal justice degree.