SALUTE Veterans National Honor Society
Mission and History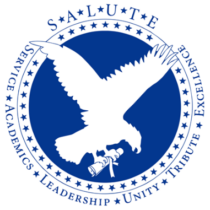 The SALUTE Veterans National Honor Society is the first national academic honor society to recognize and honor the service and academic success of student active military and veterans. SALUTE was established in 2009 by the Colorado State University Veterans Office through a grant offered by the American Council of Education and Wal-Mart Foundation. Each of the more than 230 national chapters symbolize not only the achievement of veterans bettering themselves through the pursuit of knowledge, but also a commitment to honor those who serve.
The core values that represent the foundation of SALUTE's success are found within its name:
Service
Academics
Leadership
Unity
Tribute
Excellence
Benefits
A certificate and military-style challenge coin commemorating your membership in SALUTE and level of academic achievement
Scholarship opportunities
Enhance your resume and engage in local leadership positions
Opportunities to network, as well as to receive and give mentoring to fellow student members
Wear SALUTE Honor's regalia* to demonstrate your achievements and status at graduation

*For undergraduate degrees, please purchase the blue and white stole. For graduate degrees, please purchase the gold and blue stole.
Stoles can be purchased at the following link: https://salute-colostate.nbsstore.net/graduation-regalia.

Participate in local, and national, SALUTE programs
Join
SALUTE Oath
"I promise to uphold the ideals and further the aims of SALUTE. By doing so, I'm showing my continued achievements and success–as well as– increasing my value to my college, my community, and promoting the same for future student veterans"

Current students are invited to apply to the SALUTE Veterans National Honor Society.
Learn more below about SALUTE's membership requirements.


SALUTE includes a 4-tier system, which is designed to encourage undergraduate student veterans to strive to improve their GPAs and advance to higher tier levels (and scholarship brackets) during their academic careers.

The undergraduate GPA tiers re broken down as follows:

Alpha Tier GPA: 3.75 – 4.0
Bravo Tier GPA: 3.5 – 3.74
Charlie Tier GPA: 3.25 – 3.49
Delta Tier GPA: 3.0 – 3.24
Requirements for membership:
Military active duty, National Guard reservists, or honorably discharged veterans
3.0 minimum grade point average (GPA) – calculated by current GPA standards
Be currently enrolled as a student
Successfully completed a minimum of 12 credits at Excelsior
Maintain the highest ethical standards
Be in good financial standing with Excelsior

Graduate students will be classified as SALUTE Gold members. There are no GPA tiers for graduate students.

Military active duty, National Guard reservists, or honorably discharged veterans
3.5 minimum grade point average (GPA) – calculated by current GPA standards
Be currently enrolled as a student
Successfully completed a minimum of 9 credits at Excelsior
Maintain the highest ethical standards
Be in good financial standing with Excelsior
Learn More
Contact Chris Johnson
Director, Military and Veteran Academic Advising, SALUTE Chapter Advisor
Phone: 518-464-8583 or email salute@excelsior.edu