Sigma Beta Delta Honor Society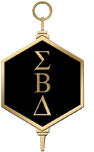 Membership in Sigma Beta Delta is the highest international recognition a student in business can receive. To be eligible for membership in this Honor Society, a business student must rank in the upper 20 percent of the junior, senior, or master's class and be invited to become a member by the faculty officers.
Sigma Beta Delta was established to honor students who have attained superior records in business programs in schools and colleges with regional accreditation. The concept behind Sigma Beta Delta is not new. Among the variety of ways available to faculty and institutions for recognizing and encouraging scholastic excellence, the most prominent and the one which is most appropriate for conveying lifelong and international recognition is the honor society. It has been a part of the American collegiate scene for over 200 years since the founding of Phi Beta Kappa in 1776.
Sigma Beta Delta, International Honor Society in Business, Management, and Administration, installed its first chapter in March 1994 at Belmont University.
PRINCIPLES OF THE SOCIETY
The principles of Sigma Beta Delta are represented by three Greek words, the initials of which form the name of our society: SIGMA BETA DELTA.
Sigma is the initial letter of the Greek word ΣΟΦΙΑ, which means wisdom. Wisdom is knowledge gained over time, analyzed and used with discernment. Wisdom is not merely information, but allows one to acknowledge information, consider its validity and relevance, and then incorporate into one's own life what is appropriate.
Beta is the initial letter of the Greek word ΒΕΒΑIΟΣ, which signifies honor. Honor is a personal quality of the highest value. Honorable persons are held in esteem, considered to be trustworthy, and admired by others because they live a life that is worthy of such recognition. Honorable persons have chosen to live a life that is bounded by integrity and ethical decision-making. They respect others and are willing to provide leadership to the benefit of humankind.
Delta is the initial letter of the Greek word ΔΙΩΚΩ, which signifies the pursuit of meaningful aspirations. Persons of wisdom and honor must aspire to a course to achieve their objectives, for goals without action are no more fulfilling than action without goals. To aspire toward the fulfillment of one's goals to serve humankind and develop personally and professionally will lead to a life of meaning and satisfaction.