Dean, School of Graduate Studies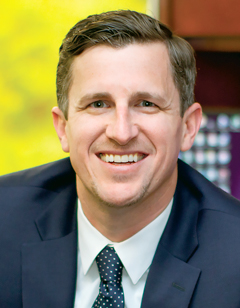 Scott Dolan
Meet the Dean, School of Graduate Studies at Excelsior University.
Education
PhD, Sociology, University at Albany – State University of New York, 2011
BA, English Literature and Sociology, Loyola University of Maryland, 2000
About Scott Dolan
Scott Dolan was named dean of the School of Graduate Studies in May 2019. As dean, he provides academic and administrative leadership and leads the development and pursuit of the vision and goals of the School of Graduate Studies in alignment with Excelsior's mission. As a member of Excelsior's leadership team, Dolan is responsible for all academic matters relating to graduate education, including curriculum planning, delivery, and assessment. Previously, he was associate dean of graduate studies. In that role, he provided academic leadership for all graduate programs in cooperation with the faculty, staff, and dean of the School of Graduate Studies.
Dolan joined Excelsior University in 2014 as director of assessment and program evaluation for all the degree programs in the former School of Business & Technology. He was promoted in 2015 to executive director of accreditation, assessment, and strategy, and become associate dean of business in 2016. His experience also includes teaching at Saint Rose, Siena College, Schenectady County Community College, University at Albany, and Excelsior University.
His areas of interest include outcomes assessment, accreditation, and program evaluation, with research interests in complex organizations and political and economic sociology. In April 2019, he presented on "Determining Your Faculty IQ: An Approach to Evaluating and Developing Online Instructional Faculty," at the IACBE Annual Conference.