Graduate Success Story: Angeline Bernard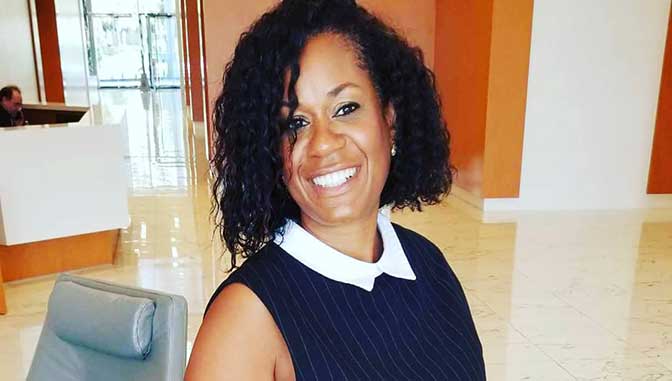 Angeline Bernard has never stopped learning, working, or growing in the health care field. She is dedicated to her craft, and her passion and determination to succeed is evident each day she goes to work or begins a new project.
Bernard, of Margate, Florida, received an associate degree in business from Rockland Community College in 1992 and then pursued a technical career in nursing after receiving her nursing diploma from Bergen Pines Hospital School of Nursing in 1998. She wasn't completely satisfied with this career path, however, and decided to shift gears toward health care administration. "I found out you needed a master's degree to really get anywhere in health care administration but in order to get a master's degree, you must get a bachelor's degree first," she says.
That's when she discovered she could pursue an education by combining online and in-person learning. Bernard attended in-classroom courses at Florida Atlantic University while taking online courses at Excelsior College to complete her degree. "Excelsior was my avenue because they allowed me to work and attend school," she recalls, noting Excelsior made it seamless to earn her bachelor's degree in liberal arts in 2009. She was determined to finish her degree quickly, too, even taking 18 credits in one semester!
Bernard considers herself a creative thinker, which is why she wanted to branch out into the administrative side of nursing. So, she went on to pursue her master's in health care administration with Florida Atlantic University and earned that degree in 2016.
Now Bernard is a senior consultant for Focus Management Group, a professional services team that offers financial advisory services focusing on crisis management. "That's what my master's degree has introduced me to," she says. Prior to that, she spent seven years in managed care (the health insurance world), which afforded her much experience working as an auditor for Healthcare Effectiveness Data and Information Set (HEDIS) measures. HEDIS measures are established by the National Committee for Quality Assurance and are designed to provide purchasers and consumers with the information they need for reliable comparison of health plan performance. Bernard notes that HEDIS hires contract nurses to do chart reviews for them. She says, "This is where my nursing background comes into play."
From that exposure, Bernard began her own online HEDIS training course. She hired people to design a user-friendly website but developed the material herself. She notes that she found some of the HEDIS material she was taught insufficient to what she felt was necessary to properly do the work. "I created a clear, concise layout for nurses," Bernard says. The site launched in November 2018 after about seven months of preparation, organization, and design. She also recently met with the medical vendor VITAS Medical Systems to design a home health aid assistant in nursing program for them.
In addition to her work in health care administration, Bernard is the treasurer of the Palm Beach chapter of Black Nurses Rock. The chapter's health initiatives are HIV- and cardiac-focused, and members want to ensure that the disparities in the community are addressed. "We want to target vulnerable communities because the rates of the diseases are more prevalent in those areas," Bernard explains. Being a part of Black Nurses Rock has allowed her to give back to her community and also has given her educational exposure, introduced her to health care leaders, and offered training.
Although Bernard takes advantage of the educational and training opportunities, she's thinking about but not ready to pursue a PhD; she's happy being on the entrepreneurial track. She's busy working with Black Nurses Rock and the National Association of Health Services Executives and devotes time to providing health care programs for the community. She works at various children's centers and extracurricular programs to clean up shelters and assist with projects, and encourages women to get mammograms as part of a local women's breast and heart initiative. She has also been offered a position with Florida Atlantic University to teach an undergraduate managed care course, which she plans to pursue.
She has some advice for students going back to school: make sure you look into the program best suited to your needs and look at the cost of the program and the funding you may be able to get; and most importantly, make sure your program is the right fit for you: "It's just making sure your program is going to give you all that you're looking for," Bernard says. Based on how busy she is, it looks like Bernard pursued exactly the right program for her.