Moving Ahead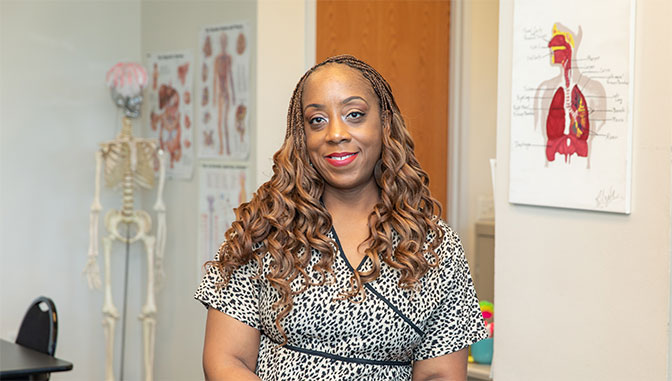 Muslimah Houston Plans to Advance in Her Career with an AS from Excelsior
Muslimah "Limah" Houston of Las Vegas, Nevada, has been a phlebotomy and medical assistant instructor for the past 15 years, but that's not what she originally wanted to do. Her goal has always been to pursue nursing and so she is currently enrolled with Excelsior College to earn a health sciences degree. She then plans to switch to a nursing program at a local college to move up in her career and become a registered nurse.
Born and raised on the south side of Chicago, Houston followed in her parents' footsteps, who were both teachers. She has been teaching in the health care field for almost two decades and is a certified medical assistant through the American Association of Medical Assistants (AAMA). Now Houston works at the Milan Institute Career Training School in Las Vegas Monday-Thursday, teaching a medical assisting and phlebotomy course from 8 a.m. to 1 p.m. and again from 5:30 to 10:30 p.m. She also holds a review class and extra lab sessions for medical assistant students from 1:30 to 4:30 p.m. It is a tough schedule, but Houston enjoys teaching and sharing her experiences with the students. "I like that I get to help my students realize their dreams." she says. The only challenging part, she says, is teaching all the different learning styles.
Now, Houston says, she is ready to change careers, not only because she is in a place where she can pursue the career she really wants, but also because she wants to help people in a different way. "I want to be able to reach people on another level and I know the only way I will achieve this is to return to school," she says.
Houston discovered Excelsior College and its online programs when she was studying at AAMA. "After conversing with representatives at Excelsior in April of 2019, I was enrolled in no time!" she recalls. Houston's goal is to become a RN and earn a bachelor's in nursing, but when she found out that with AAMA's partnership with Excelsior she only needed 13 credits to earn a health sciences degree, she jumped at the chance to complete a degree. She will earn an Associates in Health Sciences in December 2019. Once she earns that degree, she will then begin pursuing a bachelor's in nursing with Chamberlain College of Nursing in Las Vegas.
So far, Houston is enjoying Excelsior's online format. She had taken online courses in the past that didn't seem to work for her but Excelsior's seem to fit right in with her schedule and lifestyle. To accommodate coursework while teaching, she must manage her time wisely. "The challenges are working split shift because I have two classes I'm teaching and I have a lot of work for those students," adding that she has Friday through Sunday to catch up on her coursework so it's manageable. It helps that she is enjoying her courses; Professionalism in Health Care is her favorite so far.
Houston credits her family with helping her get this far. Her older sister in Chicago and her daughter, in Las Vegas, are her biggest cheerleaders. She also adds that her instructors have been supportive as well, making for a beneficial learning environment. "The instructors I've had, thus far, have been very communicative via email and that was one of the biggest [concerns] for me with online classes. They respond to your questions in a timely manner!"
Houston expects her associate in health sciences degree will open many doors for her in the future. She plans to jump right into Chamberlain's nursing program in January 2020. She encourages others to take the plunge, too, and not put pursuing their higher education on hold. "Go for it! It was the best decision I could have made for myself at the time I decided to go back," she says.