Smooth Transition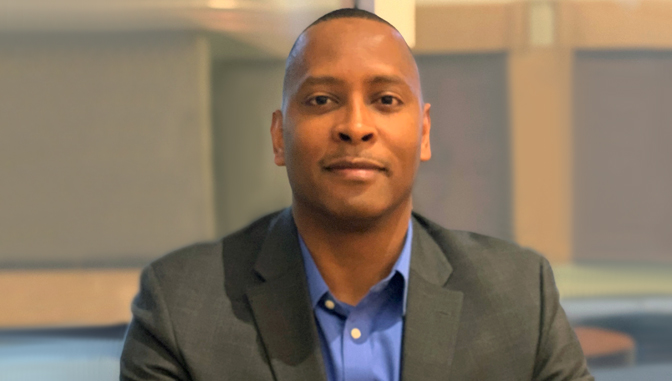 Robert Trawick's Excelsior degrees prepare him for life after the military
Robert Trawick, of Fayetteville, NC, retired from the U.S. Army in 2018 after 30 years and began the process of transitioning to civilian life. Transitioning from the military to civilian life can be different for everyone and fortunately for Trawick, he started pursuing his higher education while still in the Army so his shift to civilian work would be more comfortable. He earned an Associate in Applied Science in Business from Excelsior College in 2006 and then returned to earn a Bachelor of Science in Liberal Arts in 2019.
Trawick joined the Army in 1988 and became a gunner and assistant gunner for the 7th Battalion, 8th Field Artillery in Schofield Barracks in Hawaii. During his time with the Army, he also served as a computer programmer, information technology specialist, program manager where he planned, developed, and implemented security programs, special operations project management, security policies, and advanced telecommunications and network security solutions. By the time he retired, Trawick was a sergeant major and the senior signal operations manager for the U.S. Army Forces Command and the principal senior enlisted advisor to the Army's general officer-level commanders.
In 2005, Trawick decided to go back to school to improve himself, earn credits to become promoted to the next grade, prepare for life after the Army, and to take on the challenge of attending college. Even though Trawick had a difficult time in high school when it came to studying and homework, he was still an honor student, president of the National Honor Society, president of the Math Club, voted most likely to succeed, and voted most versatile. In fact, he earned two basketball scholarships to attend college but decided to join the Army instead. "I chose the Army because I felt like it was time for me to become my own man and start living my life as an adult taking care of myself," he says, adding that he felt he would not be successful in college due to his study habits.
Trawick had heard about Excelsior's good reputation with military servicemembers and their families and liked the College's generous credit transfer policy. "Excelsior College has always been military friendly. Serving in the military requires lots of travel and moving every two to three years. Most colleges and universities didn't transfer credits from other institutions at the time. Excelsior College accepted credits from other sources," he says. Trawick transferred in credits from his Army education and experience as well as from previous institutions like Park University in Missouri; Miami-Dade Community College in Florida; University of North Carolina—Fayetteville State University; Fayetteville Tech Community College in North Carolina; and Georgia Military College in Georgia.
Trawick also had a good experience with Excelsior's Center for Military and Veteran Education, saying, "The military service department [CMVE] was always helpful, knowledgeable, understanding, and available." With a helpful online experience from Excelsior, Trawick's transition to civilian life after the Army was made that much smoother and easier. He says it was helpful to have his family and friends supporting him and says taking care of his family throughout his military career was the most important part of transitioning because they were there for him. "I also built meaningful and trusting relationships throughout my military career. These relationships paid off during my transition because these same individuals offered me opportunities for employment after retirement," he says, and encourages other servicemembers to make connections and form relationships.
Now Trawick is a business developer at eTranservices Corporation, which provides business and technology solutions to federal, state, and local agencies. He moved into this position in 2018 after retiring from the Army. Trawick works from home, planning and overseeing new marketing initiatives, and helping his team develop business opportunities with and bid on Department of Defense and federal, state, and local government contracts. He says discipline is required in his position, which is a trait that transferred over from his time in the military. He also says, "I served as a senior information technology chief in the military and now as a civilian, I find myself doing some of the same things but on the business development side."
Going back to school allowed Trawick to pursue a new chapter in his life after the Army. Now he encourages others to take the leap and follow their own goals. He says, "Make up your mind for whatever goal you are trying to achieve. Stop making excuses, make solid plans, and stick to it."