How Can I Become a Registered Nurse Online at Excelsior University?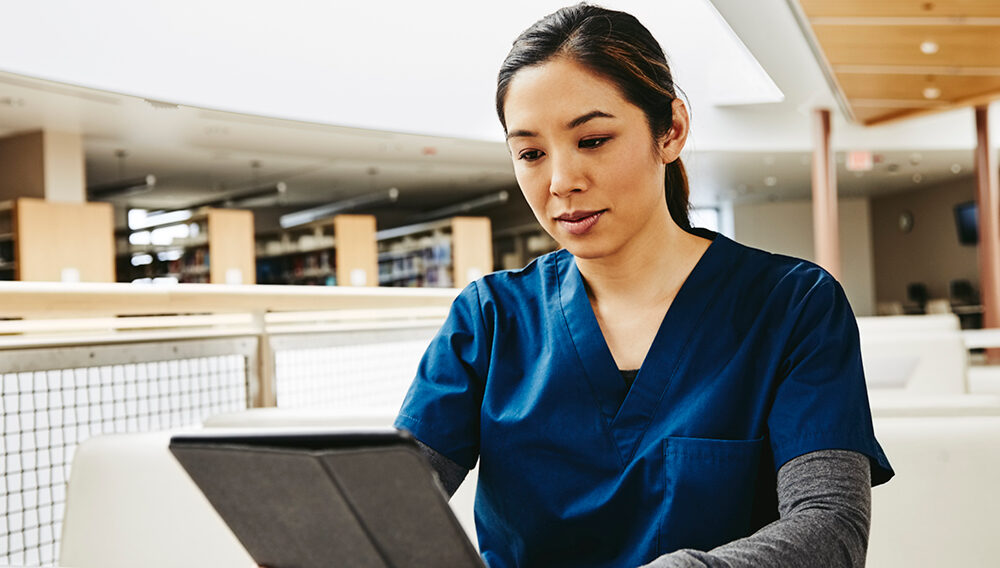 With two separate degree programs offered primarily online, Excelsior University provides nursing students the best pathways toward earning an associate degree and starting their career as a registered nurse. Adult learners already in the workforce will find online nursing programs designed with flexibility in mind so that students can continue working while pursuing their associate degree in nursing.
There's never been a better time to enter this in-demand profession. Federal government projections call for almost 222,000 new nurses to join the workforce by 2029. New York ranks among the top states for both nursing employment and salary.
The goal of both registered nurse degree programs is to prepare the next generation of nurses to enter the workforce and, if desired, continue their education for an advanced nursing degree.
Associate Degree in Nursing Options
Excelsior University's Associate Degree in Nursing program educates students for a career as a registered nurse. The Associate in Applied Science in Nursing (AAS in Nursing) and the Associate in Science in Nursing (AS) share identical nursing component requirements. However, the programs have slight differences in general education requirements. The AS program features electives only in the arts and sciences, while the AAS in nursing includes free electives.
Graduates emerge from either program prepared to take the National Council Licensure Exam for RNs (NCLEX-RN) and launch a successful career as a registered nurse. Each program provides graduates with competencies in nursing theory and clinical performance comparable to those who graduate from traditional, on-campus associate degree nursing programs.
Nursing students who would like to move faster in their nursing career can consider the LPN to Bachelor of Science in Nursing program, so they can earn both an associate degree and bachelor's degree. Many states require nurses to have a bachelor's degree in nursing, and the combined degree program offers a seamless transition from the associate degree to bachelor's degree curriculum.
A Phased Approach to Nursing Education
Excelsior University incorporates a phased approach that prepares nurses for a successful career in contemporary health care environments, including hospitals, health care providers' offices, home health services, outpatient clinics, and assisted living facilities.
In Phase I, nursing students complete four online courses focusing on different nursing theory areas. They include:
Transition to the Professional Nurse Role
Essentials of Nursing Care: Health Safety
Essentials of Nursing Care: Health Differences
Foundations in Nursing Practice
In Phase II, students build on the foundational knowledge established in Phase I in four online specialty nursing courses and a hybrid course. The hybrid course is the last course in Phase II and blends online learning with virtual patient simulations and a live, hands-on patient care experience in an acute care setting. The courses in Phase II include:
Reproductive Health
Health Differences Across the Lifespan (three courses)
Clinical Nursing Practicum: Care of Patients Across the Lifespan
In Phase III, students apply the theoretical knowledge from Phases I and II to real patient care situations. Competencies for Contemporary Nursing Practice is the first course in Phase III. It is an online course with weekly virtual simulations facilitated by Excelsior University faculty. Nursing Capstone: Advanced Clinical Practicum is the final course in Phase III. It is a hybrid course that integrates online learning with a live Capstone clinical experience caring for multiple patients over two days in an acute care setting.
In the associate degree program, students demonstrate the following competencies prior to graduation:
Safety
Teamwork and collaboration
Evidence-based practice
Quality improvement
Leadership and delegation
Informatics
Professional role development
Excelsior University offers a unique and user-friendly platform for students to become a registered nurse. The majority of the program is online, which offers a flexible schedule to working adults. The two clinical practicums are concentrated sessions, each over two and half days, eliminating the need for excess travel. They are facilitated by expert Excelsior University faculty in state-of-the-art health care facilities. Graduates from either Excelsior University associate degree program are eligible to take the NCLEX-RN licensure exam. Passing the exam earns nurses their Registered Nurse (RN) license. To prepare students for the exam, Excelsior University offers free NCLEX-RN test preparation to all nursing students in the Nursing Capstone: Advanced Clinical Practicum course.
Why Earn an Associate Nursing Degree at Excelsior University?
There's never been a better time to fulfill your ambition to become a nurse. Federal projections show the demand for nursing will only increase in the coming years. Salaries also have risen, with the average salary for all nurses nationwide reaching $80,010 in May 2020.
Graduates from Excelsior University nursing programs are well-prepared to excel in the profession. In addition to the phased approach, virtual and live clinical experiences, and NCLEX-RN test prep, Excelsior University offers support to every online student, including military veterans.
No matter where you live or work, online degree programs provide a more convenient way than ever to earn a degree. Excelsior University offers the degree options, clinical experience, theoretical knowledge, and support to help students who aspire to become a registered nurse realize their ambitions.