Career Spotlight: Clinical Informaticist
An In-Depth Look at a Career as a Clinical Informaticist and the Field of Informatics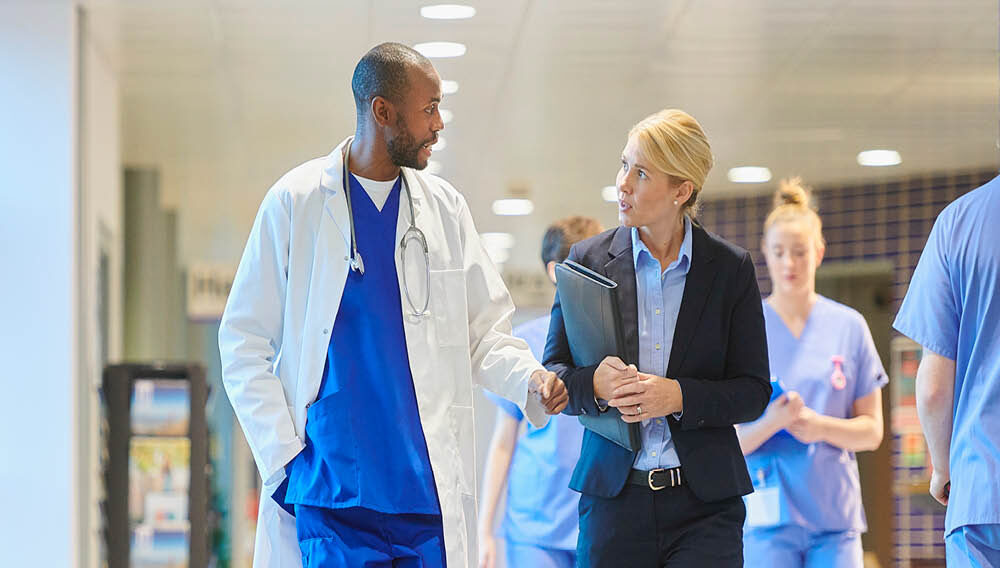 Clinical informatics is the field in health care that applies information technology to improve the health of people and communities and improve patient safety. Clinical informaticists, or clinical informatics specialists, use their knowledge to create data systems, analyze information, and help store and maintain important health data for other health care personnel.
Driven by the use of data, clinical informaticists play a critical role in nursing because the use of technology in health care can help nurses teach and exchange health information, increase productivity, stay up to date with current trends in health care, and improve patient safety.
If you're a registered nurse or planning to become one and have a flair for technology, read on to see if a career as a clinical informaticist is a good match for you.
What Is a Clinical Informaticist?
Simply put, clinical informaticists manage the IT of health care. They design, modify, and organize computer systems and make sure records management systems run efficiently and effectively. Part of their job involves helping clinicians and other health care providers understand data and technology.
You can find clinical informaticists in a variety of places, including hospitals, insurance companies, physicians' offices, research centers, and other health care facilities. While they usually work on site, they sometimes travel, depending on their employer.
What Does a Clinical Informaticist Do?
Although a clinical informaticist is generally responsible for using technology to manage health care, their specific duties may vary from organization to organization. Their general duties often include the following:
Customize, develop, and manage clinical information systems
Train staff members to use information systems
Research, develop, and implement new technology
Provide guidance to management on how to use new technology
Troubleshoot software and hardware problems
Review existing systems and data and suggest improvements
Develop system-related policies and procedures
Assess the needs of health care professionals and patients
Design user interfaces to store and evaluate patient data
Develop progress reports to give to supervisors and stakeholders
Create effective strategies for future IT systems and policies
How to Become a Clinical Informaticist
As you can probably guess, to be a clinical informaticist, it's important to be knowledgeable about information technology. There are certain other skills and qualifications you must possess if you want to enter this field. Let's take a look at some of them.
Written and verbal communication
Familiarity with relevant software and computer programs
Resource management skills
Project management skills
Medical knowledge and health care insight
Ability to develop innovative solutions to technical problems
Problem-solving skills
Leadership and ability to instruct others
Empathy and ability to interact with patients
Clinical Informaticist Education Requirements
In addition to certain skills and qualities, there is specific education you need to become a clinical informaticist. If you are interested in nursing and informatics, first and foremost, you must earn an associate degree in nursing and become a registered nurse. You can meet this first requirement with Excelsior's Associate in Applied Science in Nursing or the Associate in Science in Nursing program. If you are entering informatics from a field other than nursing, you must earn a bachelor's degree in a field such as information technology, computer science, or something similar. Taking courses in biology, chemistry, and physiology are also recommended.
To complete your educational requirements, you must earn a master's degree in nursing informatics. Excelsior's Master of Science in Nursing Informatics will provide you with a robust curriculum that will prepare you to use data and information to respond to health care problems, improve client care and organizational operations, and make and communicate information-based decisions in a variety of health organizations.
Although not required, you may also consider advancing your career with professional certification. Nurses interested in this specialty can apply for the Informatics Nursing credential or the Advanced informatics Certification. Either will show employers your advanced knowledge and skill in the field.
Clinical Informaticist Salary
Payscale.com reported in January 2022 that clinical informaticists made an annual median salary of $78,494.
The Bureau of Labor Statistics includes informaticists in the category of health information technologists and medical registrars and expects this field of health care to grow 17 percent from 2021 to 2031, which is faster than the average rate. One reason for this is because of the speed at which technology is growing and how much organizations—including those in health care—are relying on it. Hospitals and other health care facilities are relying on computer technology to manage and organize their data, and employers are looking for clinical informaticists to assess and apply this data.
If a career as a clinical informaticist aligns with your professional goals, consider speaking with an Excelsior admissions counselor to start your educational career toward nursing informatics.