Career Spotlight: IT Support Technician
Is a Career in IT Support Right for Me?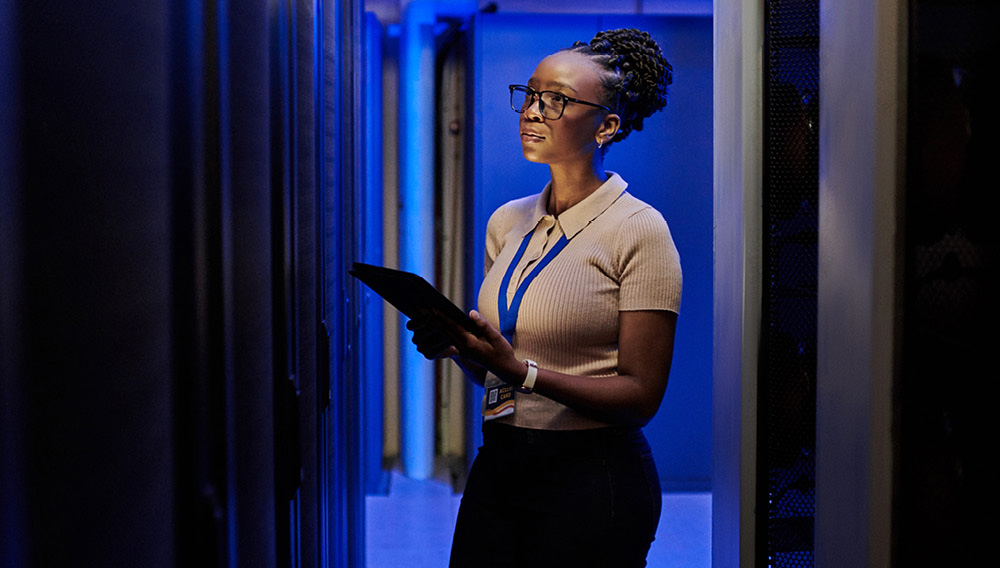 Have you ever seen the "wheel of death" on your computer screen? Are your older family members at a loss as to how to download and view the new photos of the little ones? Maybe you're an online student and you experienced not being able to connect to your institution's network. In these and other situations, who do we call for help? Tech support.
Tech support, or IT support, is an umbrella term for all the technicians, specialists, and other IT professionals, and the variety of tools they use to help solve peoples' hardware and software problems.
Do you have a background in IT? Do you like helping others? A career as an IT support technician might be for you.
What Is an IT Support Technician?
An IT support technician is responsible for using their knowledge to help customers with technical computer problems. They work in a variety of industries, including telecommunications, finance, data processing, computer design, higher education, health care, and more. They often help install, troubleshoot, test, and maintain hardware and software such as security systems, internet networks, and computer systems. They also help customers understand their computer problems so they can recognize and address them in the future.
IT Support Technician Job Description
IT support technicians primarily work to help customers with computer and network system problems. Other responsibilities can include:
Answer queries from clients
Troubleshoot and diagnose hardware and software issues
Manage help desk software and tools
Set up computer networks
Delegate tasks to appropriate support channels
Assist employees and customers with IT-related problems
Install applications
Stay up to date on company products and services
Maintain records of IT issues they encounter
IT support technicians help customers remotely or in person, and by phone or e-mail.
How to Get Started in IT as a Support Technician
A college degree is not required for many IT support technician jobs, but a high school diploma certainly is. And while that may get you in the door, a college degree can move your resume to the top of the pile. Earning a degree in computer science, information technology, information science, or a related field can set you up for success.
It is also important to practice your skill set and grow your expertise. You can help people you know with IT problems, or you can volunteer or intern at a local company to help with their technical issues.
Earning a certificate is not necessary to be an IT support technician, but it can make you shine to potential employers. A couple certificate programs to consider are the HDI Desktop Advanced Support Technician and the Microsoft Modern Desktop Administrator Associate certification.
If you have the education, certification, and experience, don't stop there. The world of IT is always changing, so it's good to stay up to date on the new developments. Taking new courses and pursuing a higher degree may help increase your knowledge and show employers you're willing to keep up with the fast-paced industry.
Skills Needed to Work in IT Support
In addition to the steps above, there are certain skills you must possess to be a successful IT support technician. These include:
Up-to-date knowledge of computer technology
Analytical skills to identify problems
Problem-solving skills
Good interpersonal communication skills
Good customer service skills
Ability to work in a team setting
Organizational skills
The ability to exhibit patience and empathy
Education Needed to Work in IT Support
As mentioned, a high school diploma is all that is required for entry-level in IT support. If you want to grow your knowledge and impress potential employers, though, you should consider pursuing a college degree. Excelsior University's ABET-accredited Bachelor of Science in Information Technology program provides you with the knowledge, skills, applications, and practices you need to make an immediate impact in the information technology field. With this program, you will develop expertise in subjects including software and development, computer systems, database management, network communication, cybersecurity, system administration, human-computer interaction, and project management. You can choose between two technical concentrations or pursue the general option.
If being an IT support technician is in line with your career goals, consider exploring the Bachelor of Science in Information Technology program, and reach out to an advisor to get started on your path to success.