Career Spotlight: Nurse Manager
An In-depth Look at the Role of a Nurse Manager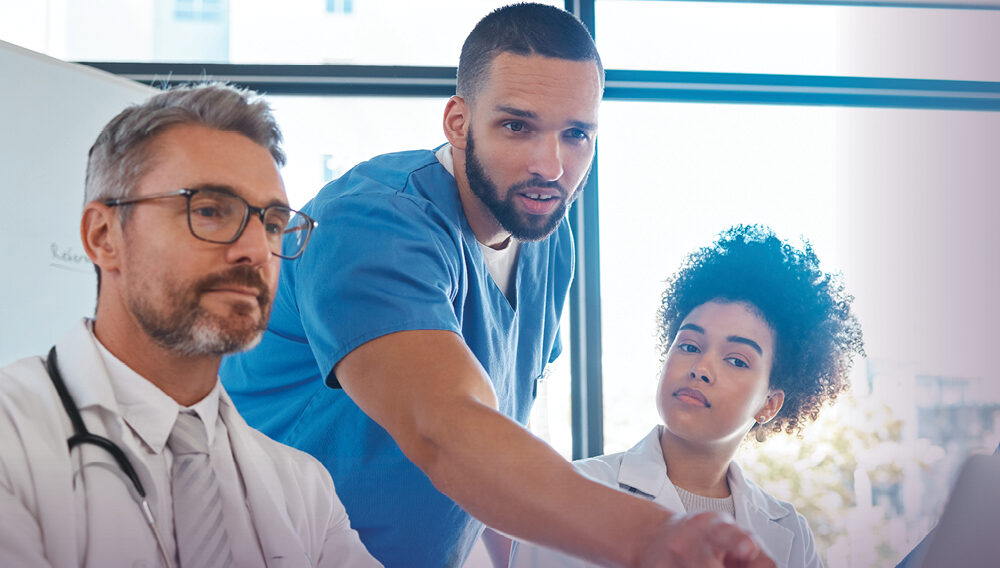 Nurse managers are, first and foremost, registered nurses who often work with patients, but they also have an important role behind the scenes. They play a crucial role in making sure a health care facility runs efficiently and in supervising the nursing staff.
What Are Nurse Managers?
You can find nurse managers in almost any health care setting, from hospitals and doctor's offices to urgent care centers and nursing homes. They have a variety of responsibilities, but they are predominantly responsible for overseeing the nursing staff and working with physicians to provide the best care possible for patients.
Nurse managers are often called nurse administrators because they are responsible for many administrative duties, including staffing, supervising, and organizing other nurses in a health care unit. They make important personnel-related decisions and communicate with upper-management and other departments. They coordinate with other health professionals to organize and decide on daily patient care.
If you are a registered nurse but also have knack for business and management, a career as a nurse manager might be for you. Let's take a deeper look at this position.
Nurse Manager Duties and Responsibilities
Nurse managers have many roles because they not only have the duties of a nurse, but also have duties that can be found in supervisory or human resources roles. Some duties include:
Recruit and interview nursing staff
Train new nurses
Create work schedules for staff
Develop educational programs
Manage budgets and finances related to the nursing staff
Manage sensitive paperwork like medical records
Oversee medical supply inventory
Carry out disciplinary action
Manage and supervise RNs, CNAs, LPNs, and medical clerks
Work with physicians to assist patients and family members
Act as liaison between staff and other departments/units/teams
Communicate between administration and nursing staff
Assist patient and families in escalated situations
Nurse Manager Skills
You may have guessed that to be a nurse manager, you must be ready and willing to switch the so-called "hat" quickly throughout the day, at any time. As such, successful nurse managers possess qualities and skills that include:
Emotional intelligence
Leadership skills
Good time management
Excellent clinical knowledge
Good organizational skills
Problem solving skills
Ability to be flexible
How to Become a Nurse Manager
To become a nurse manager, there are several requirements you must meet. Those interested in the position must earn an associate degree in nursing and pass the NCLEX-RN exam to become a registered nurse. They must then earn a Bachelor of Science in Nursing.
Though not necessarily required, many nurse managers then go on to earn a master's degree. It's also important that a candidate earns as much experience as an RN as they can before applying to higher positions. Many places require at least five years of experience. It should also be noted that nurse managers need to be certified. See the section below for more details about certifications.
Education Requirements for Nurse Managers
As mentioned, the first educational requirement you must meet on your path to becoming a nurse manager is to become a registered nurse. Once you do, the next higher education level you must pass is earning a bachelor's degree. Excelsior University's Bachelor of Science in Nursing program will help you build on prior learning and gain knowledge that will prepare you for graduate study and the pursuit of lifelong learning, which is essential for practice in the nursing profession.
Though optional, earning a master's in nursing is highly desired by employers, so it is recommended that those pursuing a career in nurse management earn this degree. Excelsior's Master of Science in Nursing Leadership and Administration of Health Care Systems program empowers you with the skills and knowledge you need to play a vital role in health care systems, have a seat at the executive table, and have an influential voice when essential decisions are made about health care. This is an excellent choice if you're pursuing a career as a nurse manager.
Nurse Manager Certification
In addition to meeting the higher education requirements, those wishing to become a nurse manager must meet certification requirements. The American Organization of Nurse Executives offers two certifications that you can choose from: the Certified in Executive Nursing Practice and the Certified Nurse Manager and Leader.
Nurse Manager Salary
According to the Bureau of Labor Statistics (BLS), the median annual wage for medical and health services managers was $101,340 as of May 2021. The BLS predicts employment in this field will grow 28 percent from 2021 to 2031, which is much faster than the average for all other occupations. This is due to an older workforce retiring and many positions opening up and needing to be filled.
If a career as a nurse manager aligns with your goals, consider speaking with a Excelsior admissions counselor to get started on a nursing degree.