Career Spotlight: Supply Chain Analyst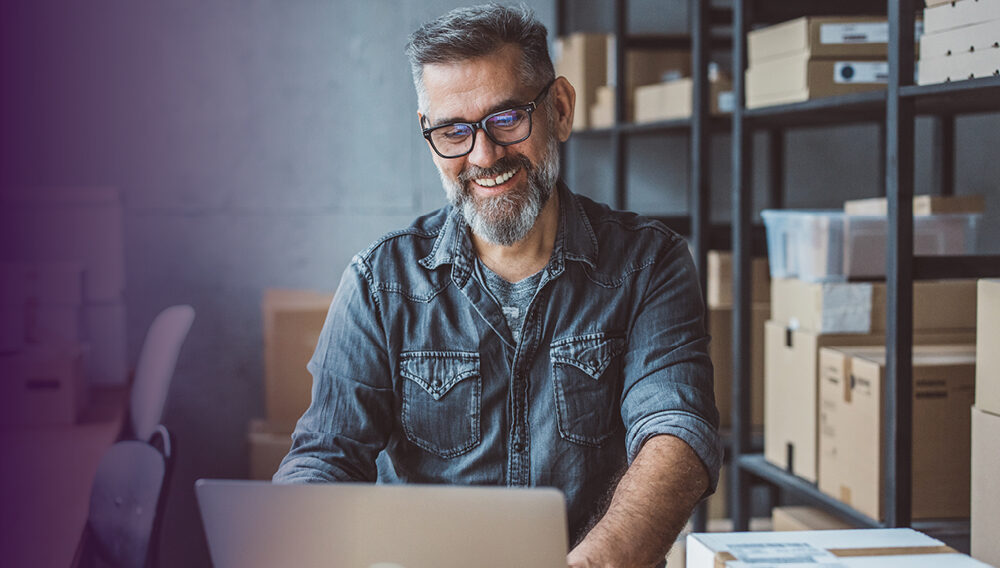 We can easily order almost anything with the click of a button. But how those products and goods get to us is not that easy. The routes, stops, individuals involved—all must align in perfect order for these products to accurately reach their destination. In other words, there is a complex supply chain involved. A supply chain analyst oversees making sure a supply chain runs smoothly. Let's read on to learn more about this important position.
Is Supply Chain Management a Good Career?
The need to transport goods across the United States and across the world will continue for the foreseeable future, ensuring that the position of a supply chain analyst is always needed. In fact, the Bureau of Labor Statistics (BLS) predicts 28 percent growth from 2021 to 2031 for logisticians, a category that includes supply chain analysts. As of May 2021, the average annual salary for this position was $77,040.
Supply chain analysts are in demand in almost every industry. The BLS reports that in 2021, logisticians—which includes supply chain analysts—held about 195,000 positions. This included about 23 percent in the manufacturing field and 16 percent in the professional, scientific, and technical fields.
If you haven't already, you might have noticed that supply chain management is a secure and lucrative career choice.
Role of a Supply Chain Analyst
Supply chain analysts use data to recommend new methods for improving the production and transportation of a company's products. They may research lower costs, new routes, new suppliers, or better deals on goods. They may also monitor the inventory stock in warehouses. Sometimes they act as the liaison between a company and the product supplier.
Let's take a look at some of the specific responsibilities of a supply chain analyst.
What Does a Supply Chain Analyst Do?
What a supply chain analyst does varies depending on career field, but the main job is the same: to manage, analyze, and improve a company's supply chain.
Managing the flow of goods and products is a large responsibility. Here are some of the specific expectations for a supply chain analyst.
Analyzing supply chain data
Managing supply chain operations by coordinating with the staff
Conducting inventory analysis
Using data to recommend changes to reduce costs
Researching partner companies to negotiate best-price contracts
Maintaining relationships with vendors and partners
Collaborating with people from various departments
Evaluating the route schedules
Consistently seeking ways to improve supply chain management
How to Become a Supply Chain Analyst
If you are interested in becoming a supply chain analyst, you must follow certain steps. First, you need to pursue education. Usually, a bachelor's degree in business administration is preferred. Second, you need to build up your skills in supply chain management. Apply for apprenticeships or internships to get your foot in the door. You may also consider taking some courses in technical and analytical topics so you are well versed and ready to apply for an entry-level job.
Supply Chain Analyst Qualifications
To be a successful supply chain analyst, you must have the proper education, but you should also possess certain skills. Here are some of the other qualifications for someone applying to this position.
Critical thinking skills
Organizational skills
Knowledge of technology like SAP or Salesforce
Production planning knowledge
Mathematical skills
Interpersonal communication skills
Problem-solving skills
Experience analyzing business improvement
Consumer product experience
Inventory management knowledge
Supply Chain Analyst Education Requirements
As mentioned above, to become a supply chain analyst, many employers prefer you have a bachelor's degree in business management, operations, logistics, or something similar. Excelsior's Bachelor of Science in Business program is designed for working adults. You can gain skills you can use on the job in areas including accounting, business strategy, communication, computer skills, economics, business ethics, finance, global business, leadership, management, marketing, data analysis, and teamwork and cultural diversity. The Bachelor of Professional Studies (BPS) in Business and Management program includes coursework in accounting, financial management, marketing, project management, employee relations, leadership, management practice, business communication, and global commerce. Both programs are appropriate choices if you would like to enter the field of supply chain management.