Claiming Her Place in History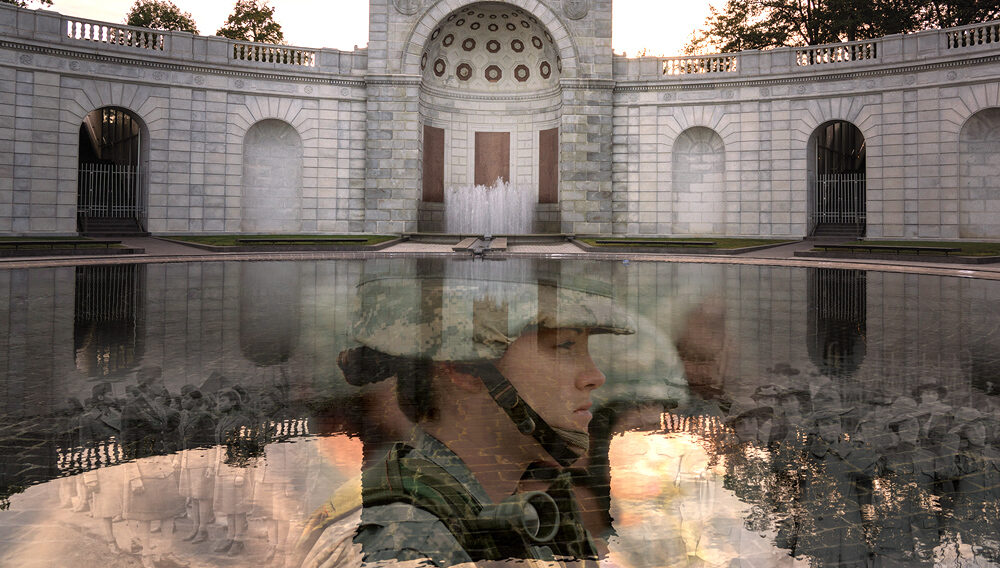 Military Memorial Pays Tribute to Women Who Served
It was the soldier's first time overseas, nearly 5,000 miles from their home in Arkansas. They arrived in Casablanca during the height of World War II, traveling through Tunisia, eventually landing in Italy at Anzio Beach three days after the big invasion. With only a canteen and a K-rations, they headed out to connect with their unit, sleeping overnight in an open field rolled in a borrowed blanket. Their wartime experience included service in France and Germany and a trek through the treacherous Brenner Pass in the Alps to reconnect with their unit to return home. In recognition of their exceptional valor in combat, this heroic soldier was awarded the bronze star. This soldier was a woman.
History is very much alive at the Military Women's Memorial. The story noted above is of Captain Lina Stratton Garrett, an Army nurse, and it is just one example of the experiences preserved at the memorial. While not all the narratives are full of derring-do, each account represents the important and varied contributions made by the nearly 3 million women who have served. As Phyllis Wilson, president of the memorial explains, "We have a very simple mission: We honor and tell the stories of the women who have defended this nation."
Wilson not only leads the Memorial and its supporting non-profit organization, the Women in Military Service for America Memorial Foundation Inc. (WIMSA), but also is among those registered. She began her Army career as a Military Intelligence German linguist voice intercept operator, and subsequently served in several mobilizations, including Operation Desert Shield/Operation Desert Storm and Operation Enduring Freedom. She also deployed to Iraq twice as part of Operation Iraqi Freedom. After 37 years of service, Wilson retired as a chief warrant officer five and was inducted into the Army Women's Foundation Hall of Fame in 2017.
The Memorial Takes Shape
The dedication of the Vietnam Veterans Memorial in 1983 caught the attention of women veterans who questioned why there wasn't a similar tribute to their service. Although the Vietnam memorial includes a bronze statue in honor of nurses who served during that time, there was no recognition for women's service in World War II or the Korean War. Women veterans approached former Ohio Rep. Mary Rose Oakar, who initiated hearings for a national women veterans' memorial. In 1986, President Ronald Reagan signed a bill that authorized the establishment of the memorial.
The Military Women's Memorial opened in 1997 to great fanfare with 40,000 dignitaries, politicians, celebrities, servicewomen, and veterans in attendance. Participants included Vice President Al Gore, Supreme Court Associate Justice Sandra Day O'Connor, and celebrities like actress Loretta Swit, who had played Margaret "Hot Lips" Houlihan in the Korean War-themed TV series "M*A*S*H."
"We have a very simple mission: We honor and tell the stories of the women who have defended this nation."
– Phyllis Wilson, President, Military Women's Memorial
Yet the concept of women in the military has not always been met with such glitz and glamor. It was initially illegal for women to serve, although they did in fact make contributions during the Revolutionary and Civil Wars, sometimes even disguising themselves as men. It wasn't until the Army Nurse Corps was established in 1901 and soon followed by the Navy Nurse Corps in 1908, that women had an official military role. Women were permitted to enlist in the military for the first time during World War I but were only allowed to serve for the duration of the war plus six months. Simply put, a military career wasn't an option for women as it was for men. Permanent status for women in the U.S. Armed Forces did not occur until passage of the Women's Armed Services Integration Act in 1948. Although announced in 2013, it wasn't until 2016 that all military jobs became available to women, including direct combat roles.
Importance of a Dedicated Women's Memorial
Without a doubt, all those who defend the nation are important, so why is a separate memorial needed for women?
"You know I wondered that myself, because for 37 years I was a soldier and I didn't think we needed our own until recently, and I can now tell you I have four sons and a daughter-in-law who serve in the military. And women's paths run parallel, but they do not run the same. As an example, men could serve in the Revolutionary War as soldiers, but women had to disguise themselves to fight on the battlefield," explains Wilson.
Located at the gateway of Arlington National Cemetery, the Military Women's Memorial incorporates the historic Hemicycle, an impressive granite retaining wall dedicated in 1932 and originally intended as the ceremonial entrance to the cemetery but never fully developed. Architects, including one whose mother was a World War II Army nurse, added a skylight arc of glass tablets etched with quotations by and about military women. As the sun passes overhead, these quotes are reflected on the exhibit gallery below. Four stairwells lead to the upper terrace, breaching the original wall and symbolizing women breaking through barriers in the military. The Court of Valor features a reflecting pool with a 200-jet fountain, representing the sound of women's voices.
The centerpiece of the memorial is its registry where visitors can access an interactive computer database containing names, service specifics, awards, decorations, and photographs of servicewomen who have registered. Wilson explains, "The heart of the memorial is the database, where we ask every woman who has ever served in or with the military to claim her place and tell her story."

As president of the Military Women's Memorial, Excelsior graduate Phyllis Wilson leads efforts to gather and preserve the stories of women who have served and defended the United States.
Photo: Karen Sayre
Those eligible to register their service are members of the U.S. Armed Forces—active duty, veteran, reserve, or guard. Other groups that qualify include U.S. Public Health Service Commissioned Corps, National Oceanic and Atmospheric Administration Commissioned Corps, Coast Guard Auxiliary, and the Civil Air Patrol. Another category others can register in is "also served," which includes those who served overseas during conflicts in direct support of the Armed Forces in organizations such as the Red Cross, USO, and Special Services. U.S. Public Health Service Cadet Nurse Corps members are included in a special Honor Roll of Cadet Nurses. 
"… a really huge number of women have joined the military post-9/11 and are still serving; many of those women don't even know there's such a place where they should be telling their stories."
– Phyllis Wilson, President, Military Women's Memorial
Wilson notes, "Honestly when the memorial opened in '97 who would have known that just four short years later 9/11 was going to happen. And a really huge number of women have joined the military post-9/11 and are still serving; many of those women don't even know there's such a place where they should be telling their stories."
Visiting the Memorial
While the registry is the heart of the Military Women's Memorial, there is much more to see and appreciate at the site. Chronologically themed areas encompass women's military history beginning in the 18th and 19th centuries, and cover both world wars and service in Korea and Vietnam, as well as present-day conflicts such as Iraq, Afghanistan, and the global war on terror. Admission is free, but due to COVID-19 restrictions, it is recommended that visitors secure a ticket through the Eventbrite link on the memorial's website.
"We have a large collection of uniforms, boots, diaries, letters, photos—you name it, we have it," Wilson explains, and adds, "We have the largest collection of military women artifacts and memorabilia in the world."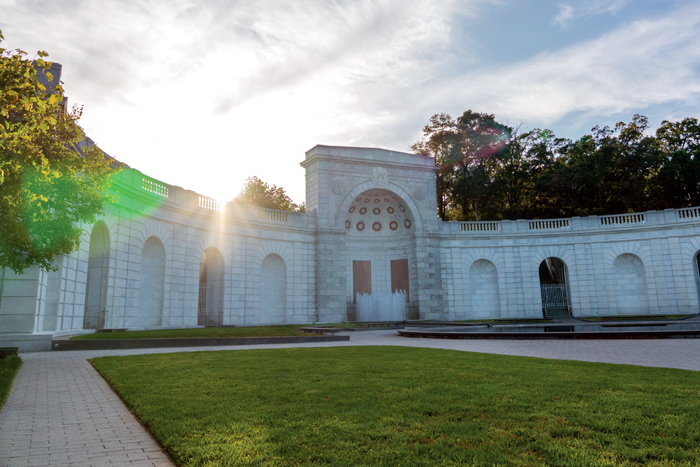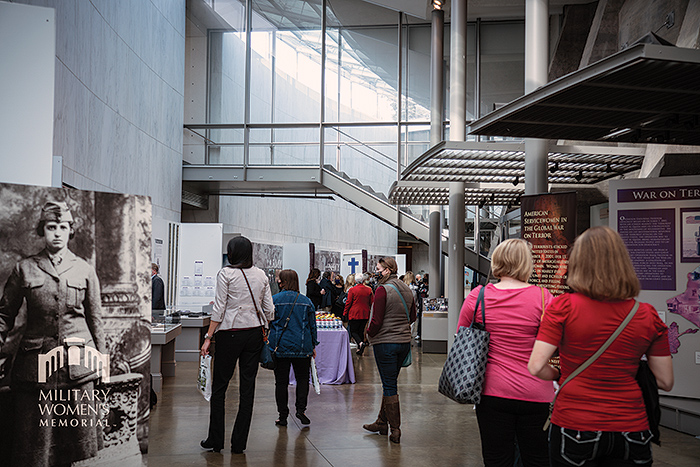 The stories maintained at the Military Women's Memorial are both bitter and sweet, and encompass women's military history from the 18th and 19th centuries, both world wars, the Korean and Vietnam Wars, and present-day conflicts such as Iraq, Afghanistan, and the global war on terror.
Photos: Courtesy of Military Women's Memorial
There are unique items included in the collection that are reflective of the depth of women's military history. For example, there is a cane that belonged to Dr. Mary Edwards Walker, who volunteered as a surgeon during the Civil War. She was captured and served time as a prisoner of war. The only woman to be awarded the Medal of Honor, Walker refused to return it when the honor was rescinded during a period of confusion about eligibility for the medal. Wilson notes that Walker wore the medal every day when she appeared on Capitol Hill in support of the suffrage movement and took it with her to her grave. President Carter reinstated her medal in 1977. "I think about these kinds of artifacts and imagine the stoicism, the tenacity of a woman who was certainly far ahead of her time, yet she knew she had the skills and the ability to serve her nation," Wilson says.
In addition to its permanent displays, the memorial also hosts special exhibits. Currently featured is "The Color of Freedom," an exhibit that honors diversity. A sampling of the exhibit is available online and educational resources are offered for download so that educators can integrate the information into their curricula.
The memorial also has collected nearly 2,000 oral histories and maintains a world-class research library. Wilson notes, "Many PhD students that are working on women's studies and, in particular, a focus on military, tell us that 40–50 percent of the citations from their dissertation comes from our research library." The recent COVID-19 lockdowns have given rise to nearly 20 self-published memoirs by female veterans, copies that can only be found with the writers' families or in the memorial's library.
Recently, the Military Women's Memorial underwent a rebranding campaign, adding a new logo, redesigning the website, and offering online registration capabilities. The website allows users to sample the exhibits, helping visitors plan their in-person experience. Anyone can create an account to explore the registry or to submit information on their service or that of someone they know. The nonprofit WIMSA Foundation supports the memorial through fundraising and acquisition of grants. No direct federal monies support the memorial, although one-time congressional appropriations have helped in recent years with needed structural repairs.
Registration Has Its Perks: Excelsior Partnership
The advantages of registering with the Military Women's Memorial are many. By laying claim to a spot in history, a servicewoman's story will be preserved and can be accessed by family, friends, or researchers. But not only are there benefits for posterity, but also for the registrants themselves. The Military Women's Memorial and Excelsior College have formed a partnership, offering discounted tuition and fees to those who register their service. In addition to members, the partnership includes their spouses and significant others and memorial employees.
Wilson, a three-time Excelsior graduate, initiated the relationship. She recalls how the inspiration to pursue a partnership came to her. "For very special events here at the memorial, including our Color of Freedom exhibit, we pull out purple. And I'm an Excelsior grad, so I knew the color purple and I thought our staff here and certainly our members could benefit from a partnership with an educational opportunity."
Wilson's Excelsior roots run deep. She earned a BS in Liberal Arts in 1988, a BS in Nursing in 2010, and a Master of Public Administration in June 2021. To say that education is important to her would be an understatement—in addition to her Excelsior degrees, she has three associate degrees and a master's degree in management.
A college credential is an important addition to a servicemember's resume, she asserts, especially when competing for a promotion. "It shows that you're willing to work pretty doggone hard and probably give up a lot of additional family time to be a better soldier, a better servicemember. The military prizes people who take time for self-improvement, and higher education is a great way to demonstrate that you're trying to be the best possible employee, whether in uniform or out of uniform."
Sisterhood of Stories: Campaign Seeks Registrants
The memorial has launched an ambitious campaign for 2021. With only 10 percent of eligible women currently included, plans are underway to obtain 100,000 new entries. The details that registrants add would further bring women's military history alive and create a valuable resource for the future.
The stories maintained in the Military Women's Memorial that Wilson share are both bitter and sweet, but it is important that all be preserved as a testament to those who served. Included in an exhibit are artifacts from Corporal Jessica Ellis, an Army medic twice deployed to Iraq. She was killed on Mother's Day during her second tour when the vehicle she was riding in was hit by an EFP (explosively formed penetrator). On the other end of the spectrum is an account of a Vietnam War nurse, who excitedly opened a care package from home containing her favorite stateside treat—Twinkies. Unfortunately, the jungle environment led to the snack cake being infested with ants. Her ever-resourceful sisters in arms suggested she freeze the treat to dispel the ants, a story which the servicewoman included in the registry as one of her most memorable wartime experiences.
Wilson explains, "You totally connect with these women and their stories, and I thought that's really what it's about—that sisterhood."