Degrees at Work: Tim Colomer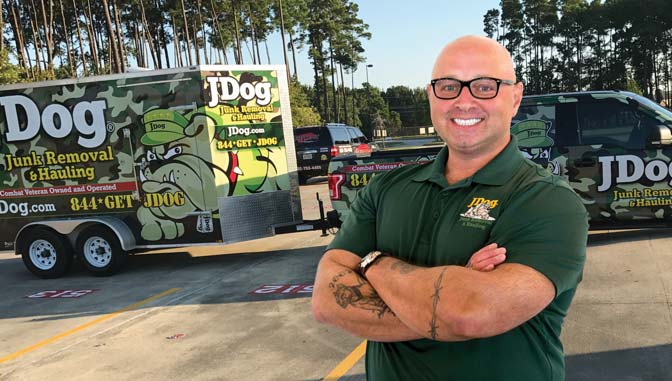 Since he graduated in 2006 with a liberal arts degree, veteran Tim Colomer has become CEO of a JDog Junk Removal & Hauling United, a Military Veteran Partners (MVP) company, and works hard to give back to his community and fellow veterans.
Colomer, who was an explosives expert in the Marines for 14 years, became an entrepreneur while working as director of the explosives program at Halliburton, one of the world's largest energy corporations, centered in Houston, Texas. After a significant number of layoffs, he decided to invest in a business of his own. He looked at several franchises, and ultimately decided on JDog Junk Removal & Hauling because it aligned with his values. In June 2017, he bought one franchise territory. (A territory is based on population density; Colomer's original territory of Lake Houston equaled about 200,000 people. There is a total of 23 territories in Houston.) "JDog is a very mission-driven and purpose-driven company in that our mission is to hire veterans," says Colomer, adding that the franchise's mission is to empower veterans through entrepreneurship, career, and employment opportunities.
In September 2017, Hurricane Harvey hit Houston, and though devastating, it became a helpful business opportunity for Colomer. Flood waters rose to 12 feet high, stranding many people in their homes. Many peoples' possessions were ruined and they were forced to rebuild their houses. Colomer explains JDog was perfectly suited to help because it had a F-150 and small trailer that could fit where a large garbage truck couldn't. "We were able to negotiate our way into the neighborhood, help house by house, pick up their life, really, and go bring it to the dump for them so they could get in the new working crews to bring in the supplies."
MVP, a veteran-focused investment and advisory services company, then asked Colomer if he wanted to open the entire Houston metro; an offer that Colomer could not refuse. "MVP offered a once in a lifetime opportunity," recalls Colomer. So, in May 2018 he became full-time CEO of JDog United.
Since then, Colomer has expanded his franchise to eight more locations out west, to San Antonio, San Diego, Denver, Chicago, and others. He currently employs about 60 veterans, "with the projection in five years we're going to be open in 125 territories across the United States and employ as many as 500 veterans."
Junk removal isn't new but Colomer thinks JDog is different in that they give back to the veterans, their local community, and their environment.
In San Diego, JDog works with homeless veterans and battered women's shelters; in Chicago, the company supports battered women's shelters and other veteran's opportunities and charities specific to Chicago. Specifically, in Houston, Colomer and his team remove the "junk," which is oftentimes appliances or furniture someone doesn't need anymore, and bring it back to their warehouse to clean it up before donating it to a local homeless veteran's shelter. Colomer says, "It's an environmental friendly aspect of what we do but we're also literally, quite literally, giving back to our community and giving people a hand up in life."
JDog also works with an organization called Camp Hope in Houston, which is a privately funded, free retreat for veterans who are struggling with PTSD, traumatic brain injury, and drug and alcohol problems. JDog will drop off mattresses and other physical, tangible assets but they also provide an opportunity for the veterans to work with the company. Veterans are able to work for JDog for a couple months so they can get back on their feet and get some money in their pocket. If they want to stay in the Houston area, they may be hired full-time; alternatively, they can return home. "It's literally a fresh start and an opportunity for them to make a new life for themselves," says Colomer.
Colomer says it wasn't a junk removal and hauling business that caught his attention. "To me it wasn't necessarily about what we did, like the day to day operations; for me it was more about why we're doing it," he says. After being in the Marines for 14 years, Colomer understood that veterans look for camaraderie and dedication in a job and wanted to provide them with the same kind of atmosphere. He also knew that veterans have a commitment to service and JDog provides the opportunity for him and fellow veterans to continue serving their community. "Knowing the wants and needs of veterans, and being able to cater to them, and understanding the amount of loyalty they would have to me and our business and our community was just a no brainer," he says of investing in JDog.
Colomer says he's successful because he's "not afraid to trust people to succeed." He says some people are afraid to let go of the reins, but he has put his trust in his coworkers and district partners. "I know day to day, they're going to go out there and execute our mission, execute our core competencies, our core values—respect, integrity, and trust."
Colomer sees the company growing by expanding its services and relying on the skills of his fellow veterans. For now, though, there will undoubtedly be growth in awareness of the company. MVP has sponsored the reality TV show, "MVP has sponsored the TV show, "Military Makeover," on Lifetime. Military Makeover with Montel Williams is a very special home improvement series that aims to respect those who have served our country, rebuild the homes—and even the lives—of these brave service men and women, and repay veterans for the service and sacrifices they've made for us. In the show, JDog Junk Removal & Hauling plays an integral part in making over homes for veterans. Colomer is excited for the opportunity and, though he doesn't think he's going to be on TV, he's hoping to be at the end of the next project's "big reveal" to support his veteran employees.