Excelsior Broadens Opportunities for Degree Completion Through New Partnerships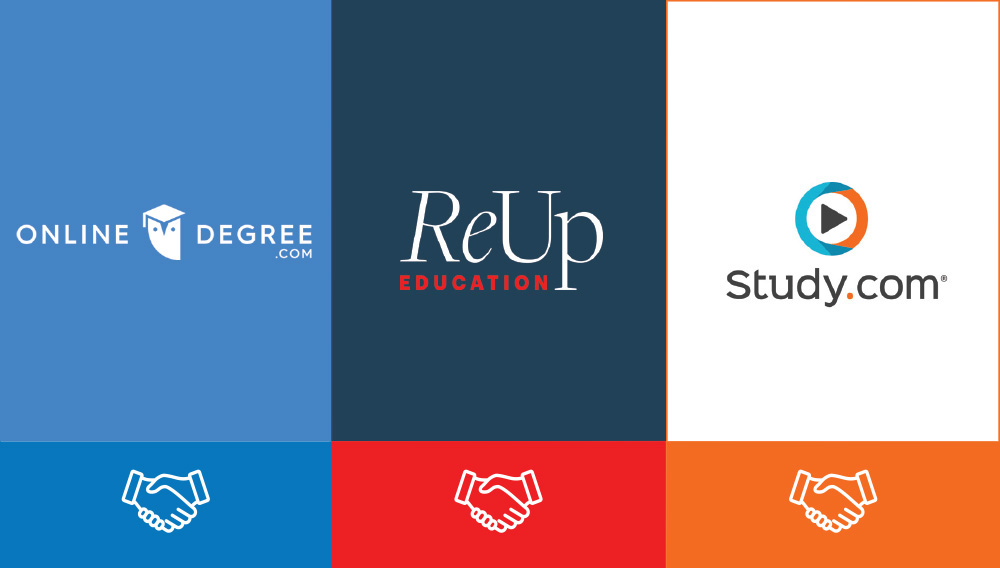 Through educational partnerships, Excelsior College and participating corporate, association, government, and academic institutions are able to provide adults with the opportunity to complete a degree. Recently, Excelsior welcomed three new partners into its fold: OnlineDegree.com, ReUp Education, and Study.com.
"Excelsior College has teamed up with partners such as Study.com, OnlineDegree.com, and ReUp to expand our commitment to offering degree completion options," says Kim Lourinia, regional director of strategic partnerships. "Our partnerships provide lower-cost and accelerated completion options, which provide overall cost savings and reduced time to completion. Through these partnerships, individuals will find streamlined pathways to furthering their education that advance their career and personal goals." Students coming to Excelsior through the partnerships have access to the College's 40 degree programs, tuition discounts, and flexible online learning.
OnlineDegree.com is an organization that provides 15 free courses in a variety of academic areas such as business, psychology, robotics, and history. OnlineDegree.com uses open educational resources to help achieve its goal of making academic offerings completely free for students. The company also provides coaching services to students and will assist in marketing efforts to increase Excelsior's brand awareness, inquiry generation, and enrollments. This partnership is a beneficial way to reach students the College would not be able to reach directly.
Excelsior's new partnership with ReUp Education will help stopout students — those who have college experience but no degree — return to school and graduate. ReUp Education helps colleges and universities engage and re-enroll stopout students by using predictive analytics technology, data, and personalized coaching. "This is about bringing together technology and mentorship to help colleges re-engage with these learners in ways that reflect — and respond to — their unique needs and challenges," says Sarah Horn, cofounder and CEO of ReUp Education.
"We have a long history of helping students from all backgrounds not just complete their degrees but also chart pathways to success after graduation."
–James N. Baldwin
According to recent research from the National Student Clearinghouse, more than 36 million Americans have some college experience but have not completed their degree. Excelsior's partnership with ReUp Education will provide support for students who have some college, many of whom are over the age of 25, and are balancing work and family commitments outside of their studies. ReUp Education's technology enables a team of coaches to conduct outreach to students and support them through the re-enrollment process, as well as provide guidance as they pursue their degrees.
Enrolling in Excelsior through an organization like ReUp is a different pathway to earning an associate or bachelor's degree but one that many students have already taken. As of mid-June, 124 students have re-enrolled through ReUp's partnership with Excelsior. These students will be able to finish the degrees they started and avoid becoming a "forgotten student" and part of an education completion crisis.
James N. Baldwin, president of Excelsior College, remarks on how the partnership complements Excelsior's mission. "We have a long history of helping students from all backgrounds not just complete their degree but also chart pathways to success after graduation," says Baldwin. "This collaboration is the next step in our ongoing effort to help adult learners realize higher education's promise of social and economic mobility and prosperity."
The third new partnership that Excelsior recently initiated is with Study.com, an online education platform that helps learners succeed academically. Study.com's online courses, short animated video lessons, and study tools make learning simple for over 30 million students, teachers, and working professionals.
Study.com's College Accelerator program enables users to cut the cost of college tuition by more than half by taking college courses online. Students can use Study.com to complete courses and then transfer as many as 113 credits to Excelsior College, making it one of the most generous transfer programs in the United States. Students work with a success coach to make a degree roadmap and stay on track.
"Excelsior College has been on the cutting edge of making education accessible by being one of the first colleges to provide online classes — breaking the status quo of university education," said Chris Mancini, chief growth officer at Study.com. "Our alignment in mission gives us the utmost confidence to accelerate this partnership and work together to flip the current education model on its head."
With these new partnerships, Excelsior will be able to provide the option for degree completion to students who may otherwise not had the opportunity to finish their studies. "Excelsior's fully online programs offer a flexible way for students to achieve their degrees while they balance other responsibilities," says Dawn Gerrain, chief marketing and business development officer at Excelsior. "Building partnerships allows us to reach those students who started on their degree but may not have had a chance to complete it. Completing a degree opens doors for individuals to expand career opportunities and provide more value to our partners."