Lending a Helping Hand: Excelsior College Highlights Giving Back & Upcoming Volunteer Week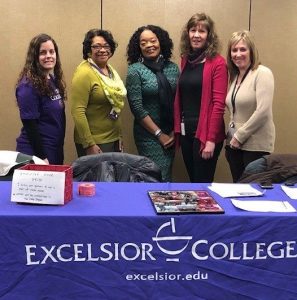 As part of the culture at Excelsior College, employees show the College is a caring community making an impact on both our colleagues and the community at large. One of the benefits working of Excelsior College is a generous volunteer time off (VTO) policy that gives full-time employees up to 15 hours annually for volunteering during the workday.
Alicia Jacobs, an employee who helps lead community engagement efforts, encourages her colleagues to learn about nonprofit causes by sharing time and talent through volunteerism. She says the VTO policy creates a culture that shows the work employees do inside the College is just as important as the impact made by their volunteerism outside of the College.
Jacobs helped create Excelsior Cares Volunteer Week in 2016. The 4th Annual Excelsior Cares Annual Volunteer Week will be held from April 8–12 when employees lend a helping hand on community projects during the workday. "This year, we look forward to having 136 employees help with 25 projects. This annual event creates a better understanding through firsthand experience about services right here in the community that potentially impact friends, family, and their colleagues in times of need," says Jacobs. Volunteer Week also introduces nonprofits to employees of the College while they assist with the critical needs of the community.
In advance of Volunteer Week, Excelsior College held a volunteer fair on March 6 so employees could learn about local volunteer opportunities. Representatives from Cystic Fibrosis Foundation, Epilepsy Foundation, Rebuilding Together Saratoga, Stars for Our Troops, United Way, American Red Cross, Regional Food Bank, Best Buddies, Orange Street Cats, and Alzheimer's Association attended and shared their organizations' missions.
Susan Wells, founder of Stars for our Troops Inc., an organization that annually participates in Volunteer Week, shared, "Thank you for letting us have time to talk about our projects. It was fun to share opportunities that we can pass on to others."

Stars for Our Troops takes old, tattered, and faded U.S. flags and passes on the embroidered stars to those for whom defending the flag has made an impact. Recently, a group of veterans worked together to remove stars and in the process discovered their commonalities. If you would like to host a star party, contact S4otstarmaker@aol.com.
Volunteering is also way to give back, meet other people, learn something new, and help a great cause. It also provides volunteers with a different perspective. Although diverse in their mission, the participants in the Volunteer Fair had at least one thing in common—helping society at large and serving the needs of others by providing resources, services, supplies, food, housing, friendships, and skills.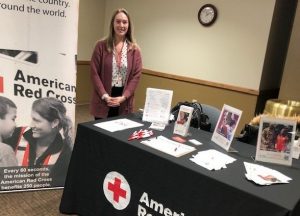 If you would like to volunteer with lifesaving work, the Red Cross seeks volunteers as blood transportation specialists. These volunteers transport lifesaving blood to area hospitals using Red Cross-owned and branded vehicles. Gas and tolls are covered. Volunteers can work independently or alongside a partner. Qualified volunteers need a valid driver's license, proof of insurance, and a clean driving record of 3 or more years. The time commitment is 1–2 shifts a month for 4 or more hours. For more information, call 518-694-5103.
If you would like to support hunger initiatives, the Patroon Land Farm partners with the Regional Food Bank of Northeastern New York. On average 100,000 lbs. of food are harvested annually and two-thirds is donated to 23 surrounding communities. Located near Thatcher Park, the Patroon Land Farm is seeking volunteers from now until October to help with harvesting. It also holds an annual Strawberry Festival at the Altamont Fairgrounds and needs volunteers for this year's event on June 15. To volunteer, email ninap@regionalfoodbank.net.

If you have a passion for saving pets, Orange Street Cats was started nine years ago when several cats where found at a building that was to be condemned. Now this organization helps foster and adopt kittens and cats, while assisting with food, liter, and vet care. It also has adult cats seeking homes. Orange Street Cats needs volunteers to help with clerical work, website updates, and photography. To volunteer, email osc@orangestreetcats.org.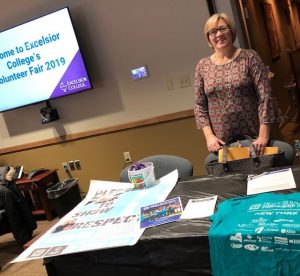 If you would like to be more than a mentor, Best Buddies can use your help. Its adult citizen program pairs volunteers with people with disabilities to form friendships. Like Big Brothers Big Sisters, this is about creating inclusion and forming a bond. The time commitment is meeting a few times a month with your buddy, texting, or keeping in touch with phone calls.
Together, we can make a difference.