Excelsior Celebrates International Women's Day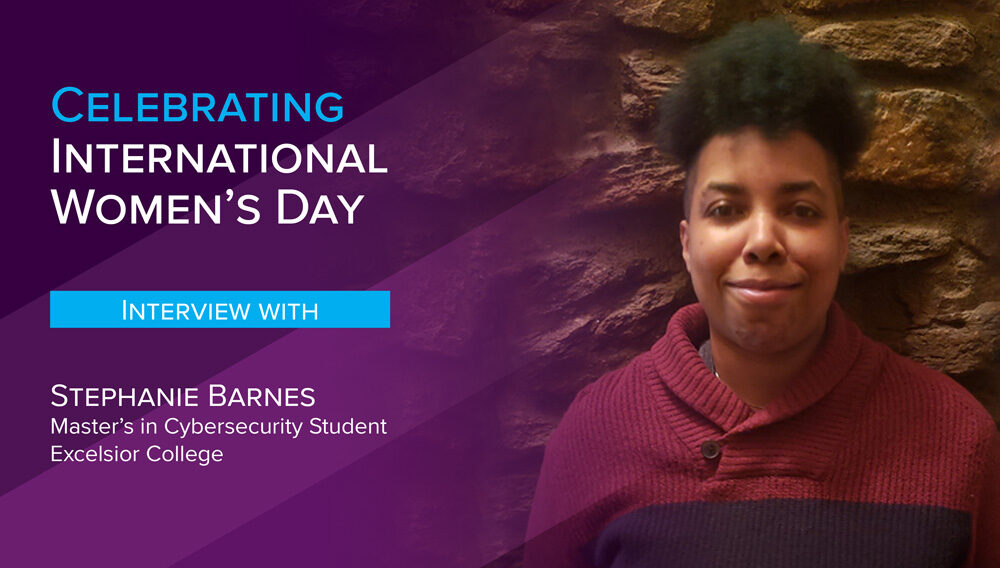 Dr. Amelia Estwick Interviews Cybersecurity Student Stephanie Barnes
My name is Dr. Amelia Estwick, director of the National Cybersecurity Institute at Excelsior College. In celebration of International Women's Day and Women's History Month, I'm joined by current Excelsior College graduate student Stephanie Barnes to discuss her experiences in the cybersecurity field. Stephanie is an IT/cybersecurity dual degree student, completing her graduate studies. Previously, she graduated with a BS in psychology from Florida A&M University. After years of working as a direct hire for the federal government and then as a federal government contractor overseas, she decided on a career change due in part to her interest in coding and hobbies involving tinkering with computers. A lifelong learner, Stephanie finds cybersecurity an endless well of puzzles and emerging knowledge that keeps her interested and invested in discovering solutions. I thought it would be a great opportunity to ask Stephanie some questions about her interest in the cybersecurity field.
Q: Why did you decide to even pursue a master's in cybersecurity?
A: Well, like you said, I was overseas working as a contractor doing low-level security in Iraq, actually. And I decided that when I came back home that I couldn't go back to the job that I had been working, and I wanted to basically change my life. And I had always been interested in technology, but I'd never really pursued it. So I started teaching myself to code in Python. I did a little bit of learning HTML and CSS. And then I just started doing MOOC classes online and took it from there, and then started looking at master's degree programs, because I already had my bachelor's. So I wanted to move forward.
Q: How would you say your degree has benefited you thus far?
A: I think that when hiring managers look at my resume and see that I'm on track to get my master's, I think that it really has helped me, because I've had people mention it in interviews. And I think it's been really impressive for them, because it shows that I have the go-get-it kind of attitude that they're looking for, that I'm ready to self-start and take it on my own. I don't have to have somebody driving me to do anything, because I've already shown them that I'm driven.
Q: You've been an active participant in our student chapter of the National Cybersecurity Student Association where you've been a team captain. How has that experience been for you?
A: Oh, that experience has been great. I really love doing NCL [National Cybersecurity League]. When I first got into doing it, I did not know what I was going to be doing. I hadn't really done any competitions. It was one of the first ones that I'd ever done. But all the students that participated, they're really helpful. The chat has been great. They helped me out a lot.
Q: I'm so glad that you've mentioned the camaraderie because I think it's so important in this field to build a network and to build a support team, especially as a woman. Unfortunately, when we talk about International Women's Day, one of the themes is to take action for equality and according to recent reports, women are holding only 20 percent of cybersecurity positions. That number is much less when you take into account race and ethnic women holding cybersecurity positions. As an African American woman, how do you think your race or your ethnic background has impacted your cybersecurity career pathway?
A: I feel like I might be lucky in that extent only because of the location where I live. I live outside of Atlanta so there is a good multicultural community, and there are a lot of women cybersecurity groups, both in Atlanta and online. And I've been able to connect with a lot of women, and especially a lot of Black women not only online, but in the community. And so I've seen a great deal of people that look like me in the workforce. But I know that it's still an issue nationwide.
Q: What are some of the skills that you have acquired as an Excelsior student that you think employers would be interested in?
A: I think people think that employers look basically for employees to know a certain technology, but I don't really feel like that's the case as much. I think it's more so about the attitude that you bring. [I'm] not saying that hands-on skills are not worthy. They are. But there are things that you can learn very quickly on the job. Like, when I first got the first position I held in cybersecurity, I was a junior stock analyst. And I didn't know half the tools that I learned while on the job. But because I had a willingness to learn, I think that that is something that's really important. I think that's something that managers look for, that you have a willingness to learn, that you have an attitude in that you can do it. Like, you can't do everything, and we know that. But you're willing to reach out and say, hey, I don't know this. I think in any position, you need to be able to ask for help, you have to be able to seek help, and you have to have the willingness to learn. And I think that's helped me in my career and [to] move forward in it.
Q: What advice would you give anyone pursuing a cybersecurity field?
A:  Oh, I would say dive in. Like I said, I started doing just MOOC classes online, taking Coursera classes…I took that course, everything that I could get my hands on. But bottom line is kind of just dive in. Find the small courses first. The small, free things that they offer online and try it. You'll find the path that you're meant to take if you try little bits at any time, if you're open to it.