Excelsior College Welcomes New Members to the Alumni Leadership Council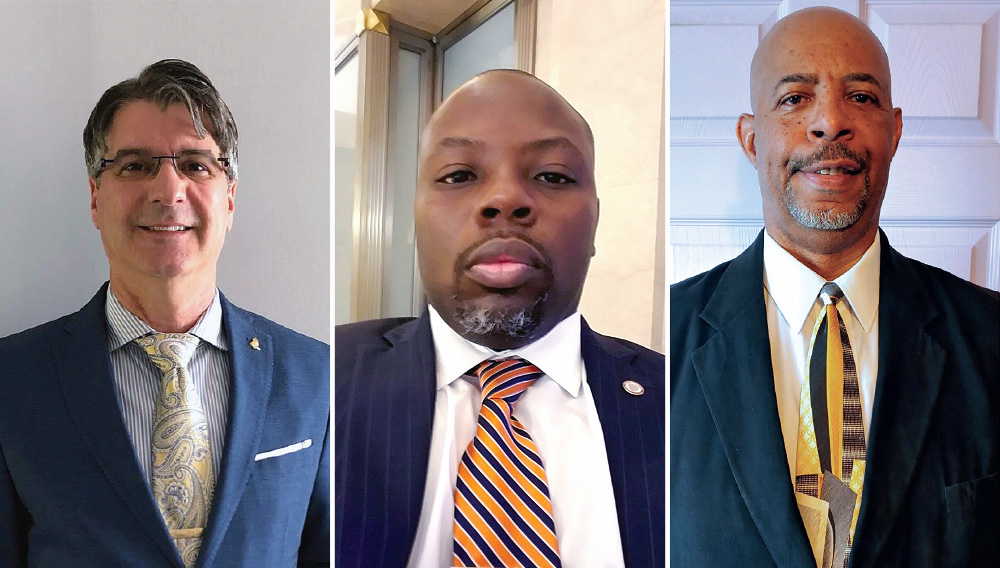 Three new members will join the Alumni Leadership Council in July: Steven Marciano (left), a clinical standards and policies and procedures coordinator with BayCare Health System; Oliver Queen Jr. (center), president and cofounder of Organizational Cultural Assessment Instrument (OCAI) Professional Solutions Group; and Samuel T. Watkins Jr. (right), a cybersecurity program analyst for the Information Warfare Division, Air Combat Command, at Langley Air Force Base.
---
Steven Marciano, of Palm Harbor, Florida, is a nursing professional with a vast background in business and finance management, clinical standard and health care policy, leadership, and project management. He is the manager of business operations for St. Anthony's Hospital within the BayCare Health System. His duties include strategic business partnership with 17 nursing units. He is a certified hospice and palliative nurse, and holds health and life, and property and casualty insurance licenses.
Marciano's current memberships include the American College of Healthcare Executives, American Public Health Association, American Grant Writers' Association, Florida Organization of Nurse Executives, Tampa Bay Organization of Nurse Executives, Healthcare Financial Management Association, Hospice & Palliative Nurses Association, and Society for Human Resource Management. He earned a Bachelor of Science in Public Health from Excelsior College in 2018. Marciano was the 2019 recipient of Excelsior's Michael J. Cooley Memorial Award for high academic achievement in health sciences. He is pursuing a Master of Science in Health Care Administration at Excelsior College.
---
Oliver Queen Jr., of Chantilly, Virginia, is an accomplished senior executive professional and operations and program manager with more than 28 years of acquisitions, procurement, life-cycle logistics, program and project management, operations, global supply chain, sales, and executive training expertise. With OCAI Professional Solutions Group, he was instrumental in the development of a comprehensive IT transition and post-implementation plan that moved the Millennium Challenge Corporation from the Automated Acquisition Management Solutions' contract-writing tool to the Oracle Contract Lifecycle Management system under budget and on time.
Queen is a member of the Defense Acquisition University Alumni Association, the National Society of Black Engineers, and the Harvard Kennedy School Alumni Association. He is also involved in many community organizations, including serving as the facilities committee chairman at Dawson Corner Community homeowner's association, a volunteer-assistant boxing coach at the U.S. Military Academy at West Point, and a volunteer at the DC Central Kitchen.
In addition to a Bachelor of Science in Liberal Arts from Excelsior College in 2006, Queen earned an Associate in Arts from Valdosta State University, a Master of Arts in Organizational Dynamics from the University of Oklahoma — Norman, a Master of Arts in National Security and Strategic Studies from the U.S. Naval War College, a Master of Business Administration from the Johns Hopkins Carey Business School, and several certificates. In addition, he has completed executive education programs from the Kennedy School at Harvard, the University of Virginia-Darden Business School, and Syracuse University. He is pursuing a PhD in Science, Technology, Engineering, and Math Education and Professional Studies at Old Dominion University.
---
Samuel T. Watkins Jr., of Virginia Beach, Virginia, is an experienced counterintelligence professional with prior military active-duty and private-sector experience in researching, developing, presenting, and publishing intelligence products at the tactical, operational, and strategic level. His background includes project management, requirement analysis, project coordination, and customer technical support. As a cybersecurity program analyst, he supports cyberspace operations, training, and the development and use of cybersecurity weapons systems, capabilities, training requirements, and instructional developments. Watkins served as a lieutenant (ret.) and instructor with the Portsmouth, VA Sheriff's Office Auxiliary and Training Unit and is a former police officer who began his career in law enforcement in 1998.
Watkins is a member of the International Law Enforcement Educators and Trainers Association, the National Sheriffs' Association, and the Fraternal Order of Police. He has won the American Police Hall of Fame Life Saving Award in 2009 and was nominated for the Military Intelligence Corps Hall of Fame in 2013. He was the 2009 recipient of the Excelsior College Alumni Association's C. Wayne Williams Award for outstanding academic achievements and professional, personal, and community contributions.
A 1999 graduate of Excelsior College with a Bachelor of Science in Liberal Arts, Watkins also earned an Associate of Arts in Liberal Arts from St. Leo University and a Master of Science — Criminal Justice Track from Columbus State University.