Excelsior College's New President, David Schejbal, Starts on August 1
Albany, NY — On August 1, David Schejbal became the fourth president of Excelsior in the College's nearly 50-year history as a distance learning institution for adult learners.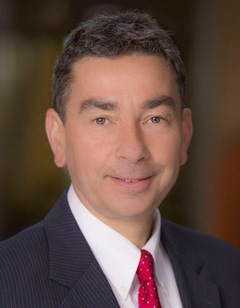 Schejbal brings extensive experience in leading online education institutions and supplying higher education opportunities for working adult learners. His deep involvement and significant accomplishments make him the perfect fit for Excelsior during these rapidly changing times in higher education.
"I am delighted to be the fourth president of Excelsior College, and I am very much looking forward to working with the talented staff and faculty of the College," said Schejbal. "I am deeply indebted to Jim Baldwin for his gracious and thoughtful transition process and for the outstanding leadership that he has provided to the College for the past six years. Excelsior is an outstanding institution and supports students of all ages as they pursue degrees and credentials. Higher education is essential to economic and social wellbeing, and I am excited to begin my journey at Excelsior."
Schejbal served as vice president and chief of digital learning at Marquette University. Prior to joining Marquette, he was dean of continuing education, outreach, and e-learning at the University of Wisconsin-Extension, working across all 26 campuses of the system to extend the resources of the University to communities throughout the nation.
Throughout his career, Schejbal's primary focus has been on making education accessible, affordable, and flexible for all students. His vision for inventing ways to reach beyond the traditional higher education model to meet the needs of an increasingly changing student spectrum has made him a leading voice in adult and non-traditional higher education and will help propel Excelsior College forward to reach and best serve students.
###
About Excelsior College
Excelsior College (excelsior.edu) is a not-for-profit online college focused on helping adults complete their degrees and advance their careers. The college contributes to the development of a diverse, educated, and career-ready society by valuing lifelong learning with an emphasis on serving individuals historically underrepresented in higher education. Founded in 1971, Excelsior meets students where they are — academically and geographically — removing obstacles to the educational goals of adults pursuing continuing education and degree completion. Our pillars include innovation, flexibility, academic excellence, and integrity. Learn more at excelsior.edu.
Media Contact: Alicia Jacobs
Email: ajacobs@excelsior.edu
Phone: (518) 410-4624