Excelsior University ranked among Military Times 2023 Best for Vets Colleges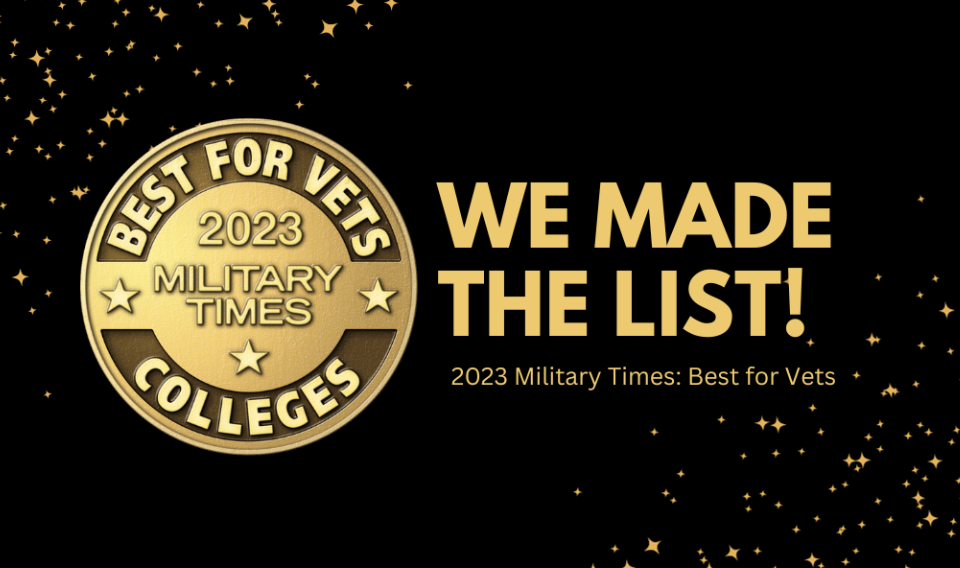 Arlington, VA  – Today Excelsior University announced its recognition in Military Times' 2023 Best for Vets: Colleges rankings. Military Times Best for Vets: Colleges is the largest and most comprehensive annual ranking of schools for military service members and veterans.
Each year, Military Times sends a survey to colleges and universities across the nation asking about their programs for veterans. The survey results are then analyzed, along with public data about colleges and universities obtained from the Department of Education and Department of Veterans Affairs and turned into an official ranking. Schools were asked to complete the survey earlier this year and the responses were then analyzed by the Military Times data team, producing the highly anticipated, respected, and unbiased annual ranking.
"Excelsior University is proud to be recognized once again as a Military Times Best for Vets College. For more than 50 years, Excelsior has remained committed to preparing veterans for the next phases of their careers through accessible, innovative education," said David Schejbal, president of Excelsior University. "With flexible degree programs that meet vets where they are, Excelsior is honored to count tens of thousands of military graduates among our alumni."
For 10 years, Military Times Best for Vets: Colleges has continued to serve and support the military community through its trusted ranking and reporting on the top schools for veterans. "Our comprehensive survey and thoughtful methodology make our rankings best in class," said Mike Gruss, editor-in-chief at Sightline Media Group, parent company of Military Times.
The rankings have become a go-to resource for schools to spread the word about their veteran programs and help veterans make important decisions about their educational planning and how to use the education benefits they earned through military service.
For more information about Excelsior University's student veteran programs, visit Excelsior University's website at www.excelsior.edu/military-and-veterans.
# # #

Media Contact Excelsior University:
Jason Bonafide, jbonafide@excelsior.edu, 518-608-8446
ABOUT EXCELSIOR UNIVERSITY
Excelsior University is an accredited, not-for-profit online institution focused on helping adults complete their degrees and advance their careers. Excelsior contributes to the development of a diverse, educated, and career-ready society by valuing lifelong learning with an emphasis on serving individuals historically underrepresented in higher education. Founded in 1971, Excelsior meets students where they are — academically and geographically — removing obstacles to the educational goals of adults pursuing continuing education and degree completion. Our pillars include innovation, flexibility, academic excellence, and integrity.