Faculty Focus: Carmen Roberts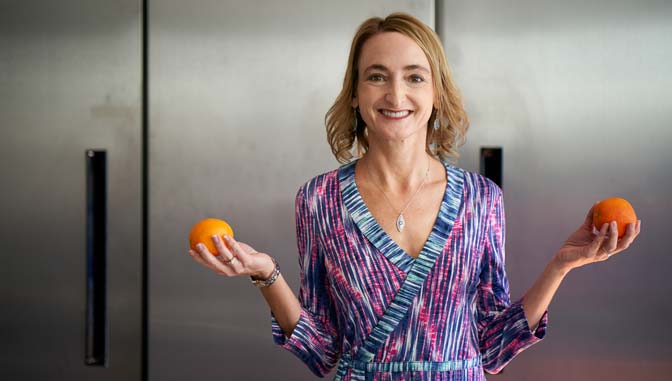 In her free time, you can find Carmen Roberts running, walking, or simply being outdoors and active. She'd tell you she's mostly busy raising two daughters and spending time with family and friends at her home in Maryland. Roberts has lots going on in her life, but the registered dietitian has found time to teach for Excelsior College, and works to motivate her students to succeed and thrive in their careers.
Roberts has been a dietitian for more than 20 years. Most of her career has been spent in hospital management and dietetics education at Johns Hopkins Bayview Medical Center in Baltimore. Over the past 10 years, however, Roberts says she has transitioned into other areas, including corporate wellness, senior nutrition, teaching, and writing on topics such as fitness and nutrition. She began teaching for Excelsior in 2010, instructing courses in stress management, health and wellness, and exercise for health. She currently teaches HSC 403 Nutrition for Wellness—a course that she developed.
One of the things that drew Roberts to Excelsior was the flexibility of the online learning environment. It allowed her to balance her family obligations with teaching. It has also brought her into contact with many different people. "I have been able to 'meet' hundreds of students from all over the world with fascinating backgrounds—each of them has contributed something unique to each course I have taught," Roberts says. She adds that an online learning environment "opens up many doors" for people, both in terms of convenience and experiences.
Roberts worked on her master's degree at night at a traditional four-year university while working full-time. "In my opinion, the educational environment today allows for more practical applications through projects and other mentoring experiences," she says. Roberts puts this belief to practice when teaching. For example, in HSC 403, she has her students write an educational newsletter instead of a paper. Students choose to direct their nutrition-related publication toward their workplace, school, or community organization. "I love that they are creating something that they can actually use to educate others. It's a great way to apply what they've learned in the course," she says.
Roberts' creativity and practicality can be seen in her counseling work, as well. As far as counseling is concerned, she says, "People aren't going to change their nutrition or exercise habits until you can truly gain an understanding of what barriers have been in their way…It is my job to find out what their obstacles are and to help my clients overcome them to achieve long-term success." This approach relates to advice she gives her students who are entering or moving ahead in their careers: Be a good listener. Since many of her students take her course for personal health reasons, Roberts interacts with these students in much as the same way as she does with her clients. Students also interact with each other on the discussion boards and Roberts says, "At the end of the course, students share what they've learned and how they will apply what they've learned in their personal lives."
To Roberts, this sense of community among Excelsior students is a special trait. She says, "Excelsior students are my favorite students to work with because I feel like we all share a common bond online. Even though we aren't meeting face-to-face, everyone is incredibly supportive of each other and I think that helps the students stay motivated to succeed." She understands Excelsior students are juggling many hats and believes that for them to thrive, they must be organized, motivated, and interested in the subject matter.
Roberts suggests students set priorities in all aspects of their lives so they can achieve the best results. "Don't wait until the last minute to let your instructor know if you're struggling or need assistance or more time for a project," she adds. Like her students, Roberts has learned the value of good time management skills: "Just as students put a lot of effort into completing their assignments, teachers need to allow ample time to grade assignments in order to give constructive feedback to students. This requires setting time aside each day to grade assignments and participate in discussions."
It takes a lot of time, organization, and motivation to succeed as a student, but Roberts' creative teaching is sure to help them do well. She also has some advice for her students who are on the hunt for a job. She recommends students shadow someone in a position they are interested in and inquire about internships, even if they are unpaid. She says, "Let everyone you know—friends, family, coworkers, and other students—what your long-term goals are. You'd be surprised how many people want to help you achieve your goals."