Getting a Slice of the Pie: James Messenger Proves Working Hard Pays Off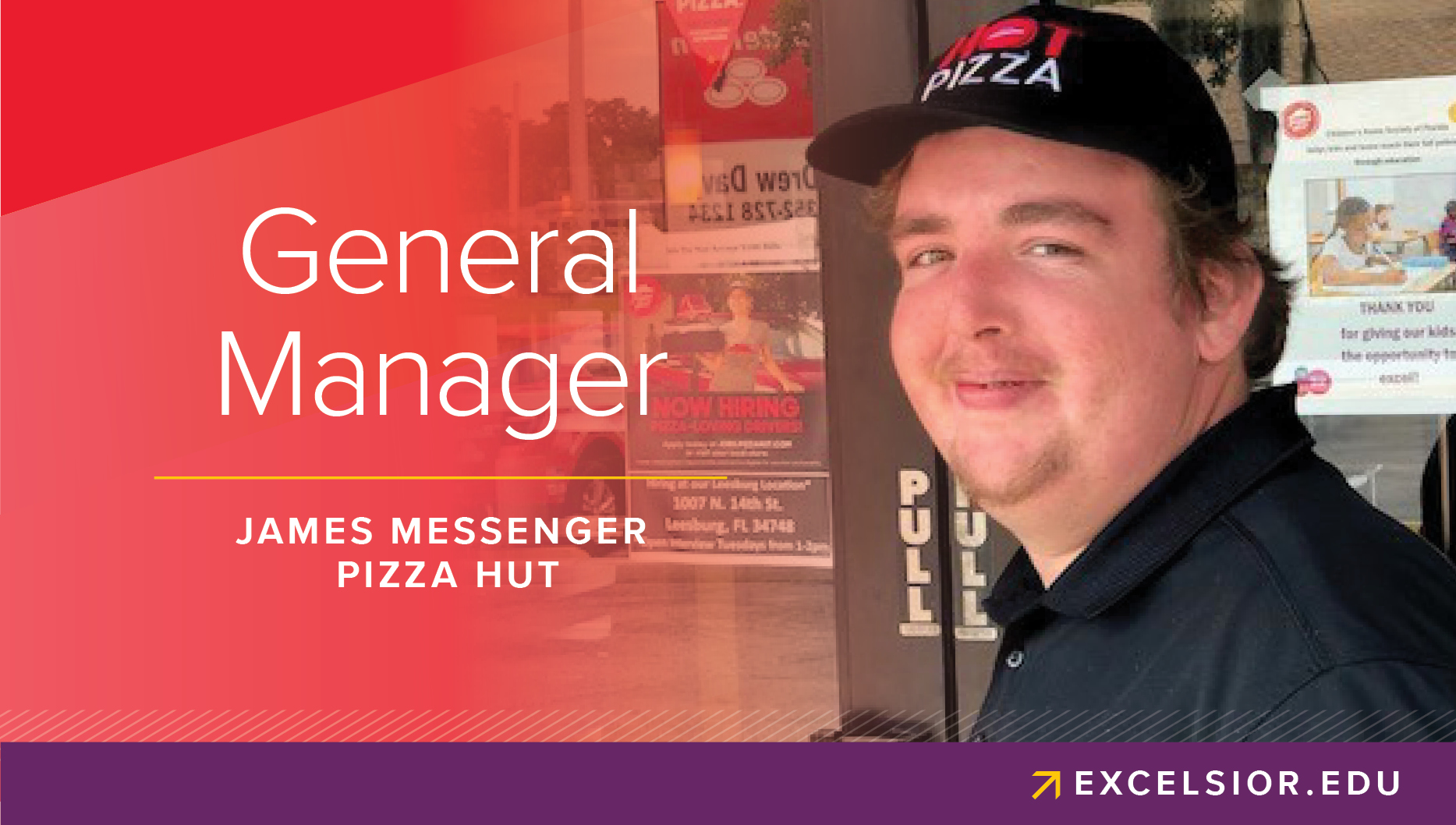 James Messenger wants to show his 4-year-old niece that through perseverance and dedication, good things can happen. So far, the restaurant general manager has been a very good role model, moving up in his career with Pizza Hut over the past four years and completing an Associate in Applied Science in Administrative/Management Studies with Excelsior College (June 2018).
Messenger followed the traditional route of going to a community college after he graduated from high school but quickly discovered that wasn't for him. So, he gave up on pursuing his higher education. That is, until he learned at a corporate meeting that he could attend college without having to pay any tuition. Messenger spoke to his area coach and mentor, who encouraged him to pursue his education, saying it would help him move up in the company.
Messenger found Excelsior's online programs were perfect for him. "To me, I learn better online; I always have. When I was doing the traditional classes, I didn't want to get up and go, whereas online I can kind of do it at my own pace and pick my days that I want to do the schoolwork—it made it a lot easier," he says of Excelsior's online, flexible programs.
Messenger works 50 hours a week and has an hour commute—each way—to his Pizza Hut store. Excelsior's course structure fit in with his busy schedule. Each course syllabus helpfully laid out all the assignments which helped him plan in advance. "At one point when I was taking 2–3 classes at once, I knew exactly when everything was due. I didn't really have to think about it…It was straightforward. It was actually a lot easier than I thought it would be with the online," says Messenger.
The set-up suited Messenger just fine. With supervising 26 people at a store that sees roughly 25,000–30,000 orders a week, he is busy and needs all the time he can get. The easiest way he discovered to balance his work and school was to make the store's work schedule so his days off became the days his assignments for school were due. That way he could make sure he could get the work done and in on time. Sometimes he would try to complete all his schoolwork for the week in one day. He was careful not to wear himself out, though. Messenger explains, "I managed my time so I wasn't burning myself out. I would do an hour of work and then take a 30-minute break; kind of walk around, watch an episode of TV, and then go right back to school work."
He liked that Excelsior faculty staff were always there when he needed them. "Every time I needed help, you guys were always a phone call away," he says. When Hurricane Irma knocked out his internet for a week and a half, Excelsior instructors were understanding and gave him extensions.
Now, Messenger encourages his fellow Pizza Hut colleagues to pursue their education with Excelsior. He is trying to get one his fellow restaurant general managers to enroll in the College because she saw how easy it was for him.
As for Messenger? Pursuing more education might not be in his future. "I like being a boss…the stuff I've learned so far has actually helped me become a better boss at the store I work at," he says. He likes being with Pizza Hut, too. He cites that after his mentor passed away, Pizza Hut took care of his family, even putting away money into college savings accounts for his three children. Messenger enjoys working for a company that is loyal to its employees. He sees a future with the company. Someday he'd like to become an area coach, and follow the path of his late mentor. "I like working with food, I like working with people…There's no two days that are ever the same…I like different, I like surprises. It makes the job better; more fun," says Messenger.
Just four years ago, Messenger began his career as a Pizza Hut delivery driver. Many good things have happened since. The youngest of four children, he was the first to earn a college degree when he completed his associate degree at Excelsior. He can certainly be proud telling his niece that hard work does, indeed, pay off.