Trainer of First Responders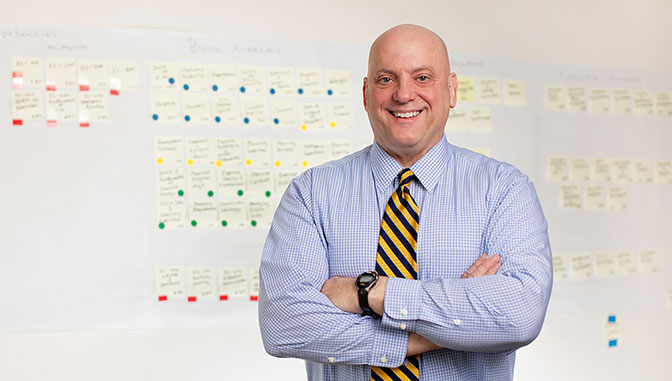 Kelly Garrett helps educate the next generation of emergency management professionals
Emergency management professionals are tasked with the difficult job of organizing and managing support efforts following natural disasters so that survivors have access to food, water, shelter, clothing, and transportation. As director of the Emergency Management Professional Program at the Emergency Management Institute—housed within the Department of Homeland Security—, Kelly Garrett's job is to prepare these professionals so they can do their jobs successfully.
Garrett, of Spring Grove, Pennsylvania, served three years' active duty with the Army Reserve after graduating high school in 1975. He learned he needed to obtain a bachelor's degree to be eligible for promotion to captain, so he began taking courses at various institutions. While living in Poughkeepsie, New York and working at a paper company, he heard about Excelsior College. "Excelsior provided me with the means to be able to do that [earn a bachelor's] because it accepted all my previous college credits and allowed me to take CLEP exams and competency exams," he says. He graduated with a Bachelor of Science with a major in history in 1991.
Garrett also earned a master's degree in leadership in 2006 from Duquesne University and a master's in education in 2014 from the University of Pennsylvania. He went on to complete the Chief Learning Officer Executive Doctoral Program at the University of Pennsylvania in 2017. Garrett credits Excelsior with his successful path: "Because I was able to complete my bachelor's degree at Excelsior, not only was I able to retain my commission and was competitive for promotion, it allowed me to get two master's degrees, a doctorate, and retire from the army as a colonel…all of that ultimately led to me pursuing a career with the federal government."
Garrett has been the director of the Emergency Management Professional Program at the Emergency Management Institute (EMI), in Emmitsburg, Maryland, for the past three years. In that role, he oversees staff in charge of each EMI academy— National Emergency Management Basic Academy, National Emergency Management Advanced Academy, and National Emergency Management Executive Academy—and is responsible for curriculum design, course development, and recruiting and maintaining adjunct faculty. "Our goal is to better prepare the nation's emergency management professionals to prepare for and manage catastrophic disasters so that communities can recover more quickly with less destruction in everyone's lives," says Garrett, adding that EMI's goal is to become the preferred school of continuing and professional studies for emergency managers.
So far, 38 states have adopted EMI's Basic Academy as the fundamental training center for their emergency responders. "More and more states around the country are adopting our program as the primary professional development tool for the emergency managers in their jurisdictions," says Garrett He adds that there is no cost for students to attend EMI's programs and in many cases, EMI provides a stipend that pays for travel as well as for room and board. EMI also offers field delivery, which brings courses directly to students, such as first responders in smaller, more rural communities.
The Emergency Management Institute also partners with organizations and universities to better serve the community of emergency responders. The Homeland Security Institute of the National Guard Bureau, for instance, has adopted the Institute's basic and advanced academies as their primary professional development tool for members of the Army, National Guard, and Coast Guard. EMI also collaborated with the International Association of Emergency Managers to make sure those who graduate the academies meet the criteria to be an emergency manager.
Garrett enjoys "knowing that we're contributing to making a difference around the nation for a profession that helps people on the worst day of their lives when a disaster strikes." He also likes that he can help the public understand what the emergency management role entails because there is a common misconception that fire departments or police departments handle disaster emergencies. Police and fire are usually first on-scene, but it's the emergency managers that coordinate survivor support such as the logistics surrounding food, water, shelter, clothing, transportation.
Garrett has more than 20 years' experience in adult learning and development, and teaching. He was also a faculty instructor at the U.S. Army War College during his last few years with the Army Reserve and, for the past 10 years, he has been an adjunct faculty member at Elizabethtown College in Pennsylvania and Mount St. Mary's University in Emmitsburg, Maryland. At Elizabethtown College, he teaches in the Master of Science in Strategic Leadership program and at Mount Saint Mary's, he teaches in the Master of Health Administration program.
Garrett likes interacting with adult students. "They have full-time jobs; most of them have families; but they're looking to be lifelong learners and to get an advanced degree to further their careers and further their knowledge," he says. When he retires in the next three to four years, Garrett plans to continue teaching and consult in leadership development. He enjoys teaching the next generation of emergency management professionals and says, "that's my way of being able to give back, because somebody made that sacrifice of their time in order to do that for me as a student."