Faculty Focus: Adrienne Foederer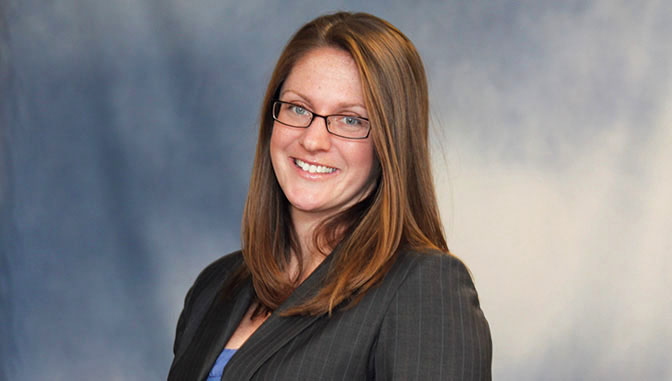 Adrienne Foederer's background lies in both biology and law, which has allowed her to work in many different positions involving the judicial system and health care. She has brought her wealth of knowledge and experience to the HSC 312 Ethics of Health Care course she teaches at Excelsior College, giving her students an informative and engaging learning experience.
Foederer graduated from Ithaca College with a degree in biology, but after working as a lab assistant, she realized the lab-centered career wasn't for her. That's when she decided to switch gears and pursue law at Albany Law School. At first the subject matter was difficult, but Foederer found her niche when she enrolled in a joint online master's program with Albany Medical Center. "During law school I concentrated my internships and fellowships on healthcare-related subjects like discharge planning and surrogate decision making," she says. She graduated with a law degree and a Master of Science in Bioethics.
Following law school, Foederer worked in the federal courthouse in Albany, New York, while her husband was deployed and she was caring for her father who had fallen ill. Her caseload included inmate litigation, such as prisoners complaining about civil rights violations or indicating their convictions weren't constitutional, as well as social security appeals. At this time, she also began working as a hospice volunteer at a local nursing home. She later also held a position as a writing specialist with Albany Law School and led small group discussions with medical students at Albany Medical Center. In 2017, Foederer and her family moved to Syracuse where she is now a law clerk in an Inmate Litigation Unit. Instead of working for one judge, she focuses on habeas corpus petitions for all judges in the district.
Through her many career changes, Foederer has remained an instructor for Excelsior since 2008. Her HSC 312 Ethics of Health Care course covers controversial and thought-provoking areas of health care. Foederer asks students to share personal or professional experiences surrounding reproductive and end-of-life choices; they discuss the difficult decisions surrogates often make; and they discuss the issues surrounding organ shortage and donation. The course is heavily based on discussions, but Foederer thinks that's what allows students to get down to the core of a subject. "Giving students a safe place for honest discourse about emotionally challenging and exhausting subjects allows students to share, learn that they aren't alone in their personal and professional struggles, and explore how and why they feel the way they do about various healthcare issues," she says, adding that it's a plus that students come from a wide variety of life and professional experiences so the conversations are always full of depth.
In fact, the online discussion format is what Foederer likes most about Excelsior. "Unlike the traditional classroom, where you can go an entire course without ever hearing the majority of your students speak, teaching here requires participation from all the students," she says, adding that she often learns something new from her students during discussions. She adds that her students all enjoy the online format of Excelsior since it allows for a better work/life balance. She's says it's important to be organized and disciplined, though.
Foederer suggests students set themselves up for success from the start by printing out course syllabi, maintaining a calendar, writing down due dates, and scheduling blocks of time for studying and free time. Scheduling is a must, says Foederer, but you must also schedule time for fun. "You're working hard for something—a better paycheck, your family, your own personal satisfaction. That takes a toll, especially when you're juggling a lot of other responsibilities … . A little time recharging will allow you to better prioritize, focus, and be productive," she says.
Between teaching for Excelsior and working as a law clerk, Foederer has a busy schedule. She remembers to make time for family, though, just like she advises her students to do. Her favorite thing to do is spend time with her husband and their five-year-old and two-year-old daughters. "You can generally find us at the zoo, the aquarium, the science museum, the park, or hanging out with their cousins!"
More from Adrienne Foederer:
What's the best podcast, book, and magazine related to your area of expertise? "…just reading the news brings issues to your attention. I like to surf the bioethics.net blog articles and twitter feed."
What is the best advice you've received related to your area of expertise? "Effective communication is more about listening than it is about talking. In order to really understand the aspirations, fears, concerns, and challenges of those around you, you have to listen. What they say may not persuade you to a different result but being able to acknowledge all the viewpoints and all the concerns of those impacted by a decision will make the solution more palatable to all parties, even if ultimately everyone is not on the same page or still upset by the outcome."
What job hunting tips do you give to your students? "Your professional reputation starts the second you walk into a building or a classroom. Work hard, smile, be engaged and interested, ask questions, be respectful, and be kind. These simple things always got me noticed in an academic or professional setting. Everyone wants to help someone that they like and respect. People truly want to see others succeed."