Healthy Eating for Busy People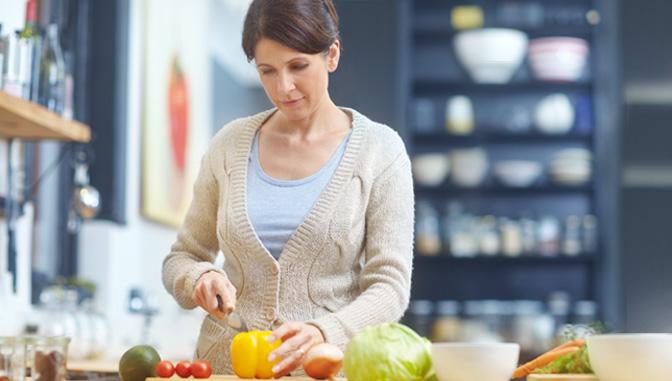 I often hear from my clients and Health Sciences students that staying on a healthy path is difficult with the fast-paced world in which we live. As a busy working mom of three children under 3 years old (a 3.5-year-old and twin 16-month-olds), I would have to say that time is literally of the essence to get a healthy meal on the table. I could not accomplish this feat without meal planning, prep, inspiration, tools, and a little help from Sesame Street.
Planning is key. Meal planning is the new buzz word for a fast-paced life. According to the International Journal of Behavioral Nutrition & Physical Activity, "Individuals planning their meals were more likely to have a better dietary quality, including a higher adherence with nutritional guidelines as well as an increased food variety. Additionally, meal planning was associated with lower odds of being obese in men and women and overweight in women only."
Each week I sit down and write a Monday–Sunday list of dinners that I know are quick, healthy, and delicious. No one wants to eat boring food, so I attempt to give each day a consistent main theme that helps with the busy week and provides overall balance. Not much of a planner? There is an app for that, literally down to the list! Digital Trends and Real Simple  have lists of apps to choose from. Many of the apps also have creative meal inspiration. There's something for nearly everyone!
Here are some tips that might work for you:
Plan "theme of the day" dinners. Big Meal Sundays (double batch meals for leftovers or lunch), Meatless Mondays (bean burger, frittatas, or join the veggie noodle craze), Taco Tuesday (lighten up with ground bison or turkey, 1/2 pack of low-sodium taco seasoning mix), Boneless Chicken Thigh Wednesdays (ok, it doesn't flow, but you get the idea and they are easy to cook), Take Out at Home Thursday (veggie pizza, tofu stir-fry, Indian spiced cauliflower), and Fish
Prep & Pair: I then pair each main course with a fitting vegetable and potential There are some great vegetables out there that come pre-packed (think Mexican slaw for Taco Tuesday) that can easily be mixed, microwaved, or roasted in under 20 minutes. If you can't purchase pre-cut veggies, just add some time to your prep list on the day off and store appropriately. My fast and healthy go-to grains include brown rice (instant or not), polenta, faro, and quinoa.
Add a dose of inspiration: There are a lot of good resources out there these One of my favorites is the Real Simple magazine website. They give you at least five recipes each month with the time needed for preparation and cooking and a nutritional breakdown.
Have the right tools on hand: Anything that can decrease your time preparing and cooking is worth the money spent: Instant Pots, crockpots, grills, air tight containers, blenders, hand choppers, and the list goes
Other meal planning tips:
A faster, better breakfast: Some go-tos are oats (cold, hot, slightly sweet, or savory) and smoothies (low-fat Greek yogurt, frozen vegetable, and fruit).
Quick-pack lunch: Leftovers make great lunches, especially on top of greens or in a quesadilla. Really on the run? I love portion-packed nuts, apples, other quick-eat fruit, and Greek Yogurt
I know meal planning can be painful but based on my experiences with clients, it will help you optimize your dietary options and meet your long-term health plans. Remember it's a lifestyle change, but it is a change worth making.