Transitioning to Civilian Life: How to Choose an Online College for Veterans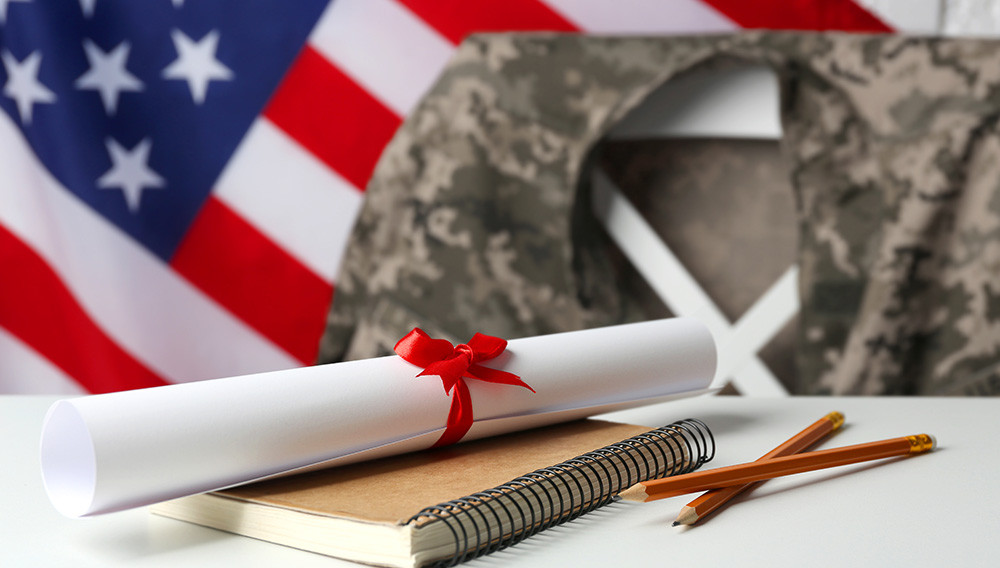 The challenges can mount quickly for veterans when they make the transition to civilian life. They leave a life of service to their country to move into an academic environment and job market that can seem like another world. Providing online college for veterans is an important way society can give back to veterans who have served.
Fortunately, colleges offer support for veterans. But some offer more than others. Excelsior College proved its commitment to veterans five decades ago with the creation of a Center for Military and Veteran Education that provides straightforward answers and support for veterans who become students. Chris Johnson, director of the center, said veterans have concerns beyond just handling academics when they leave the service for college.
"There can be uncertainty in terms of finances, living situations and family, and job prospects. Restarting or starting school for the first time can add additional stress to an already stressful time," Johnson said.
What Makes a University "Military Friendly"?
Many colleges call themselves "military friendly." But what exactly does that mean? For veterans, it's more important for schools to offer a strong mix of services and programs designed to help them succeed. The following three factors can make a school a better choice for veterans.
Granting Credit for Military Training
A military-friendly college should review what a veteran learned in military training for potential credit in similar college courses. Excelsior College considers previous college credits, military training and experience, and CLEP and DSST exams.
Veteran Services
Campuses that provide specific support for veterans show their commitment to veterans' success. The best schools feature advisors trained to work with veterans on both academic and career planning. These schools can better help veterans handle the unique challenges they face as they enter civilian life.
Clear Financial Aid
The bureaucracy around financial aid is bewildering. Veteran friendly schools assign a staff member to work with veterans on financial aid, giving them information on the GI Bill®, Yellow Ribbon Program, and other scholarship and grant opportunities.
Johnson noted the complex web of financial support "can create administrative stresses that are difficult to navigate for civilians, not to mention veterans who may not have had any experience or guidance on these things." That's why the center offers support for veterans on financial aid throughout their school career.
Many service members don't realize how beneficial the GI Bill® is and leave the military without understanding their real value in the civilian workforce. Your skill sets are valuable, and employers actively seek veterans because they can learn new skills and concepts and apply them under real-world pressure.
What Excelsior College Offers Veterans
Excelsior College has a long tradition of support for veterans who pursue a college degree. In 50 years, the school's Center for Military and Veteran Education has worked with more than 72,000 service members, veterans, and their family members.
The school offers a generous credit transfer policy that allows veterans to earn their degrees faster. It also offers online courses with flexible eight-week and 15-week terms. Many veterans prefer online courses through the college, which allows them to earn their degree while working a job. Many also feel more at ease online rather than on campus with younger students.
Every veteran at Excelsior College works with a Veteran Admissions Counselor who has expertise in issues that impact veterans. They help students clarify academic goals and assist with setting up financial aid. Once enrolled, veterans work with a Veteran Academic Advisor who helps them with long-term degree planning, success skills, and navigating college financial and academic resources.
Most veterans attend Excelsior College to complete their bachelor's degree, Johnson said. However, once they become familiar with online learning, some veterans move on to earn a master's degree that "helps them further set themselves apart in the job market." A Master of Public Administration is a great choice for military veterans who would like to transition to a civilian government position.
Excelsior College graduates also offer thoughts on their experience earning a degree at the college after military service. Robert Trawick, a 2019 graduate with a Bachelor of Science in Liberal Arts, said the veterans center "was always helpful, knowledgeable, understanding, and available."
Melissa Burger, who earned a master's degree in cybersecurity, said the center, library staff, and academic advisors all supported her. She said she would tell veterans considering college that "you are worth a better paying job, more self-confidence, that promotion at work, and so much more."
GI Bill® is a registered trademark of the U.S. Department of Veterans Affairs (VA). More information about education benefits offered by VA is available at the official U.S. government Web site at benefits.va.gov/gibill/.