Today's Interview & Workplace Attire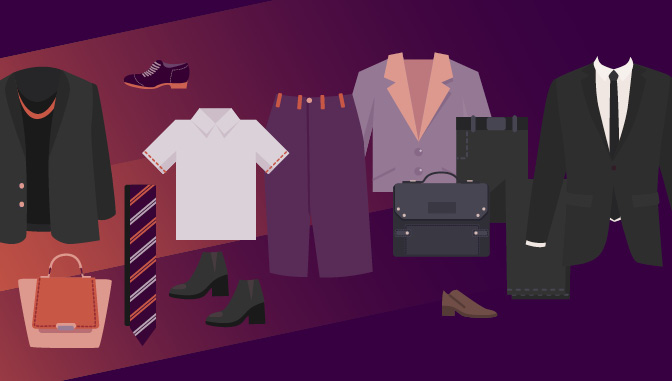 What do you wear to an interview and what exactly is workplace attire? Answers certainly vary on this topic, sometimes —or even especially—depending on your generation.
Think about what people notice about you first. What difference does a first impression make based on the setting you are in? First impressions go a long way and leave a lasting mark. The reality is that people make judgment calls as well as assumptions based on what they see and how they personally interpret looks. This is normal unless inappropriate or illegal.
Imagine these scenarios when you see a candidate you are about to interview. It does not matter what or where the job is. It could be for a music producer in Nashville, Tennessee; maybe it is a technical engineer role for a start-up in Silicon Valley, or a dog walker in Albany, New York. The first candidate walks in the door wearing ripped jeans, a tank top, baseball cap, and flip flops. They look at you and say, "Hey, how are ya?" without shaking your hand. Your next candidate greets you in a button-down blouse, pleated pants, and dress shoes while extending a hand to shake. A final candidate is wearing Converse sneakers, a long skirt, and a black long-sleeve polo shirt with a huge gold Gucci logo across the front and kindly says, "Hello nice to meet you," as you greet them.
What is your first impression of each of them before they even begin talking to you in an interview setting? What judgment calls have you already made in your mind about them and what does it mean for their chances of being hired? Now, picture all three individuals on the job in the same attire with the same demeanor. What does that initially make you feel about them?
You always win when you dress professionally regardless of the job. Judgment will be made on your attire and the way you present yourself. Have a firm handshake, stand tall, smile, and project confidence. You never get a second chance to make a first impression. You cannot avoid this, so make the right one! Give your best impression in your answers, personality, and attitude in an interview and on the job, and do the same with your attire. Dress neatly, be clean, and show effort. Hiring managers want someone who would represent their company well. They see your first impression as the same impression you will give clients or customers of the organization.
Appropriate dress is specific to the employer and their policy. Two articles I'd like to share:
Goldman Sachs Relaxes Dress Code. David Solomon came on the scene as CEO in July 2018, making this dress code change in less than one year. Could it be that his alter ego "D SOL" wants Goldman to be respected for keeping things real and removing the intimidation fear factor stigma of this investment banking powerhouse?
GM's Brilliant Dress Code. This is my all-time favorite. Highly recommend for all organizations! Check out this article and think about what this dress code policy really means.
The moral of this story?
Use common sense, good judgment, and dress appropriately!
If you question it, don't wear it!
Smile and be sure those pearly whites are clean before doing so!