What's the Difference Between a Cybersecurity and Information Technology Degree?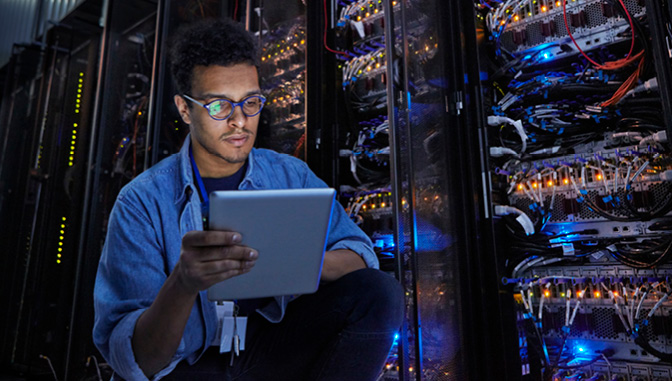 An Excelsior College webinar clarifies the nuances
Information technology (IT) and cybersecurity are two of the most in-demand careers you can enter. The need for a combination of technical ability with analytical and problem-solving skills make them the perfect professions for the person who likes to evolve their skills at the speed of technology. While the IT and cybersecurity fields run parallel, there are some nuances to each that perspective students should be aware of when considering a degree program.
On October 23rd, Excelsior College presented a webinar explaining the differences between IT and cybersecurity degrees and the opportunities available to expand your career in each discipline. Lead by Ethan Sprissler, faculty program director for cybersecurity at Excelsior College; Lisa Romano-Arnold, regional director of government and workforce partnerships at Excelsior; and Tom Formby, senior human resources specialist for outreach, diversity, and inclusion recruitment policy, and outreach at U.S. Office of Personnel Management, in Washington, DC, the program explained career paths and degree programs in-depth for recent graduates and those considering their next technology degree.
Information technology, Sprissler explained, is a broad term for careers and degree programs that cover a wide range of skills, including network administration, web design and development, database administration, software development, and even cybersecurity operations. While IT degree programs and job descriptions include a level of information security literacy, "cybersecurity" refers to a narrowly focused set of skills that includes cyber operations, information assurance, risk analysis, incident analysis, and digital forensics.
There are ample job opportunities for both information technology and cybersecurity degree holders as the number of qualified workers has not grown enough to keep pace with the demand. In large metropolitan areas, salaries for those with cybersecurity degrees have been outpacing salaries for most general information technology positions. Regardless of your degree, experience is a large factor in salary determination, so make sure you stay current with changes in technology and best practices and consider earning skills certificates through companies like ISC2, CompTIA, and CISCO that offer industry standard certifications that can boost your earning potential.
The most important thing you can do to advance your career is to advance your education. Earning a bachelor's or master's degree will deepen your cybersecurity-specific skills or, if working in IT, expand your general knowledge base. The National Security Agency (NSA) and the Department of Homeland Security have designated Excelsior College as a National Center of Academic Excellence in Cyber Defense Education and our IT program has been accredited by the Computing Accreditation Commission of ABET. At Excelsior, both degree tracks will provide you with strong foundational skills you'll need as you further your career, like managing teams and/or departments, managing large projects, developing and enforcing policy, and knowledge of state and federal compliance laws.
When you're ready to job-search, there are many employment options for both IT and cybersecurity grads across industries as varied as health care, finance, and manufacturing, but one of the leading employers is the federal government. Romano-Arnold explained that the federal government is always seeking qualified staff to fill mission-critical workforce occupations like cyber incident response, cyber risk and strategic analysis, vulnerability detection, network and systems engineering, software assurance, and more. Formby explained in more detail the process of finding a position within the federal government using resources like USAJobs.com and the Pathways Program, proving that rewarding and well-paying job opportunities are available even for the most recent cybersecurity and IT graduates.
If you're interested in learning more about Excelsior's IT or cybersecurity programs, visit our technology degrees page at  https://www.excelsior.edu/programs/technology/.  A recording of this webinar is available at the following link: https://attendee.gotowebinar.com/recording/5914906766897405196 . Visit our Events Page at https://www.excelsior.edu/events/to see a listing of upcoming webinars.