John Caron Becomes Provost and Vice President of Academic Affairs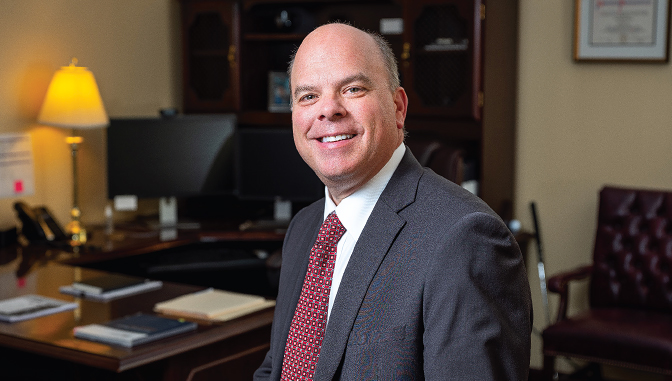 John Caron, the new provost and vice president of academic affairs, has a vision to elevate the student learning experience at Excelsior College. Photo: Mike Hemberger
---
In July 2019, John Caron was named the new provost and vice president of academic affairs at Excelsior College. He is the College's second-ranking officer with strategic responsibilities that span the entire institution.
Caron has worked for more than 20 years in higher education in various senior leadership positions. Caron was provost at Endicott College; associate dean, Krieger School of Arts & Sciences at Johns Hopkins University; senior associate dean, academic and faculty affairs at Northeastern University; associate dean, School of Professional Studies at Brown University; and interim dean of admission and the first year at Bennington College.
During his career in higher education, he has worked to remove barriers to success, managed recruitment, provided academic strategic direction, and revamped, retired, and launched new programs. Caron has served on senior leadership teams and led strategic priorities to align with the vision of the institution.
Caron was drawn to Excelsior's unique story and way it serves underrepresented students. He continues to be inspired by Excelsior's people who care about adult learners and says, "Unlike other colleges and universities that are scrambling to serve different populations in new ways, Excelsior has stayed true to its mission."
As provost and vice president of academic affairs, Caron's vision for Excelsior's future consists of four strategic pillars. In his own words:
"Offer high quality courses that are engaging and relevant to our learners' experiences. If we achieve this goal, students will register for more courses and tell their friends and family about Excelsior. Word-of-mouth is still a powerful way to expand the value proposition of an Excelsior education.
Remove barriers to success. Removing barriers to admission, course registration, financial aid, and advising will lead to increased retention and persistence. I also believe we need to position the College to be a partner for life with our alumni. If we want to have a partnership for life with our students, our learning ecosystem needs to include multiple pathways for our alumni to stay engaged with the College.
Position prior learning assessment to be a game changer for the College. Many competitors are now branding themselves as a degree completion school. Moreover, major companies like Walmart, Amazon, and Google are offering training for college credit as a way to acquire and retain talent. I believe Excelsior is uniquely positioned to evaluate and award college credit for training.
Revamp existing programs and offer new programs and credentials aligned with industry needs. Today's learners are consuming information in different ways and at lightning speed. The workforce of the future demands that workers acquire skills they need quickly and affordably."
Though the pillars are Caron's overall hopes for the future, there are some things that faculty and students can expect to see during the next few years. For instance, courses that will create a more meaningful interaction between instructors and students, integrate career readiness skills, and inspire faculty to be creative and innovative are in development. Excelsior has also hired a company to conduct an external review of the student experience from discovery to graduation so that the College can improve outreach strategies where needed.
"As provost, Dr. Caron will be a key driver in developing academic offerings and strategies that are aligned with the changing landscape of higher education, so that Excelsior may maintain positive growth and advance its position among peer institutions," says President James N. Baldwin.