Justin Marier: Pursuing More with Excelsior College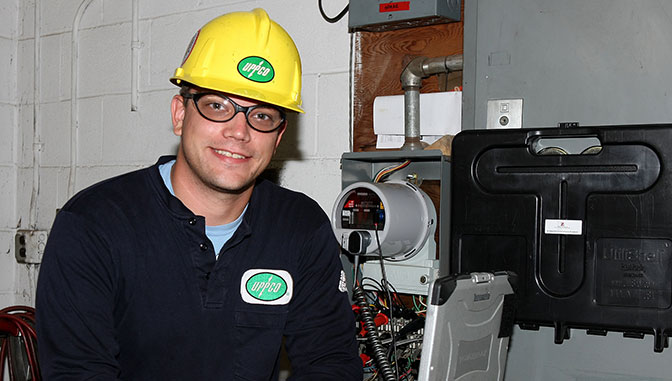 Online Degrees at Excelsior College for Busy Professionals
Justin Marier fills a lot of roles. He's a meter electrician, executive board member for his local union, president of the village, vice president of the school district's board of education, and a eucharistic minister for his church. He's also a devoted husband and father of three. Even with these demanding responsibilities, he manages to find time to keep studying, keep learning, keep working toward his Associate in Applied Science in Administrative and Management Studies.
Marier, of South Range, MI, earned an associate degree in electronics technology from Northern Michigan University in 2002 and shortly after, got a job at the Upper Peninsula Power Company (UPPCO), where he has worked for the past 15 years. Over the years, he has held positions as a meter reader, apprentice line electrician, clerk, and meter electrician. He is also an active executive board member of the International Brotherhood of Electrical Workers (IBEW) Local 510.
IBEW and UPPCO encourage their members and employees to take advantage of educational benefits to advance in their careers, and the partnership discount IBEW has with Excelsior drew Marier to the college. "With the benefits of a tuition reimbursement program through my employer and the unique tuition deferral program at Excelsior, it was almost as if I had to search for a reason not to go back to school," he says. He adds that it was the right time to start something new and fresh after being out of school for so long.
Personalized Experience and Tuition Aid at Excelsior College
The tuition discount, Marier says, was a big help to his family, considering his son is also in college. "The fact that Excelsior made it affordable and convenient with their payment options, just gave me a feeling of ease in the decision," he says. He adds that it helped make the choice to return to college that much easier. The enrollment process was also easy, he says. "From the moment that I started the application process, I had individualized help from Excelsior…I was worried that it would be a daunting process, but the admissions group at Excelsior made it painless and really eased my anxiety about moving forward with this new adventure."
Pursuing an associate degree in business is a chance to try something new outside the world of electronics, he says. "I've always been interested in how businesses work in general, and it really seemed like something that I could easily motivate myself to do," says Marier.
Though he has the motivation, it has been difficult to find time to study, between taking care of three children, having a full-time job, and being actively involved in his community. His biggest challenge has been sticking to a schedule, but with Excelsior's flexibility, he says, "I found myself studying and doing homework whenever I could find free time, whether it's on a break at work, late at night after the kids go to sleep, or on a rainy day on the weekend."
Marier has found Excelsior's course structure to be beneficial, too. "The courses are so well organized through its Canvas Learning System, and the flexibility of completing assignments and discussions around my own schedule was a real life saver," he says, and adds that his instructors were always willing to go the extra mile to answer any questions or concerns.
The courses that he has enjoyed the most are financial accounting, business ethics, and labor relations. "Financial accounting really opened up my eyes to the complex world of accounting and why it's so important for the success of a business. Business ethics showed me how important ethics are in a leadership position or positions of authority," he says. He adds that he learned a lot in business ethics that applies in his work and home life. With the labor relations course, Marier was able to explore the history of the labor movement on a deeper level. "This [labor relations] is the bread and butter of where my experiences are, and it was great to be able to gain a different perspective about how labor relations work," he says.
Convenient Online Degrees at Excelsior College
Marier knew online learning with Excelsior was right for him because it helped with his busy life, and he encourages others to consider the non-traditional learning style, saying, "If you're like me and have been considering going back to school, don't be afraid to take that leap with Excelsior. They understand how hectic life is and work with you to make it as convenient and stress free as they possibly can." Marier also points out that it was beneficial to learn alongside students in similar situations as him.
"I haven't earned my degree yet, but I'm hopeful that once I do have it, it will open up some new doors and new possibilities for me," says Marier of his future prospects. He wants to return to Excelsior to pursue a bachelor's degree in business or electrical engineering technology. Whatever he chooses, he is ready for the adventure. He says, "The road of life is always twisting and turning and you just have to be willing to swerve once in a while to find your path."