Master Manager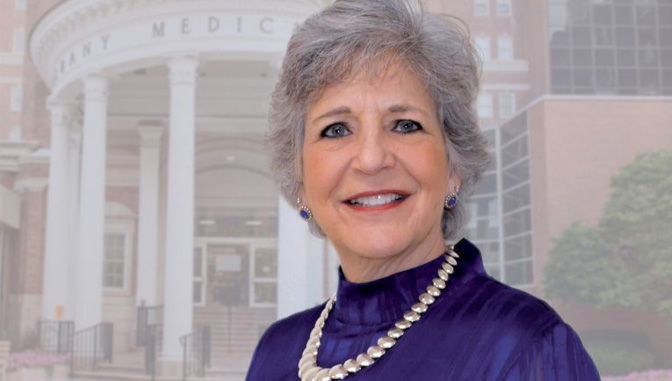 Diane Carey proves leadership is an important nursing career
Diane Carey, of Latham, New York, has worked in various areas of nursing throughout her more than 30-year career, including in the nursery and operating room. She has increased her knowledge of the profession along the way, including earning a master's in nursing from Excelsior in 2009. Through the many areas of nursing she chose to learn, grow, and make a career in, one thing has remained the same in Carey's tenure as a nurse: her leadership.
Carey has been the interim chief nursing officer at Albany Medical Center (AMC) in Albany, New York, since October 2018, and as such, she oversees all aspects of nursing care. For a position of this scope, Carey says having a lot of support helps. She also says, "If you look at it negatively, and that you feel like it's too much responsibility, then you're not the right person in that position." Carey says it's all about working with her entire nursing team to get the job done.
AMC is a learning institution and Carey takes every opportunity to encourage her staff to seek higher education. Professional growth and development are important aspects of nursing, things to which Carey can personally attest.
In the early 1990s, while she was working in the operating room at Bellevue Women's Center in Schenectady, New York, her manager encouraged her to go back to school for her bachelor's. She completed that degree as well as a program through Delaware County Community College to become a RN surgical assistant, which allowed her to assist doctors conducting surgeries. This was quite a change from her previous career at Bellevue, which was working in the nursery, but Carey says the transition was all part of her growth in the nursing field.
In 2005, Carey's CNO asked her to be a manager in the labor and delivery department at Bellevue. "I still remember the conversation: 'I need your personality and leadership over there right now.' I really didn't want to leave the OR, but I think not saying no to her really helped me be where I am today." It was during this time, she also began attending perinatal outreach meetings at AMC and became interested in AMC's mission.
AMC caught wind of Carey's impressive leadership skills and approached her with a manager position in the vascular unit. Carey recalls knowing very little about vascular disease and vascular patients but remembers thinking that if she wanted to grow in her leadership career, she needed to move to an organization with more leadership opportunities. When asked how she could be manager of the vascular unit without any knowledge of the area, Carey said, "I'm not here to apply for a position to care for the vascular patients. I'm here to be your manager. And as a manager, I'm going to care for you in this unit and ensure that you have everything you need to care for the patient. And that you have the staff you need to care for the patients."
Carey landed that job in 2006, the same year she decided to go back to school to earn her master's so she could move up in her career. She knew of the partnership between AMC and Excelsior and of other nurses who attended the online college, so she decided to enroll. "I wanted an online program and Excelsior had a good reputation. The reason why I wanted online was because I felt that with my work-life balance, online would work best for me, which it did," says Carey of Excelsior's nursing program. She earned a Master of Science in Nursing in 2009.
With her master's, Carey became the director of Medical Surgical and Mental Health Services at AMC, but again, she recalls having little background in mental health; instead, she leaned on her leadership experience. She also worked closely with the managers in the departments she supervised, who worked directly with mental health patients, to make sure jobs were completed. Carey's leadership skills grew over the years as she took on leadership roles in other areas including in the Emergency Department and in organizational projects. Carey's position elevated to assistant vice president of Medical and Mental Health Services until she moved into the interim chief nursing officer role in 2018.
Now Carey continues to use her leadership skills to manage the vast nursing organization of Albany Medical Center. She says the best part about her job is seeing patients improve and watching nurses grow and succeed. She encourages her staff to explore the different avenues of nursing, noting with nursing, you can go into many areas, such as leadership, IT, clinical, nurse practitioner, bedside, etc. Carey says you aren't limited in what you can do; "It's amazing where you can go with a nursing degree, if you are willing to advance your career." Learn more about Excelsior's RN to MSN in Nursing program.
More from Diane Carey
What would you say to somebody who wanted to go into nursing leadership but didn't know where to start?
"Never say no to an opportunity. Join committees, volunteer; go above and beyond…definitely get involved early on."
What is the most important skill or trait that you need in your position?
"Good communication skills."
Best newsletter, book, or podcast related to your industry?
"The AMA, the American Nurses Association. And AONL, the American Organization for Nursing Leadership. That helps me with evidence-based practice updates and increasing my nursing leadership skills. And then I like Brene Brown. She does a lot of podcasts and the TED Talks also always have something interesting. The leadership podcasts help with communication and listening skills which is what is needed in my role."