Moving Up: Steven Corey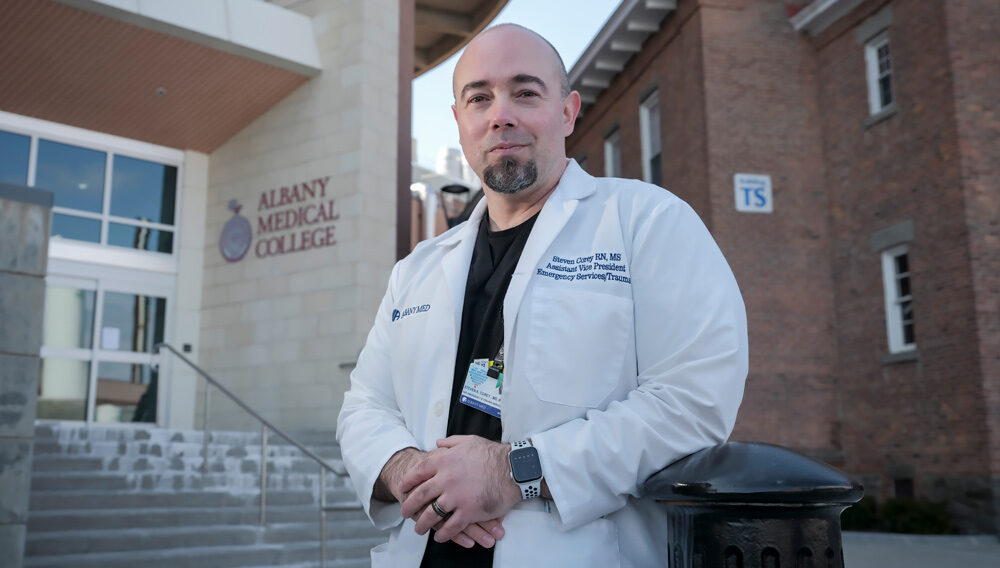 Steven Corey's degrees help him move from entry-level to nursing leadership
Nursing was not at the forefront of Steven Corey's mind when he began looking for a career. It wasn't until the Scotia, New York native got a job as a patient care technician with Albany Medical Center in 2007 that he realized he wanted to stay in the world of health care.
Corey had grown up in the restaurant industry but quickly decided he needed to pursue a more financially stable career path. His interests ranged from law enforcement to health care, and he ultimately decided to pursue nursing due to job security. He followed his interest in the emergency department and trauma nursing and began working at Albany Medical Center in the Emergency Department as a patient care technician. He earned his associate degree in nursing from Maria College a year later, in 2008. After a few years in trauma nursing, Corey was promoted to a patient care coordinator. This new clinical leadership role carried a lot of responsibility, but Corey was ready for it. "I loved the work. Being a leader in a department full of incredible talent inspired me," he says.
By 2013, Corey had been covering night shifts in the Emergency Department for some time and was ready to apply for the position of nightshift assistant nurse manager. As it turned out, he was declined for the role due to lack of education. Corey then learned of Albany Medical Center's partnership with Excelsior College and decided to take the plunge into online learning so he could advance his career. "The process of enrollment and setting up a course schedule was surprisingly easy. So, I jumped right in. Excelsior offered eight-week courses, which allowed me to expedite my effort," he says and adds that working with his Excelsior academic advisor and the education team at Albany Medical Center was a smooth process.
It didn't take long for Corey to master navigating Excelsior's online courses. He says that the process of posting discussions and engaging with online peers was easy, and the functionality of Excelsior's online format made going back to school for the then first-time dad and husband a walk in the park. In less than a year after enrolling, Corey earned a Bachelor of Science in Nursing in 2014 and decided to pursue a master's degree with Excelsior. He earned a Master of Science in Nursing Leadership and Administration of Health Care Systems in 2017 and soon found himself on a path to a rewarding position in nursing leadership.
After earning a master's degree, Corey first became a nurse manager for the medical ICU and, as he puts it, he "had a blast." He enjoyed his relationships with his coworkers and spent a little under two years gaining experience as a manager and doing administrative work. In January 2019, the chief nursing officer asked Corey to return to the Emergency Department to become the interim assistant vice president of emergency services, trauma, and mental health. He was appointed to the position in October 2019.
As an assistant vice president, Corey has a challenging job. Problems are on a larger scale, he says, noting that looking after several different units instead of just one, makes things more complicated. It's also what makes things so interesting. "It [a problem that arises] changes the thinking a little bit, it changes the strategy a little bit, and it challenges you to research and learn every single day… And whether it's budget-related, policy-related, or regulation-related, I'm learning something new every day," says Corey. He also points out that his job involves a lot of self-discovery, saying he learns about himself and his capabilities with each new opportunity.
Corey says being in leadership has caused him to be a better mentor to the nurses and nursing leaders. "It's about building the next group of leaders and promoting your team," he says. The changing times of health care make it an exciting time to be on a team, making on-the-spot decisions and trying to problem-solve issues not previously encountered. "It's just a cool place to be," says Corey.
Steven Corey Adds Fun to His Assignments 
To say that Corey has an interest in speculative fiction is an understatement. Watching Star Wars is required reading, viewing, and fandom in Corey's household. Horror and science fiction are a huge part of Corey's personal life, but, as he pointed out in his coursework, they can be applied to the world of health care. "When you look at the relationship between health care, resource management, and 'The Walking Dead', there is no finer, clearer delineation between how you can organize a tight budget to impact the greatest good. If you can survive in that universe and feed a community, you can run a health care industry," says Corey.
As an elective in Corey's bachelor's in nursing program, he took ENG 315 Zombies in Literature and Popular Culture. His final submission for the course was a more than 20-page critical analysis of the 1968 movie, "Night of the Living Dead." During his master's coursework, his written assignments included references to "Star Wars," "The Walking Dead," and "Lord of the Rings." In one course, he had to discuss the disparity of access to care and the need for health care leaders to engage care delivery that meets to the needs of patients. Corey chose to write about "The Walking Dead." "The 'walkers'[zombies] are a problem but so is resource management and infrastructure. However, while these barriers exist, we need to be creative and determined to meet these challenges in a health care system full of complexity and constant change," he explains.
There is no end to the amount of comparisons one can make to health care experiences. "So, when you've got to write a 20–30-page paper for your online Excelsior degree [program], there's no reason it can't be fun."