Michelle Ashley Earns Criminal Justice Degree Using Educational Benefits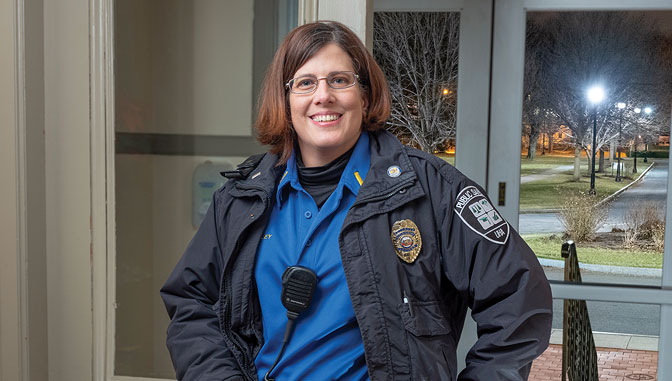 Excelsior College's corporate, association, and government partnerships give people the opportunity to complete their degrees through high-quality programs, affordable and discounted tuition and fees, flexible course schedules, and generous credit-transfer policies. The College's partnership with Zone 5 Law Enforcement Training Academy in Schenectady, New York, ended up being the perfect opportunity for Michelle Ashley to pursue her higher education.
Family:Her husband, a police officer, also has Zone 5 training
Favorite courses:CJ 120 Introduction to CorrectionsCJ 256 Criminal Justice Administration
Ashley, a public campus safety officer from West Sand Lake, New York, was going through training at Zone 5 while she was employed with University Heights Association Inc., a security company for colleges and college housing units. "I became a supervisor and that is when Excelsior and [Zone 5] went into a partnership," she says. Ashley has an associate degree in business from SUNY Cobleskill but decided to pursue criminal justice. Many of her subordinates also had associate degrees in criminal justice and Ashley wondered what their learning experience had been like. She had also been watching the Zone 5 training pages and saw an announcement to earn an associate degree in criminal justice with Excelsior.
"I was so excited that some of my work I did at Zone 5 transferred as credits over to Excelsior because then that made getting a degree achievable."
–Michelle Ashley '18
She had previously learned that a lot of her credits from SUNY weren't going to transfer to other schools, and she would have to essentially start all over again. When she looked deeper at Excelsior, she realized having been at Zone 5 gave her a leg up in making her degree happen. "I was so excited that some of my work I did at Zone 5 transferred as credits over to Excelsior because then that made getting a degree achievable," says Ashley. When she found out she could complete her criminal justice degree in a year with Excelsior, it became a more tangible dream that Ashley could achieve and not, as she explains, take away from her family time.
Excelsior's online learning format was perfect for Ashley, who works full-time and the late shift. She admits it was tough to take two classes at once, though. "I strive on making the best grades… Taking two classes at once made it hard to soak in the information. But I pushed through, and was able to finish both classes," she says. As a student, she had her Zone 5 training on her side and was able to refer to her experience for examples in the discussion topics.
Now she is encouraging her husband, who is a police officer, to pursue his degree with Excelsior. She informs him that with his background and credits, he's even closer to receiving his degree than she was. "For the security guard part of it, I did it within a year or so, but then with the police officer, you're going to use more of what Zone 5 has to offer," she explains, referring to the amount of credits Excelsior accepts from Zone 5 training.
Her degree has opened her eyes to the administrative world of criminal justice. She says it's helpful that she is able to pull information from her class research to show data that supports various ways of dealing with people who break the rules. Ashley's favorite courses with the College were CJ 120 Introduction to Corrections and CJ 256 Criminal Justice Administration. CJ 120 helped her understand why it is important to try rehabilitation as an alternative to incarceration and it showed her how biased the social justice system is against low-income persons. CJ 256 gave Ashley many administrative strategies to use in her career.
Ashley says the input from her instructors was instrumental in helping her succeed at Excelsior. "When I asked for help from the professors, they were more than willing to get information, links, or ask questions to help," she says. Ashley earned an Associate in Science in Criminal Justice in August 2018 and though she isn't thinking of switching jobs anytime soon, she says her degree will help when she pursues a promotion.
She plans to pursue her bachelor's and master's degrees in criminal justice because, with Excelsior, she found she likes the online format. "My company gives me tuition reimbursement so it makes it more achievable," she says of pursuing her education. She's not sure what topic she will pursue; she wants to keep her options open and see how she will best fit with her company, but administration, fire safety, and community policing are on her list. Thanks to her degree from Excelsior and her training from Zone 5, Ashley can keep her options open and pursue higher education and career advancement whenever she pleases.