What is a Nurse Educator?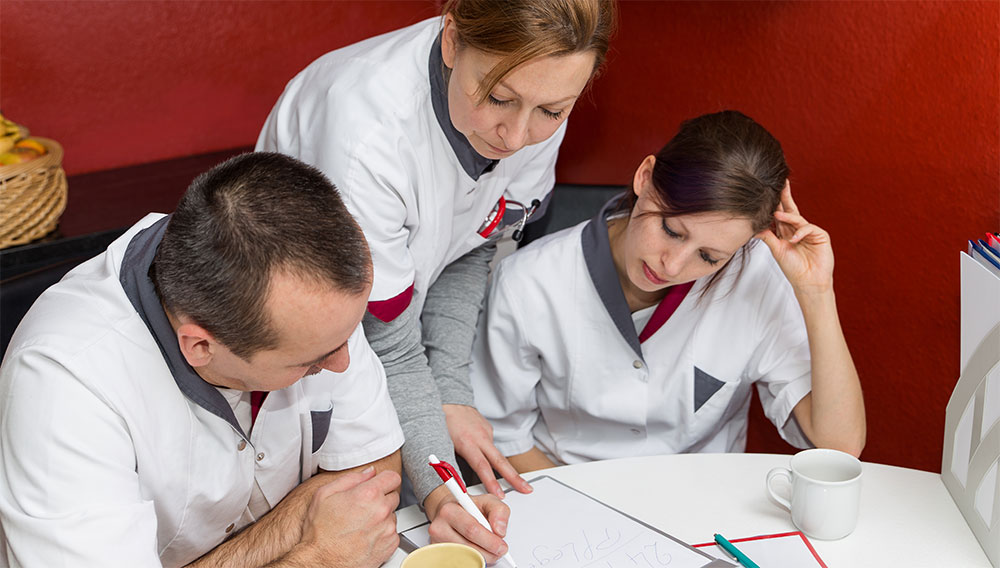 There are many career paths for a nurse. Some may choose to follow a predominantly clinical path while others may choose more of a mentoring role. A nurse educator combines teaching and clinical skills to help shape the future of nursing by educating and training new and current nurses. Nurse educators play a pivotal role in providing patients the best care possible by helping to create a skilled and diverse nursing workforce.
Nurse educators work in classrooms, on college campuses, and in health care services, including hospitals, long-term care facilities, hospice, and public health agencies.
Excelsior College offers an online MS in Nursing Education program that prepares graduates to excel in a nurse educator career. No GRE is required for nurses to apply to the 38-credit program. Nurses can enroll on a full-time or part-time basis.
The program also allows nurses to apply 16 credits of graduate-level coursework earned at an accredited college or university toward completion of the program. They must have earned a grade of "B" or higher and earned the credit within the past five years.
What a Nurse Educator Does
Depending on the setting, nurse educators focus on teaching new nurses or providing continuing education to working nurses. They may create and oversee academic programs in schools of nursing. They also work in medical facilities, creating continuing education programs for working nurses that focus on a particular area of nursing.
Their academic work often includes doing scholarly research and providing peer review of others' work. Nurse educators may work in vocational, associate, and bachelor's degree programs. Nonacademic work settings include staff development at large health care operations, school nursing, community organizations, and public health agencies, and as nurse recruiters.
Salary for Nurse Educators
The salary for nurse educators reached an average of $81,350 nationwide in May 2019, according to the U.S. Bureau of Labor Statistics (BLS). The top 25 percent of those in the profession earned more than $97,390 a year.
New York State employs more nurse educators than any other state in the country, according to the BLS. The state offers a higher average salary than the national average at $91,900. Also, the New York City metropolitan area employs more nurse educators than any other metro area in the country.
How Excelsior College Prepares Nurse Educators
Excelsior College created the MS in Nursing Education for skilled registered nurses who have a love of teaching. The program's courses enhance critical skills and nursing judgment, as well as institute a commitment to academic rigor. They include:
Transformational Nursing: Innovation, Inquiry, and Scholarship
Theoretical Foundations of Nursing Practice
Research and Evidence-Based Practice
Policy, Ethics, and Population Health
Designing a Learning Environment
Program and Curriculum Development in Nursing Education
Assessment and Evaluation in Nursing Education
Nurse educators also take courses in advanced pathophysiology, pharmacology, and physical assessment. The program culminates in a 6-credit Capstone course that gives nurses the chance to apply skills learned in the program in a 247.5-hour practice experience as well as a discussion, reflective journal, scholarly paper, and project presentation.
Becoming a nurse educator allows registered nurses to work in a field that combines a passion for teaching with clinical nursing skills. Excelsior College's online MS in Nursing Education program allows nurses entry into this important career with the skills they need to succeed.