Caring for the Whole Person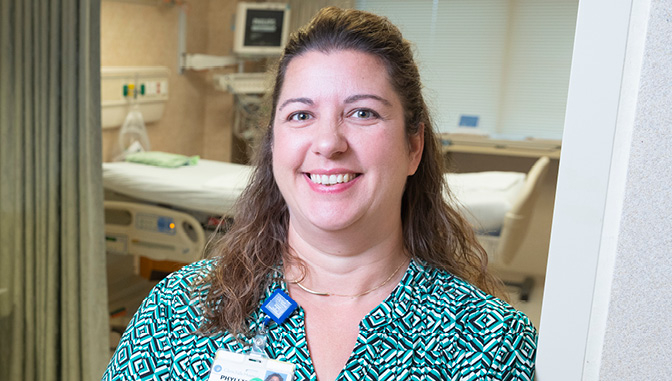 Phyllis St. John Believes Being a Nurse Means Always Being Compassionate
For Phyllis St. John, being a nurse helps make her who she is. She says, "As soon as I started doing it, I knew it was what I was meant to do." St. John works 12-hour night shifts, three days a week at Glens Falls Hospital, and she believes caring for her patients is her top priority.
St. John, of Queensbury, N.Y., has been a nurse for 20 years, and has spent her entire career at Glens Falls Hospital. As a child, she thought she was going to be a doctor. Although that plan changed, one thing didn't: her desire to help others. "I always felt like I wanted to be a person who cares for others," she says. She found a program that allowed her to get her LPN license at no cost and says that once she started nursing school, the information just came naturally. She remembers, "I understood the science behind nursing, and was already a natural caregiver."
St. John returned to school to obtain her bachelor's degree when a position arose for an assistant nurse manager. As an LPN, she had heard that others attended Excelsior College to become RNs and decided to do the same. The biggest reason she chose to attend Excelsior was the ability to attend classes on her own time. She was also awarded a scholarship from Glens Falls Hospital to pursue her higher education. St. John earned an associate degree in nursing in 2006 and re-enrolled at Excelsior in 2013 in a dual degree program to earn a Bachelor of Science in Nursing and a Master of Science in Nursing, focusing on nursing education. She completed the program in 2018.
Currently, St. John works 12-hour night shifts in the ICU. "Direct patient care is the majority of my time, followed by computer time, charting, etc.," she explains, adding that she and the other nurses on staff make a collaborative team. "We are a very cohesive group…We all band together when it's busy, helping each other however we can," she says. St. John notes she and the other nurses are constantly communicating about the steps that need to be taken with patients in challenging situations.
St. John believes to work in her field, one must have flexibility and compassion. She says it's always important to be prepared for whatever comes your way, but to also be mindful of your patient's feelings and point of view. "One thing I say so often in my job is that we are doing our everyday work, but to those we are caring for, this may be the crisis of their lives. We need to remember that, and be compassionate and empathetic to each individual," she says. After all, to St. John, being a nurse means taking care of the whole person and looking at each person as an individual.
St. John intends to use her master's degree to help others. She might pursue being a hospital educator or a clinical examiner for the Clinical Performance in Nursing Examination, the culminating exam of Excelsior's associate degree in nursing program.  She explains that she wants to be able to tell students that with hard work, they can do well on the exam. "I hope to be able to counsel those who don't pass to give them some tools to help them [for] next time," she adds.
St. John also has some helpful advice for those looking to become a nurse: "Don't expect what you're doing to be easy, ever." Some things will be easy and some things will be hard, she says, but she reminds people that, "As a nurse, you will do things that bring you joy and be so rewarding. But you will also do things that challenge you physically, emotionally, and morally…It truly is a rewarding career."