How Does Online Learning Work at Excelsior College?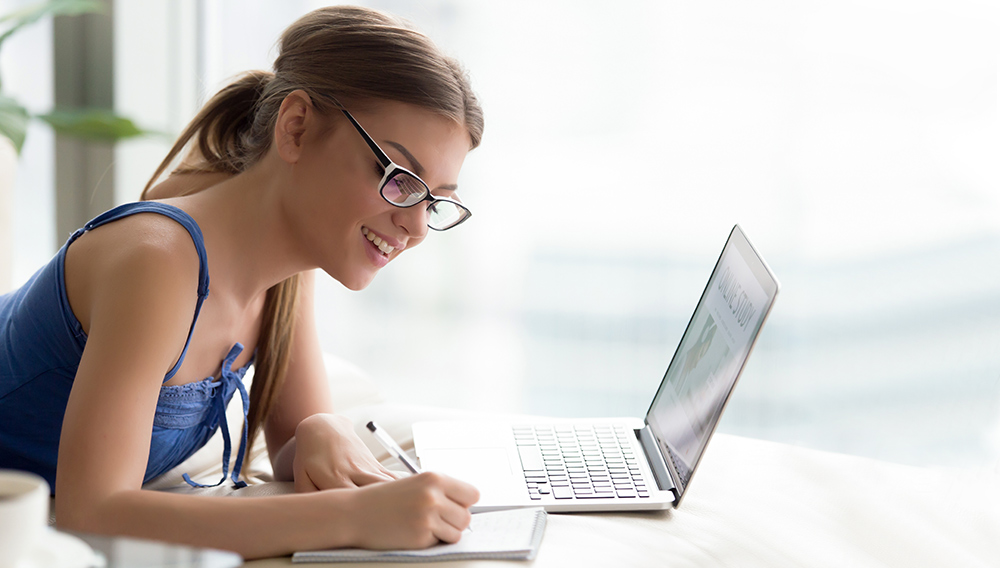 For potential college students trying to find high quality online degree programs, Excelsior College offers the advantage that comes from an academic institution with decades of experience in online learning.
Excelsior College officials recognized long ago that the flexibility of online programs is especially important for working adults who return to school to earn an associate, bachelor's, or master's degree. They can schedule coursework around their busy personal and professional schedules. They also can access courses from anywhere they have an internet connection.
Excelsior College students can take courses in either an 8or15-week format. Typically, an 8-week course requires a minimum of about 10 to 15 hours of work per week, according to Jeanne M. Mannarino, director of student engagement and staff training with the Office of Student Experience and Success Services at Excelsior College.
"Therefore, it is generally recommended that students who are juggling full-time work and other commitments focus on one course per 8-week term, or be in a position where they can set aside 30 hours per week if they take two courses," Mannarino said.
Details on Taking an Excelsior College Online Course
Mannarino recently talked about different aspects of Excelsior College's online programs, walking through the process of how a student starts with online courses. Her insight offers valuable information to those considering enrollment in one of the school's many 100 percent online degree programs.
MyExcelsior
All courses are offered through the school's Canvas Learning Management System and accessed through the student's MyExcelsior log-in page. Students create a MyExcelsior account when they inquire about or apply to the school. Course access becomes available the day the class starts.
Students also can access their MyExcelsior account through a Canvas app This is useful to check messages or discussion threads, but not to complete assignments or do other coursework.
Through their MyExcelsior account, students can manage all aspects of their academic experience. This includes access to applications, transcripts, courses, chat rooms, discussion boards, a book exchange, a study buddy finder, and more.
"We sometimes refer to MyExcelsior as the virtual campus center for students," Mannarino said. "It's a great hub of information or starting point to link out to other services or information."
Online Orientation
Students are not left on their own to figure things out. All newly enrolled students take a course called Orientation to the Online Classroom. The class allows students to become familiar with the online classroom where they will interact with faculty and other students. They learn to navigate the online system, explore course features, and find out some of the online learning expectations for students.
Online Classroom Features
Excelsior College organizes courses into one module per week. The courses are asynchronous, meaning students do not have to be online at any specific time. The college designs all  courses with the same navigation features, allowing students to interact with faculty and other students via discussion boards. All content is within the course, including links to any labs or integrated textbooks at outside sites.
When Students Need Help
Mannarino said students should reach out to their instructor if they need help and added that "no question is a stupid question. Students are not on their own and should feel comfortable reaching out with any question or issue, big or small."
The Canvas app also includes access to resources, including the Online Writing Lab, Library, tech support, and a tutoring service. Both Excelsior instructors and academic advisors work with students if they face difficulties with a course.
Students also have access to a private messaging feature that they can use to contact instructors if personal information is involved (such as illness, difficulties, or concerns with the class). There are also special discussion board threads designed so everyone in the course can participate.
Frequently Asked Questions
The following four questions are among the most asked questions from incoming students.
Are there online textbooks? Most courses use traditional textbooks, often available in electronic format. Advisors also keep a list of courses with low-cost textbooks that they share with students. There are also rental options for course materials. In addition, there are courses that do not require students to buy textbooks.
Are there video lectures? Some courses use videos and other multimedia content, but not for instruction in most cases.
Are there group projects? Some courses do use group work, but not all. As students work through a degree program, they should anticipate that they will, at some point, work with other students on projects. "Part of the goal of courses is to prepare students for the workplace, where they will likely find the need to work collaboratively with others on projects," Mannarino said.
How often are discussion boards used? Each course has a discussion board, with at least one discussion per week that includes instructors. Students typically must submit a post in the discussion and reply to at least a few classmates.
How Students Get Grades
The online system has a grade book that students can access. Course instructors grade assignments within a week of the due date and provide feedback. If students do not receive helpful feedback, they should contact the instructor or an academic advisor.
Online college degree programs have made education accessible to millions of people who otherwise could not earn a degree. With the experienced faculty and staff at Excelsior College, students can find it more convenient than ever to realize their academic and career goals.