Lifelong Teacher
Pamela Addy's evolving career leads her through four decades of health care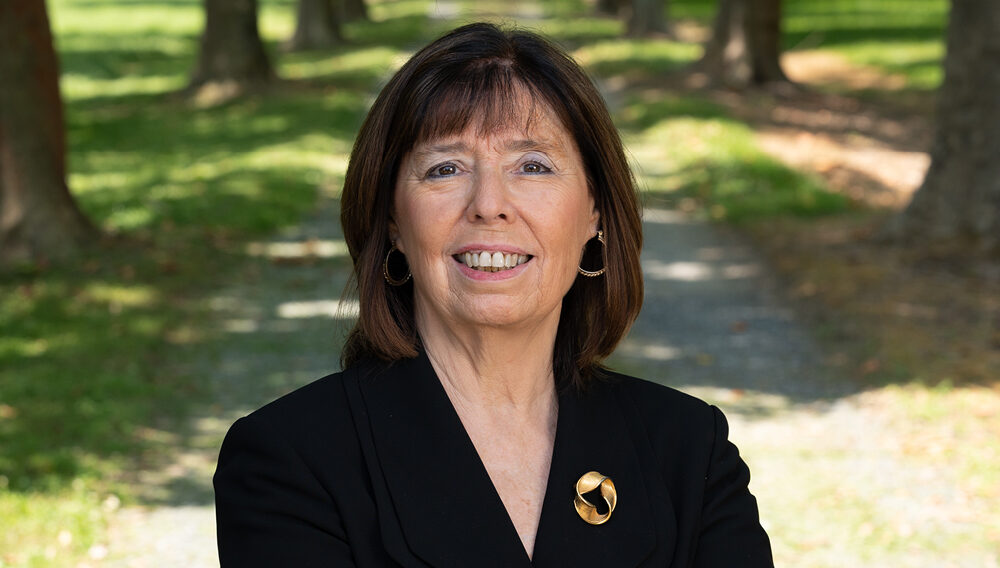 After four decades in health care, Excelsior graduate Pamela Addy, vice president of clinical and ambulatory services at the University of Maryland Medical System, has many accomplishments she can be proud of. One of those accomplishments is teaching and mentoring her leadership teams to use data and evidence-based practices to deliver health-care to those in need—something that is her passion.
After earning a certificate in radiologic technology at Sinai Hospital in Baltimore, Maryland, in 1976, Addy began her management career at Hand Surgery & Rehab Center of New Jersey. With dedication and hard work, she worked her way through the ranks at several institutions; she was executive director at the Pennsauken MRI and Imaging Center in Pennsauken, New Jersey, the managing director at the Broad Street Open MRI and Imaging Center in Philadelphia, and director of Diagnostic Imaging and CardioPulmonary Services at Lodi Memorial Hospital in Lodi, California. In 2005, a recruiter asked Addy to come to Sutter Health in Northern California to help develop the ambulatory diagnostic imaging network. Nearly 15 years later, the Sacramento, California, region had more than 20 ambulatory imaging centers and was conducting 750,000 imaging exams per year. It was then that Addy was at a point in her career where she began looking for other opportunities.
Any career growth would require Addy to earn her first college degree.
"What is the swiftest way I could put a bachelor's degree on my resume?" Addy recalls thinking when she was looking to change her career. She discovered Excelsior College and enrolled in the Bachelor of Science in Health Sciences to Master of Science in Health Sciences program. She took a combination of courses and CLEP and DANTES exams for credit toward the degrees. During the four years it took Addy to earn the degrees, her family was not aware of what she was doing. It was a personal experience for her, so she didn't tell her family until she had earned her degrees in August 2019.
"I made a plan: I looked at which subjects I knew something about already," she says. "Excelsior made it so simple. I was able to just patchwork all of this together to be exactly what I needed for that [the bachelor's] degree, and then be able to bridge over to the master's." Addy notes that 40 years' experience in the health-care field gave her helpful life experience that she applied in the exams and the online courses.
After earning her degrees, Addy became an adjunct faculty instructor for the bachelor's program for medical imaging and the BS in nursing program at the Gurnick Academy of Medical Arts in California. Teaching fits right in with Addy's job at the University of Maryland Medical System, too, where she has been vice president since January 2020. "One of our primary objectives as a leader in health care is to develop people. This is where coaching, mentoring, and education support a healthcare organization to achieve its mission through its team members," says Addy. She oversees the clinical services at three hospitals, a free-standing emergency department, multiple ambulatory facilities, and two urgent care facilities—the buildings of which are spread over five counties.
A large part of Addy's job consists of strategic planning, which she describes as taking everything she's learned through her career and applying it to current problems in order to establish priorities and allocate resources to reach intended results and outcomes. She applies educational training, like the Lean Management System, to her employees' work, as well as the Lean process improvement approach to eliminate waste and reduce errors in work processes. "Our goal is to become a high-reliability organization with the highest standards of safety and quality," says Addy.
Addy also encourages her employees to be passionate about health care, and she leads by example. It's her mission as a healthcare leader to address access to health care and create and support healthier communities. "The problem is often access, whether it's access through affordability, access through transportation, access through insurance, access through being able to get time off from work," explains Addy. During the COVID-19 pandemic, she has worked with the county departments of health and Chesapeake College to create a mass-testing site so people in more rural areas would have access to testing.
When reflecting on her career so far, Addy says she has been able to apply each life experience to the next and encourage others with her life lessons. One of her greatest accomplishments was helping to develop a successful ambulatory imaging network at Sutter Health, and she is excited for what is next. With her degrees from Excelsior, she is sure she can go anywhere and do anything. "You can be anything. Here I am: this is my story from a radiologic technologist in diagnostic imaging and now vice president. There is no ceiling, you can be anything."
More from Pamela Addy
What is the most important trait for someone to succeed in health care?
I think you need to be humble. Keep learning. Ask for feedback. And reflect. I reflect on everything… . One more thing which is critical is relationships. It is invaluable to build solid relationships along the way. It means you always have someone to reach out to when you have a need or a question. I still reach out to people I worked with 20 years ago and they reach out to me. It is part of the continuous education process.
What is the best business advice you have received?
I was taught to have integrity in everything you do. That is the best advice. I grew up in health care management with leaders who demonstrated integrity. It builds trust. I'm also very transparent. I'm probably a lot more transparent than some other leaders. If you're always demonstrating integrity, there's no downside to being transparent. It's absolutely the foundation.