A Walk to Remember
William Klee's hard work in the Navy, at Calvert Cliffs Nuclear Power Plant, and in Excelsior's courses leads him to accomplish his dream of walking the stage at Commencement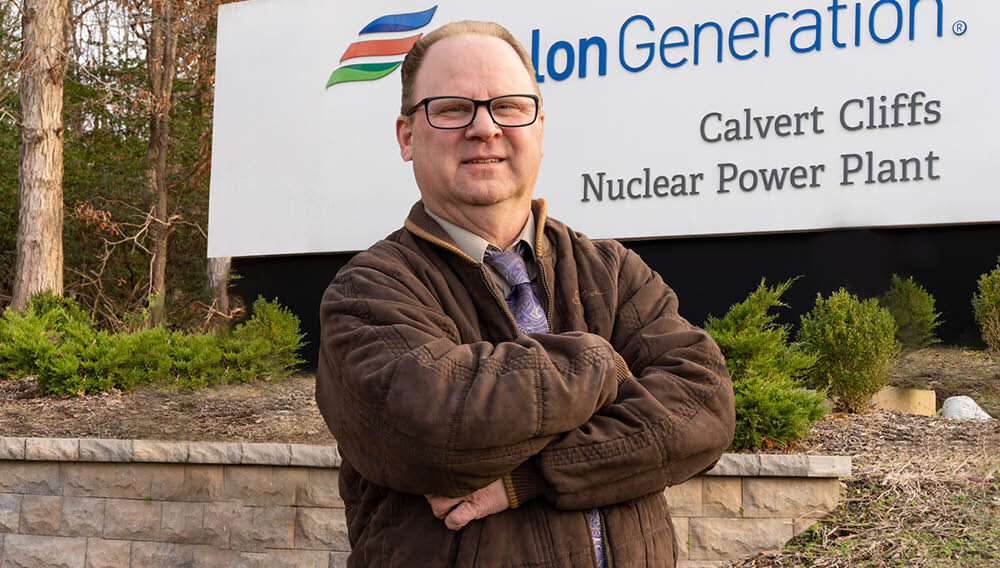 His plans were all set, but William "Bill" Klee, of Lusby, Maryland, almost didn't walk the stage at Excelsior University's 51st Annual Commencement in July 2022. He had earned a Bachelor of Professional Studies in Technology Management, and he had excelled in (and enjoyed) his courses—he even tripled up in several of his trimesters! The problem came in late June of 2022 when he received a horrifying call saying his daughter had been in a terrible motorcycle accident. Forget about attending Commencement, was she even alright?
Klee and his daughter had often ridden together as EMTs. She was a full-time EMT and he, too, has his certification, but mainly just drove the ambulance. It was a time he cherished. So, when he learned of her accident that occurred, he was devastated. Any thoughts he had about traveling out of state to attend Commencement took a back seat to supporting his daughter's recovery.
As she overcame her injuries, she and Klee's wife encouraged him to keep his plans to go to Commencement. It was to be his first time hearing his name called and walking across a stage to celebrate an educational milestone.
Klee had finished high school in the middle of the school year and when it was graduation time, he didn't have a chance to walk the stage to get his diploma because he was in the middle of Boot Camp for the U.S. Navy. He became an electronic technician, working in calibration labs and special communications facilities. As an electronic technician, he used technical systems to assist with detection and tracking of subsurface threats and enable secure communications with U.S. Naval submarines to maintain fleet combat readiness. "You're following your procedures, you're testing equipment out, and then if it doesn't pass, you have to figure out why it didn't pass and fix what is wrong with the items and get it back to where it belongs," stated Klee, explaining his job. He noted that the Navy's electronic standards had to meet and trace back to the National Institute of Standards and Technology's (NIST) guidelines and standards.
Klee's job future changed due to one single mistake. While checking an item that needed to be calibrated, Klee noticed a problem. He brought the discrepancy to his superior, who disregarded the issue. As a result, the situation ended up causing damage to the equipment and electronic standard for which Klee was blamed. "But because of that incident, I was given an opportunity that I probably never would have had," he says. He was moved from the Calibration Lab to the Planning Group on the naval base in Groton, Connecticut. "I just absolutely fell in love with planning. I swore if I ever got the opportunity again to do planning like that, that I was going to take it."
Klee got his wish. When he separated from the Navy after 12 years of service, he began working at Calvert Cliffs Nuclear Power Plant in the Instrument and Controls Shop. When the opportunity arose in 2001 for him to move to Planning, he jumped at the chance. In 2010 he made the move into Projects. If it wasn't for that one incident in the Navy, he feels he probably wouldn't have gotten that opportunity. "I wouldn't have had that taste and desire for working in Planning, which then led me to Projects, which ultimately led me to Corporate IT Projects. So yeah, it was definitely one of those happy mistakes…," says Klee, "I try to tell people, 'Don't be afraid to make a mistake, because you never know where it's going to take you.'"
Now Klee is an IT project manager, a position he obtained after earning his bachelor's degree from Excelsior University (then Excelsior College). Michael Johnson, then the associate dean in the School of Undergraduate Studies and a retired Navy veteran, directed Klee to Excelsior, and Klee was able to apply credits from Richland Community College and his time in the Navy toward his degree. The educational partnership between Excelsior and his employer was beneficial, too, and the admissions process was easy. "It was a very simple process…I was able to take the background information [training and courses] that I had done between the Navy and my other classes and submit that for review. I was able to approach my training department at Calvert Cliffs and they were able to just send me a letter that verified what training I had already been through and submit that to Excelsior as part of our partnership."
Klee worked hard to complete his studies, even going so far as to take a 15-week course and two 8-week courses in the same trimester for several trimesters. Thankfully, he had the support of his family to help him get through the process and he earned his bachelor's degree in October 2020.
And the best part? On Commencement Day in July 2022, Klee's wife and daughter were hundreds of miles away, just returning from one of his daughter's many doctor's appointments, when they began to watch the live-streamed ceremony on their phone while stopped at a red traffic light. It just so happened they were watching at the exact moment Klee crossed the stage. It was a moment the family will never forget.
More from William Klee
What makes a good leader?
"I try to work with my people a lot more. I don't want to be a boss, I want to be somebody that they would look at as more of a mentor, a leader, rather than just somebody there to say, 'No, you need to do this or that.'"
What's one piece of advice you could give people?
"I would say, 'Don't be afraid to try because you never know where it will take you.' The time that you will ultimately fail is when you don't try….' I've seen people on LinkedIn that were saying that they were just starting back to school, and I would try to encourage them. It took me over 30 years to complete my degree. I can tell you without a doubt, I'm glad I did. You have to take that first step; you have to start trying. Don't give up. Keep going and then finally you can say, 'I did it.'"
In His Own Words
Hear William share his story in his own words in this clip: