Provost's Team Moves the College Toward a Strong Future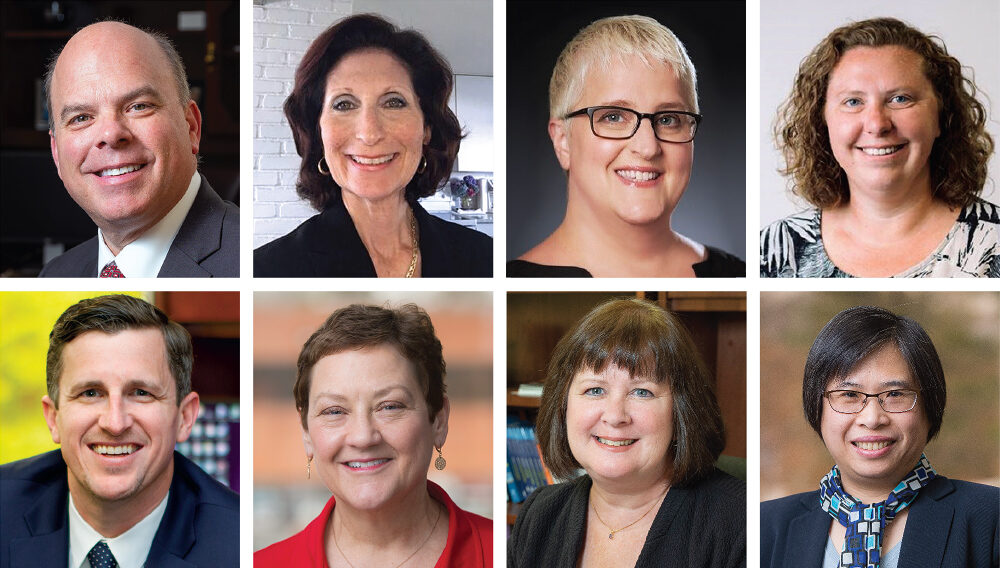 The academic leadership team includes (clockwise from top left) John Caron, provost and vice president of academic affairs; Lisa Braverman, vice provost for academic and faculty support; Heather Chakiris, associate vice president for student success; Breanne Simkin, associate vice president for enrollment management; Scott Dolan, dean of the School of Graduate Studies; Mary Lee Pollard, dean of the School of Nursing; Catherine Seaver, dean of the School of Undergraduate Studies; and Lifang Shih, special assistant to the provost focusing on curriculum design and innovation.
To set Excelsior College apart among its peer institutions and to enhance students' learning experience, three highly experienced individuals have joined the College to create a robust Provost's Office under the leadership of John Caron.
Caron's arrival at Excelsior as provost and vice president of academic affairs in July 2019 coincided with retirements of vice provost positions. He decided to take the opportunity to build what he calls a dream team of external professionals from the educational community to diversify Excelsior's executive leadership. To accomplish his goal, Caron brought aboard Lisa Braverman, Heather Chakiris, and Breanne "Bre" Simkin.
Braverman is the vice provost for academic and faculty support and comes from Fairleigh Dickinson University where she was the dean of the Petrocelli School of Continuing Education. She is no stranger to helping adult learners reach their educational goals, and she brings experience building bilingual courses specifically targeted to Latinx students with some credit, no degree. One of the initiatives in Excelsior's strategic plan is to grow enrollment and increase the diversity of our students to reflect national demographics. One of the ways to do this is by expanding opportunities to make Excelsior an attractive option for Latinx students.
"As the College community commits to more diverse and socially just environments and educational practices, I am spearheading with Dean Seaver the creation of new, more inclusive degree pathways for Latinx adults that will ensure higher levels of community, equity, and success for this student demographic, with elements such as bilingual instruction and multiculturally sensitive student service models," says Braverman. "I am proud to be part of the Excelsior community and deeply appreciate the vision of its collaborative and supportive leadership who are committed to a new, exciting future."
"You've got to have firepower, you've got to have talent. To do that, you've got to have people who don't let anything get in their way. And can think out of the box. And these leaders are it."
– John Caron, Provost and Vice President of Academic Affairs
As the associate vice president for student success, Chakiris provides leadership and guidance on several strategic priorities, including rapid virtual and in-time service for students. She works collaboratively with the vice provost, the associate vice president for enrollment management, the schools, and other key College partners, to create a seamless student experience. Chakiris comes from UCLA Extension and prior to that, Penn State World Campus. She led the creation of the student co-curricular experience at Penn State World Campus, which many other institutions have since tried to emulate. She then brought her expertise to UCLA, where she worked toward the same goals as the chief student experience officer.
"My passion for the last 20 years has been developing support structures that help online adult learners succeed in reaching their educational goals despite everything that life throws at them that makes them want to give up," says Chakiris. "I feel fortunate to be working with the talented provost team who share the same passion and drive to create an extraordinary student experience and to cultivate a culture of extraordinary service that distinguishes Excelsior as the gold standard in online education."
Simkin, the associate vice president for enrollment management, previously worked at Lindenwood University in Missouri, where she was the associate vice president for enrollment management. Lindenwood University is a four-year nonprofit institution, with programs that span from baccalaureate to doctoral as well as with professional and continuing education opportunities. Simkin's knowledge is steeped in financial aid and registrar work, and she is responsible for the development of data-driven strategies to increase student enrollment, while working collaboratively with various stakeholders to ensure positive enrollment growth. "Serving the underserved has been a large part of my professional career and motivates me in the work we do within Enrollment Management," she says. "It is wonderfully fulfilling to know that we are helping change the course of a student's future. I look forward to establishing new enrollment opportunities that will take Excelsior into the next 50 years."
As a priority project, the new team is rolling out an enrollment management strategy that includes recruiting, enrolling, retaining, and graduating students while maintaining a successful fiscal and academic plan. Part of Caron's strategy is encouraging the growth of new programs to attract students. The academic world is constantly changing, and Excelsior needs to keep up with it, as well as with the growing needs of the corporate world.
"Part of our growth strategy needs to include offering new programs again; it's been several years since the College launched new programs," says Caron, and explains that the deans have been working on developing degree programs and micro certificates designed to meet the needs of learners and employers.
In June, four graduate-level programs, the Master of Science in Organizational Leadership with an Emphasis in Technology and Data Analytics, Master of Science in Human Resource Management with an Emphasis in Diversity and Technology, Graduate Certificate in Data Analytics, and Graduate Certificate in Distributed Workforce Management, opened for enrollment. That same month, the LPN to Bachelor of Science in Nursing program opened for enrollment. Programs in mechanical engineering technology, renewable energy, and sustainability management are in development for launch in the Fall 2022 trimester. Planning is also underway on a bilingual learning experience for Latinx students. In addition, the Associate Degree in Nursing program's revised curriculum was introduced to new students enrolling as of January 1, 2021.
Provost Caron is ready for the provost's team, including the vice provost, associate vice presidents, deans, and special assistant to the provost focusing on curriculum design and innovation, to be ambassadors for Excelsior College when they present and speak at conferences, serve on panels, write blogs, and "essentially elevate the brand awareness and reputation of the College on a national level." The alignment of the leadership for academic and faculty support, student success, and enrollment management within the Provost's Office will help solidify Excelsior's position in the educational community going forward. He adds that with the new experience and knowledge on board, Excelsior will be able to find ways to do what no other college and institution is doing.
Says Caron, "You've got to have firepower, you've got to have talent. To do that, you've got to have people who don't let anything get in their way. And can think out of the box. And these leaders are it."