Light at the End of the Tunnel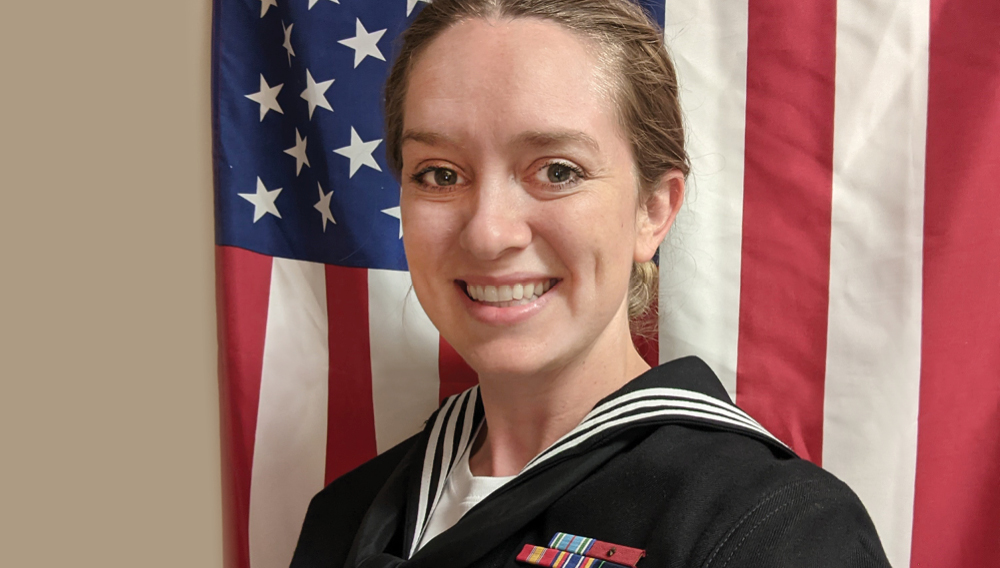 Kayleah Morris, a dialysis technician and U.S. Navy Hospital Corpsman 2nd Class, never imagined that she would be dealing with an influx of patients from a global pandemic. Stationed at Walter Reed National Military Medical Center in Bethesda, Maryland, she handles many COVID-19 patients in the Intensive Care Unit who are suffering from organ failure.
"In the beginning [of the pandemic], many people were scared of working in hospitals. I was deathly afraid that I would bring COVID home to my family," said the mother of two. Thankfully, there are a lot of precautions in place to prevent staff from contracting the virus, and Walter Reed, known as the Presidents' Hospital, has tremendous resources for personal protective equipment (PPE) and containment measures; they keep COVID patients in negative pressure rooms and staff wear positive air pressure masks.
Morris works 12-hour shifts in this environment so that she can alternate workdays with her husband and avoid using outside childcare. Still, she manages to take college courses online; she is just three classes away from finishing her bachelor's degree. "I am very excited to see the light at the end of the tunnel," she said. "Nothing is going to stop me from finishing at this point."
–  –  –  –  –  –  –  –
Originally from Albany, New York, Morris could not afford to go to college after high school, and working two jobs to make ends meet did not leave time to take classes. So at age 23, she enlisted in the U.S. Navy, went through basic training, and was stationed in Maryland. "I joined the military so that I could go to college," she said. With her dialysis training and experience, she figured nursing school was the logical choice, so in 2014, she enrolled in Excelsior College. "I completed almost the entire nursing program before realizing that I didn't want to be a nurse," Morris said.
Her advisor helped her transfer her nursing credits into a different associate degree program, in Liberal Arts. After earning that degree in June 2019, Morris got to work on a bachelor's degree in Social Sciences with a focus in Human Services. "One of my jobs, before I joined the Navy, was working with developmentally disabled individuals, and I loved it," she said. "I would like to work with that population again if I could make a decent living."
The change in program extended her time to degree completion a bit and coupled with recent changes to the military tuition assistance program, she had to apply for Pell Grant and other funding to pay for classes. "I am so appreciative of the Excelsior scholarship I received when I did," she said. "It came at a great time and allowed me to continue."
Not even a pandemic can stop Morris from completing her bachelor's degree. "I have worked so hard for this for so long, there's no slowing me down now." After graduation, Morris plans to continue on for a master's degree in clinical mental health counseling. "I want to deal directly with people and be able to see firsthand the impact that I'm having."
SCHOLARSHIP RECIPIENT QUOTES:
"I cannot thank you enough for your generosity and support in ensuring Active Duty Military personnel such as myself receive an education. With the recent changes to the tuition assistance funding, your help is needed now more than ever."
"Working 12-hour shifts at the hospital and raising two children makes it difficult to pursue my degree. Financial limitations only add to my barriers to higher education. Your contributions have made it possible for me to attend college this fall and continue to work towards my bachelor's degree. For the sake of my future and my family, from the bottom of my heart, I thank you."