Setting Up Your At-Home Study Space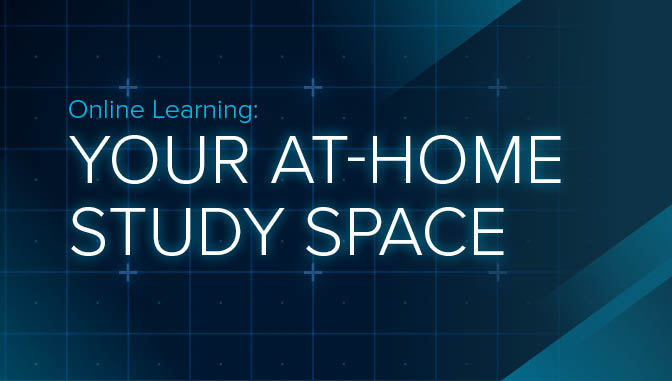 Are you now taking your classes at home? Many of us are now sharing space at home with multiple family members, from spouses to children who are out of school, to perhaps even parents.
As you transition to online classes, it is important to have a dedicated space for your studies. What should that space look like? First, you want to find a quiet location that you can dedicate only to studying. This may be a room or, if you need to be available to children or other family members, you may choose to cordon off part of a room to work.
Once you have found your spot, here are five tips for setting up your home study location:
Equip your space properly. This means having a desk with a computer or laptop, a comfortable chair, a spot for your textbooks and papers, adequate lighting, a calendar to organize all of your due dates across courses, and something to write with. If you have a laptop or tablet, consider adding an external keyboard and mouse for comfort and to minimize risk of injury.
Ensure your space is ergonomically healthy. As a learner, you may be studying for hours at a time. Having your chair and computer set up to prevent discomfort—or worse, pain—is important. Check out this C-Net article for helpful tips on setting up your desk. It covers chair setup, computer setup, and more. If you are looking for a more in-depth resource, check out the OSHA (Occupational Safety and Health Administration) work station checklist.
Protect your eyes. Eye strain is common for people who study for long periods of time. There are easy ways to prevent this. Ensure you have adequate lighting. This means not too harsh and not too dim. Avoid glare on your monitor. Be sure you are sitting at least a full arm's length away from your monitor. If you are using a laptop or tablet, be sure your screen is positioned so you don't have to strain to view it.
Need a camera and microphone? You may be transitioning to online classes abruptly and now realize you need to use Zoom or a similar program to attend lectures or do group work remotely. Be sure that your equipment works—before you need it! Also, think about any privacy concerns in advance of turning on that camera. You don't want your bank statement sitting in full view of the camera lens, and you may not want your children to be on camera in front of relative strangers, either.
Stand up for your health. We all know that sitting for long periods of time is unhealthy. There are many options to combat this. Stand up every hour or so and walk around. Try standing up while you study. I often take my laptop to my kitchen counter so that I can stand and do my work.
The impacts of the COVID-19 weigh heavily on many of us. Being compelled to attend college from home when you are unsure how to do it successfully can add to the stress. In addition to these five tips, try to make your space uniquely yours. Add items that motivate and enhance your comfort. You might add a loved one's photo or a plant to your space. You might listen to music, as well. Spotify and Pandora have dedicated music stations for focused studying. Be sure, though, to not clutter up your workspace to the point where you actually lose focus or increase your stress.
These are but a few of the ways you can set yourself up for success in your home study area. By arranging your study space in a way that works for you from the outset, you will contribute to your comfort and productivity in your studies for the present—and into the future, even after the crisis is over.