There's An App For That: Sleep Better
Hello! It's Kelli and Hannah your Student Success Coaches again with another monthly app! Are you getting enough sleep?  With the Spring I term and your busy lives in full swing, we want to make sure you are taking care of yourselves.  The best way to start taking care of yourself is with a good night's sleep.  We talk to students on a daily basis who inform us that their busy lives tak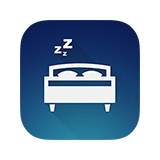 e away from a full night's sleep.  We are here with a new app to squash that!  Read on to learn more about the Sleep Better App.
This is how the app works:
One of the cool features is that it monitors your breathing and motion at night to find the best time to wake you up so you don't feel groggy in the morning. For example, Coach Kelly wakes up anytime between 7:00 am and 7:15 am.  The Sleep Better app recognizes when she is at her lightest sleep cycle and sets the alarm to go off then.  When you set the alarm you submit information about how your day looked.  Did you work?  Are you going to be sleeping in your own bed?  Did you have a stressful day?  Did you drink alcohol or caffeine?  Based on these submissions the app will be able to assess the quality of your sleep.
We understand you are busy students. Sleep is important to keep a balanced life.  Go ahead and download the Sleep Better app.
Kelli and Hannah