A Dedicated Career in Law Enforcement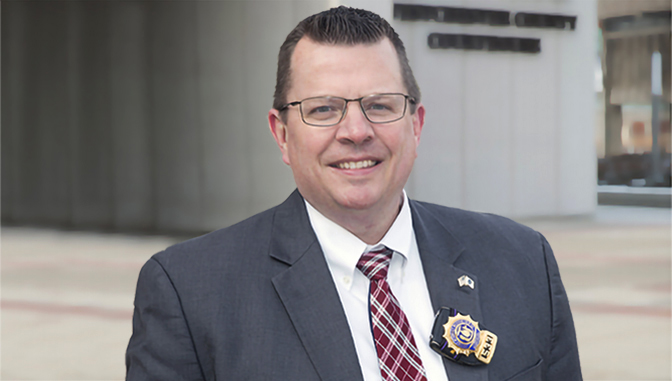 Thomas Drake has spent more than 22 years serving his community
Criminal investigation is not like the popular television show "Law and Order." "Nothing happens in an hour. You don't get the complaint and then an hour later get the conviction," says criminal investigator Thomas Drake. The actual events may even be more exciting, too. For instance, just last year, Drake participated in a drug sting operation that included a 7-month wiretapping investigation.
Drake, of Hastings on Hudson, New York, grew up wanting to be a police officer. "It was something that was on my radar pretty much my whole life," he says. First, he enlisted in the Navy in 1992, following in his father's footsteps. He thought his time in the Navy would provide him with the discipline and education he would need to enter law enforcement. Following four years in the Navy, Drake entered a paramedic program, but didn't finish; instead, he was hired by the New York Police Department. He later spent six years in the suburbs of Atlanta, Georgia, as a member of a local police department's SWAT team.
Now a criminal investigator (detective) for the Westchester County District Attorney's Office, Drake is part of the Public Integrity Unit, where he and his partner handle investigations into public officials, public employees, and anyone who holds licenses in the state, such as doctors, lawyers, and accountants. "As far as the investigations that I'm responsible for—they run the gamut," says Drake, explaining that investigations can include employee theft or even employees trying to defraud the government. Drake and his partner recently arrested a lawyer for stealing from clients.
There are no guidelines to solving a case. Cases begin with receiving a complaint, then Drake starts background work, which may include financial research and interviewing people. He says by the time he confronts the suspected offender, he has most of the answers he needs. Drake takes as long as he needs to solve a case, too: "It can be quick or it can be long. I have one open case right now that's probably been 9–10 months long."
Drake and his partner have full caseloads and will often check in with each other about interviews they have to conduct, but the work is mostly autonomous. At the beginning of each day, they clock in at work, go through their email, and then get on with the day's cases. They are constantly updating attorneys in the DA's office on progress with their cases.
Drake has been with the Public Integrity Unit for more than six years, and has been involved in cases involving organized crime (including wire-tapping on the Mafia and Russian mob), mortgage fraud following the market collapse in 2008, and political investigations. One of Drake's more notable cases involved working a case of a forger with a stalking background who was reusing a notary's signature to forge hundreds of illegal documents. This particular case required significant field work to research complaints and check character witnesses as well as ongoing collaboration with the county clerk's office because many of the forged documents were filed there. The suspect ultimately entered a guilty plea.
When Drake first joined the Public Integrity Unit, he decided to go back to school to earn his degree. He remembered some of his friends in the Navy had attended Excelsior (then Regents) College and decided to apply. "I always had in the back of my mind, when I want to get this college done, that's where I want to go," he says. "It took me a few months to get used to it, but once I got used to Excelsior's format, I just started moving as fast as I could to get it done." Drake earned a Bachelor of Science, majoring in criminal justice, in 2014. He immediately enrolled in Pennsylvania State University and earned a Master of Public Administration in 2016.
Drake has also spent more than 20 years as a volunteer fireman and is commander of his American Legion post. He has dedicated his life to public service and when he thinks about why he has spent more than 22 years as a criminal investigator. "I enjoy helping people. I enjoy the challenge of trying to find out who did it," he says, and adds that he is where he is today because of the different paths he's taken over the years.
The next path Drake plans to take, after his retirement from law enforcement, is to teaching criminal justice. At one point in his career, he was an instructor at the police academy in New York City. "I think that's where I got the taste of teaching young adults…," he says. "I felt like I had something to give, I had some mentoring to give." With his knowledge and experience from many years in law enforcement and public service, Drake has much to offer the next generations.
More from Thomas Drake:
Best book/podcast/e-newsletter that's relevant to your industry:
"I've read a lot of good books about law enforcement and have a few friends who have authored their own. One of the most compelling ones I've read is 'Circle of Six' by Randy Jurgenson. It is a firsthand account by a NYPD detective who was there on scene. While reading the story, you can really feel the emotion and stress that he must have been going through at the time."
Best piece of business advice you've received on the job so far:
"I've received a lot of advice. I think the best advice is to keep learning: learn from your coworkers, learn from case to case on what you could have done differently, always stay up-to-date on the current trends in law enforcement, and never be too proud to ask for help."
Networking tips you would give to current Excelsior students:
"There are many resources that Excelsior and the Alumni Association provide, including a comprehensive list of alumni. Don't be afraid to use that to help you in your future. The only mistake you can make is not asking for help."