Nursing Behind Bars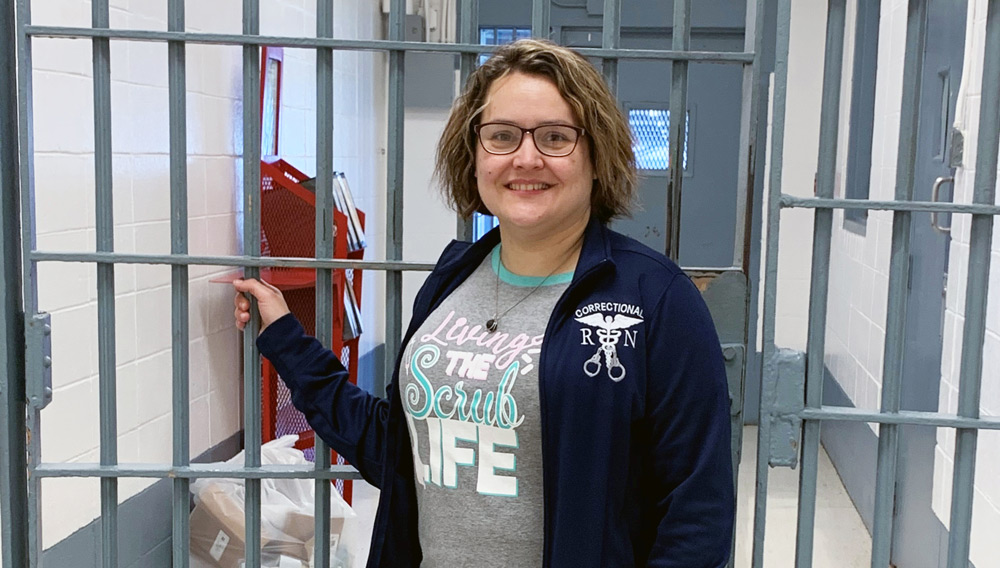 Melissa Moore chooses a career in correctional nursing
If you were—or are—a nurse, what would be your dream job? Would it be working as a neonatal nurse? As a school nurse? In the ER? In any case, working in a prison infirmary probably isn't at the top of your list. For Melissa Moore, of White Hall, Arkansas, however, it was the place she finally felt she belonged.
"It's really not that scary," Moore says about working in the infirmary at the Tucker Unit of the Arkansas Department of Corrections in Tucker, Arkansas. As director of nursing, Moore oversees a staff of 12 nurses, three certified nursing assistants, and three ancillary staff members. In her role, she assists the nurse practitioner and physician. The infirmary at Tucker has a full dental clinic and provides vision exams, medication passes, and minor surgery.
She says that most of the inmates she sees are respectful and are even eager to help out. Of course, they don't like hearing the word "no," says Moore, but they'll go so far as to assist the nurses when restraining other inmates having seizures so they can be safely transported. Some inmates are also just looking for a reason to leave their cell and don't really have a medical need, so Moore says she needs to be strict in weeding out who actually requires treatment. And some of the inmates—the patients—really do need it.
"A lot of these guys have never had quality medical care because they have addiction problems or they're in and out of the system…They don't know how to advocate for themselves, so we have to advocate for them," says Moore.
Moore, who will soon have her third degree from Excelsior College, believes she has an important role to play in the lives of her patients and the nurses she oversees. Not only is it rewarding to care for people who otherwise might not be able to find care, Moore enjoys how much education is involved in her role. "I absolutely love working with younger nurses and sharing my years of knowledge and experience with them and seeing them learn something new and to experience something new for the first time," she says. She adds she would even consider being a nursing instructor at some point in her career because she loves sharing her knowledge. In the short term, she hopes to help grow the nurse training and education program within her region of the Arkansas Department of Corrections.
Moore never saw herself working in corrections, but when her husband got sick, she started working at the infirmary on the weekends and grew to enjoy it. She says when she came to the Tucker Unit she discovered it was the right position for her, where she could use all her nursing skills in a unique environment with patients with a variety of medical conditions. Up until that point, she had moved between nursing jobs, working in urology, with orthopedic patients, in the OR, and as an OB/GYN nurse. She spent some of those years as an LPN and some of those as an RN. She earned her associate degree in nursing from Excelsior College in 2013.
"I chose Excelsior for a couple of reasons. One, it was completely online …And because it had a good reputation, and my state board approved it, and they recommended it actually," Moore says. She wasn't sure she could finish the Associate Degree in Nursing program, but she credits strong discipline and determination with completing it. After having such a good experience earning her first degree at Excelsior, Moore decided to return for the bachelor's in nursing program. She credits Excelsior's online Facebook nursing community with helping her stick to her studies and maintain confidence. "Facebook and the message boards and Excelsior—just felt like they were always there. There was always someone to kind of keep you motivated," she says. She earned her bachelor's degree in 2017 and is currently enrolled in the master's in nursing education program.
Moore stays motivated in her job because she has always wanted to help people. Being adopted as a sick child, she always wondered what her purpose was. It wasn't until she was able to care for her parents in their final days, like they had cared for her, that she knew she was needed. She believes her patients also need her and even though corrections is almost a taboo subject, she believes she can make a difference in the lives of the inmates. "It's really rewarding to know that at the end of the day, you helped somebody that most of society turned their back on," she says. Learn more about Excelsior College's Associate of Applied Science in Nursing.
More from Melissa Moore:
What's the biggest difference between bedside nursing and correctional nursing?
"The whole aspect of compassion is different. You know, there's no therapeutic touch, there's no sharing personal stories. You have to learn to still show compassion without overstepping those bounds. So a lot of active listening. A lot of, you know, stick to your word. If you say you're going to look into something, then actually look into it. Those are the ways that we're able to show compassion and care to our patients."
What is the most important trait that you need to succeed in your job?
"You really have to be confident in yourself…you have to be confident that you're going to make the right decisions and that you know how to be a team player."
What is the best advice you've ever received?
"It actually came from my dad. He said to always further your education; that nobody gets anything out of your education but you, and that's always kind of stuck with me…And if you ever stop learning, that's when you get yourself in trouble."