An Advocate for Others
Josayne Anderson-Tejera's degrees help her support and mentor others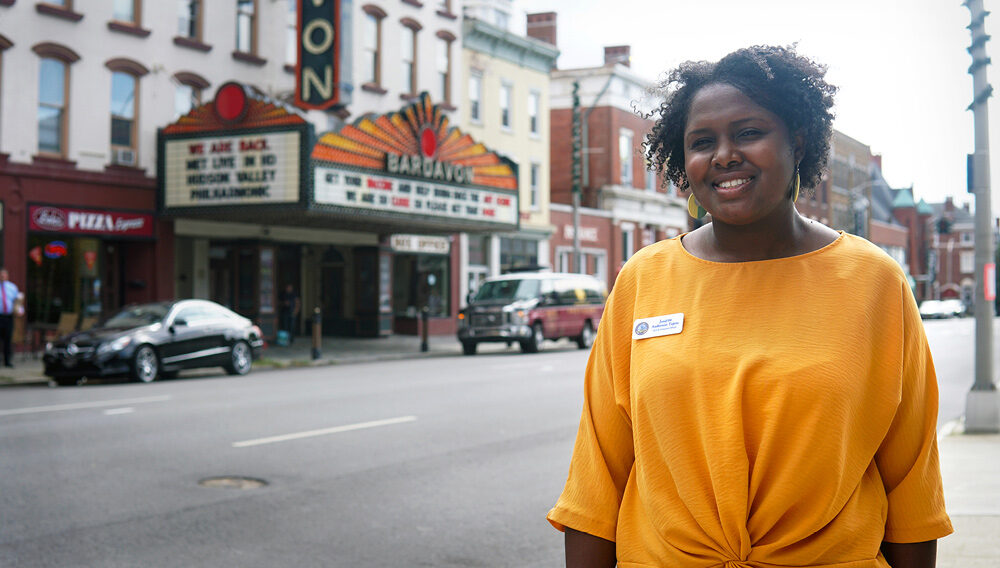 Josayne Anderson-Tejera, of Glenham, New York, has been interested in public service since volunteering in the community in middle school. Her passion led her to pursue an education and career in criminal justice, and she is now the equal employment opportunity and inclusion officer for Dutchess County.
Obtaining a job in the public sector had been on Anderson-Tejera's mind since she began pursuing higher education. She attended the University of Hartford after graduating high school in 1999 and studied English and creative writing as a major and criminal justice and Spanish as minors, but she did not earn a degree. She began her career in criminal justice after her sister informed her of a civil service exam for a correction officer position with the New York State Department of Corrections and Community Supervision (NYSDOCCS). "Once a career within the civil service system was shared with me and the rewarding benefits such as health care, six weeks paid vacation, and retirement, I have worked in the public sector ever since," she says.
In May 2016, Anderson-Tejera became an internal affairs investigator for the Office of Special Investigations within NYSDOCCS because she wanted to pursue a new opportunity. While in that role, she learned about Excelsior College from a fellow member of New York State Minorities in Criminal Justice. "One of our members shared his experience of obtaining his degree from Excelsior College through their partnership which intrigued me to apply to finish my degree that I put off for a long time," says Anderson-Tejera. She earned a Bachelor of Science in Liberal Arts from Excelsior in 2016 and then earned a Master of Science in Criminal Justice in 2020.
Excelsior College's study-at-your-own-pace learning style and online platform fit in with Anderson-Tejera's lifestyle. She says her life followed Excelsior's "life happens, keep learning" mantra. She moved out of state when she graduated high school, became pregnant with her first child, and experienced domestic violence, so she had to put earning her degree on hold. During this time, she also started a nonprofit organization, the Love Quest Foundation formerly known as Once For All Inc., which hosts annual awareness and prevention advocacy campaigns related to teen dating violence, domestic violence, and sexual assault. "So for me, life happens, it can literally happen to you physically, as well as in different aspects of your life…I was just reminded to not give up," she says. She adds that attending Excelsior online "gave me the flexibility as a full-time worker, a full-time parent, and spouse to give me the freedom that I needed to complete my degrees."
Four months after earning her master's degree, Anderson-Tejera became the equal employment opportunity and inclusion officer for Dutchess County in November 2020. She facilitates the Diversity and Inclusion Committee, investigates discrimination and harassment complaints, and conducts outreach to help diversify the workforce, and partner with different committees. "I continue to strive for equity, to advocate for others, to build an inclusive environment, and have the workforce be reflective of the communities that we serve," she says. Anderson-Tejera says having a master's degree helped her to not only obtain her job, but also to mentor and sponsor others. "I can return the favor of people mentoring and sponsoring me…I can help coach and let people know it's never too late to start and to finish your goals and aspirations. So, it helps me to share my story to encourage other people to continue, even if it's not the traditional age or path that they were on," she says.
Anderson-Tejera enjoys meeting people and amplifying the voices of those who make up the different communities where she works. Thanks to her degrees, she has made a successful career in public service, and now wishes to pay it back to other Excelsior students by being part of the College's Alumni Association, nurturing and mentoring other students. As an alumna, she says it's important to reach back to pull others forward. She says, "We can just continue to share our stories and then somebody will say, 'Hey, that person looks like me. They went through what I went through. I can do it too.'"
More from Anderson-Tejera
On Excelsior's connection with the military and partner organizations:
"One of the organizations that I'm a part of is the New York State Minorities in Criminal Justice, who has MOU [partnership agreement] with Excelsior. And that gives us a discount. But being a military spouse gave me additional, better discounts. So just getting in the door being a military spouse was beneficial."
On networking:
"Networking was one of the most important things that I took out of my college experience. Degrees are great, but networking and building those solid friendships and foundations will be with you forever. You just never know where you're going to be in life where you have to tap someone on the shoulder, or send a resume, or just ask for some advice, or mentorship, or sponsorship."
On being part of Excelsior's Alumni Association:
"Being an alumna at the college and going to our virtual meetings for the association is just important for me, to reach back to pull forward. The more that we champion together, pulling all of our stories together, our resources together, our networks—is important."