Leading the Charge to Document Women Who Served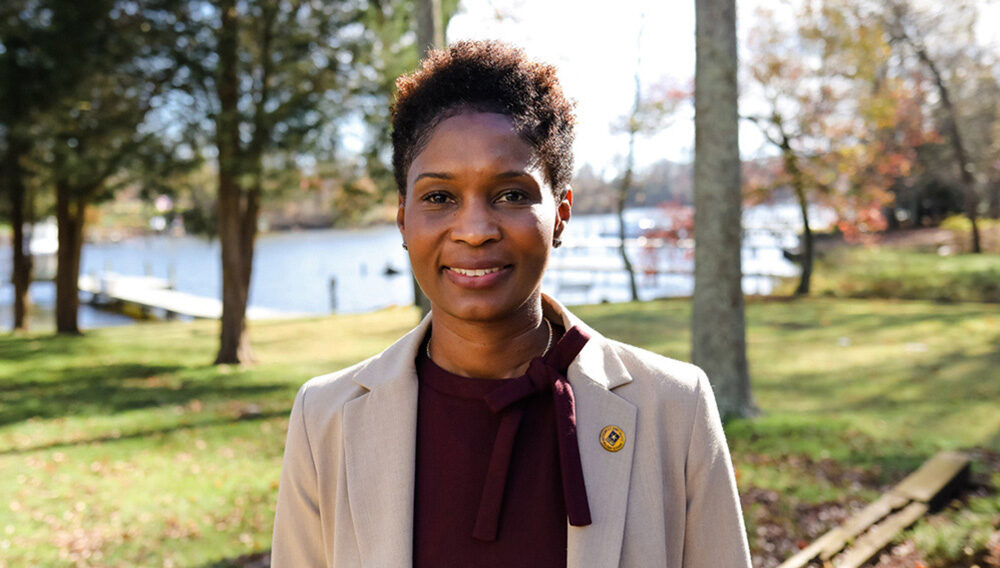 There's a first time for everything, and Lachrisha Parker, a 2012 graduate of Excelsior College with a BS in Liberal Arts, can lay claim to several notable firsts in her life—the first twin to be born, the first in her family to graduate from college, and the first to hold the position of community engagement manager at the Military Women's Memorial.
Retired from the Army in 2018 with 28 years of service, the former master sergeant and Fort Wayne, Indiana, native is now in charge of outreach for the Military Women's Memorial. Located at Arlington National Cemetery, the Military Women's Memorial not only honors the more than 3 million women who have served, but also provides educational resources with interactive exhibits, artifacts, and programs.
Gathering the names and details of so many servicewomen is no easy task. Only 300,000 women's stories are recorded at the memorial, representing only 10 percent of those who served. Parker is rebuilding and enhancing the data from a variety of sources and reaching out to relevant organizations. The memorial's website also offers the ability for servicewomen to submit their own information or for family and friends to enter relevant data about someone they may know.
While Parker admits that data mining can be tedious, the benefits far outweigh the drudgery. "Our mission is to tell the story of women veterans through the registry," she explains. To illustrate her point, Parker recalls one example where a young man and his fiancée visited the memorial. Although the fiancée knew her grandmother had served, she doubted she was documented in the memorial. But when she found her listed, Parker says, "It brought tears to her eyes. She stood in front of our big screen and took a picture of her grandmother's registry," adding, "For people to come and find their loved ones is so rewarding."
A memorial for women is important, according to Parker, because when the average person thinks of active-duty military or veterans, men are top of mind. "It (the Military Women's Memorial) puts women at the forefront of telling our story. This is our home where you can relate to women in service as a spouse, a mother, a servicemember," she explains.
Parker supports her fellow servicewomen in other ways, too. In 2019, she was a top-10 finalist in the Ms. Veteran America competition. Her former executive officer had urged her to participate for several years, but Parker deflected the encouragement, thinking the event was solely a beauty pageant. However, when she realized the proceeds of the competition helped homeless women veterans and their children, she agreed to take part. After all, Parker had experienced homelessness briefly, earlier in her military career when as a 24-year-old single mother she resorted to couch surfing with friends for a time. "Those humble beginnings broadened my horizons," she reflects.
For the talent portion of the competition, Parker lip-synced to the song "This Is Me," from the movie, "The Greatest Showman," because she felt the lyrics reflected her experience. She explains, "It hit home in a lot of ways," noting the words mirrored her struggles in and out of the military as well as those of being a minority woman. Named a Top-Talent Showstopper for her performance, she raised $7,000 that was used to provide housing for the group's target population.
Another way she gives back is as a member of the Department of Veteran Affairs (Center for Women) Advisory Committee Member on Women Veterans. In this role, she advocates for women vets to ensure resources for specific needs such as mammograms are available at Department of Veterans Affairs (VA) facilities. Previously, she notes, most services provided at the VA were targeted toward men and the facilities did not necessarily have an atmosphere that women found welcoming. Fortunately, with guidance from Parker and others, more women veterans are seeking services at the VA.
Now living in Maryland, she also has volunteered as a dental assistant with the Mission of Mercy in Frederick and served at Walter Reed National Military Medical Center–Bethesda in its restorative dental clinic. Parker's dream is to build on her experience and education to launch her own business—a mobile dental clinic to assist women veterans and their children.
Helping her to achieve that dream is Parker's interest in pursuing a master's degree at Excelsior, which she attributes to her positive undergraduate experience in the School of Liberal Arts. "Excelsior was heaven-sent for me," she says. Like many Excelsior students, Parker had gone to a traditional college following high school but found the large university overwhelming. She withdrew, joined the Army Reserve, and eventually enlisted full-time. When she enrolled at Excelsior, she had more than 90 credits and military training that could be applied toward her degree. With children at home, a military spouse, and a full-time Army career, Parker had her hands full. "Excelsior was a good fit for me because I didn't have to find a babysitter; I could be right here at home in the evening and not have to leave work," she recalls. She tapped into her Post 9/11 GI benefits to help fund her education as well as her own financial resources. As a matter of fact, Excelsior is somewhat of a family affair for Parker. Her husband Reggie is a graduate as well, earning an associate degree in 2012.
Through her work at the Military Women's Memorial, Parker hopes to bolster the contributions of women in the military. "We are very intelligent, we are very talented, we don't want to be micromanaged," she notes. "We are trailblazers, we are women of courage and strength, we are leaders. And we must continue to tell and share the stories for generations, one soldier at a time!"