3+1= More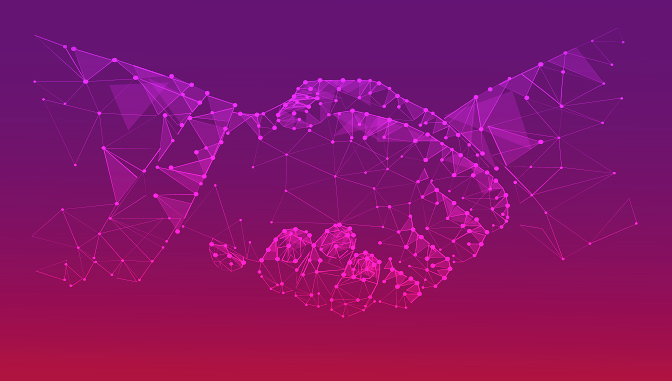 Partnerships with community colleges result in more affordable bachelor's degrees
Two years at a community college, then transfer to a four-year school. It's a well-worn formula that has become a standard path for budget-conscious learners and the first choice for a growing number of students who see the value in the small class sizes, flexible schedules, and low tuition at their local community college.
For many students, however — especially non-traditional students — the decision to transfer to a four-year school comes with its own challenges. Will they be able to afford tuition? Will they be able to apply all their credits to the bachelor's program they choose? Will they be able to work a longer commute and different class schedule around a job and family?
Excelsior College recognizes that although many students leaving community college want to continue on to earn their bachelor's degree, they face significant obstacles in making the transition to a traditional, four-year school. Seeing an opportunity to work with community colleges and extend its mission of educational opportunity for all, Excelsior developed the 3+1 Bachelor's Completion Program in 1990. Providing a unique pathway to earn a bachelor's degree, the 3+1 program lets students earn credit at their community college for an additional year after earning their associate degree and then, in consultation with Excelsior's academic advisors, seamlessly transfer into one of Excelsior's bachelor's degree programs to earn the remaining 30 credits toward their degree. The 3+1 program benefits are available to students from any accredited community college nationwide, regardless of whether the institution has a partnership with Excelsior College, although students from partner schools also receive special pricing.
SUNY Broome Community College located in Binghamton, New York, has been an Excelsior partner for nearly three decades and its president, Kevin Drumm, has seen firsthand how the program benefits students. His college has been a partner of Excelsior's since the program's inception and is one of its most robust supporters. "We've had many students through the years tell us that they wish they could stay at SUNY Broome to earn their bachelor's degree. Partnerships like the one we enjoy with Excelsior College makes this possible," he says.
"I take 8-week courses and that's allowed me to finish up my degree in a year. I started in January and I'm done now in December as opposed to being in school for another two full years, so that's a great benefit."
–Elena Honovich
By allowing students to earn more credit at the community college level, the 3+1 program is a substantially more affordable way to complete a bachelor's degree compared with the cost of two years at a traditional four-year school. Excelsior's online degree programs are an added benefit to students looking for flexibility. Drumm encourages SUNY Broome students, especially those working while in school, to consider the 3+1 program. "While most students choose Broome for our strong academic programs, many also choose SUNY Broome for the cost savings," says Drumm. "Excelsior continues this affordability dynamic upon transfer. Add in Excelsior's common-sense approach to transferring credits, and a student just can't lose. You get a great education at low cost … We know that our online partner colleges, such as Excelsior, play an important role in making higher education accessible to all. Without online options, these students may find it very difficult to continue their education to the bachelor's level and beyond."
A key benefit of the program is that Excelsior offers students transfer guides and the opportunity to work with an admissions counselor during their final year at their community college to devise a course plan that makes the best use of their time and credit. These transfer guides ensure students take only the courses they need to earn a bachelor's degree, which in turn means even greater cost savings and a stress-free transfer into the Excelsior College bachelor's degree program of their choice.
Columbia Greene Community College, in Hudson, New York, is another early adopter of the 3+1 program and Bill Mathews, professor and department chairperson of advising, has seen the benefits the program has had for the college's students. "It [the 3+1 program] provides an amazing opportunity for our students to receive their bachelor's degree while remaining at Columbia-Greene for extra credits beyond their associate degree. The partnership provides clearly stated degree requirements, professional advisement, and tremendous cost savings for our students," he says. Columbia Greene's most popular 3+1 degree path is the nursing program, Mathews reports, noting that the online classes are an added incentive for students balancing work and family. "Excelsior provides flexibility, which is greatly needed and appreciated by the busy working adult student," he adds.
As of 2019, the Kentucky Community & Technical College System is Excelsior's newest partner and was specifically attracted to the partnership because of the 3+1 program, reports Lisa Romano-Arnold, Excelsior's regional director of government and workforce partnerships. "KCTCS makes every effort to create lifelong learning opportunities for our graduates, staff, and faculty. Our new partnership will provide additional access to higher education to help [them] achieve their educational goals of advancing their degrees, advancing their careers, and improving their lives," says Harmony Little, career pathways director at KCTCS.
In addition to helping students on the path toward their degree, Excelsior's 3+1 program supports the mission of community colleges and the vital educational opportunities they provide to communities all across the United States. Broome Community College books approximately $200,000 of tuition and fee revenue annually from the program based on current fall 2019 data and projected spring 2020 enrollment figures. Drumm reports, "Of the current 47 students enrolled in our bachelor's partnership program, 45 have earned their associate degree at the college — which is, statistically speaking, a completion rate of more than 95 percent. That's an extraordinary student success rate matched only by the top universities and colleges in the nation. How could they not be satisfied alumni with success at that level!"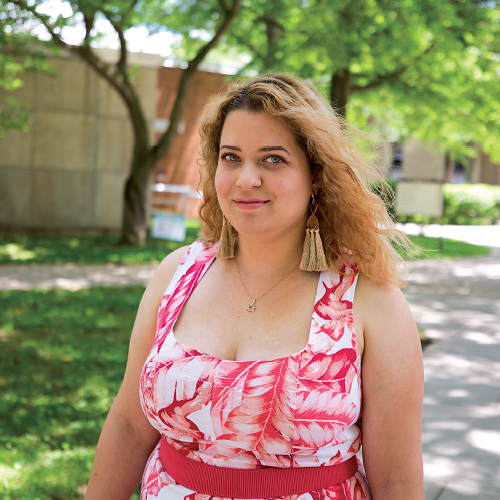 From Eastern Europe to the Empire State, Elena Honovich makes a seamless transition to her bachelor's degree with Excelsior's 3+1 program.
Photo: Sara Forbes – SUNY Broome Photographer
Elena Honovich is one SUNY Broome graduate making the most of the 3+1 program. Originally from Moldova, an Eastern European country located between Romania and Ukraine, Honovich moved to the United States in 2012 and is the owner of a restaurant in Endicott, New York. After she observed one of her employees succeed in earning degrees at both SUNY Broome and Excelsior College, Honovich enrolled at the community college in 2017, earning an associate degree in homeland security in 2018.
Through consultation with a transfer counselor at SUNY Broome, Honovich chose to pursue the 3+1 program with Excelsior College. "I met with [a counselor] and spoke with her and told her what I wanted to do, and she told me this would be a great opportunity for me because I didn't want to move out of the area. I own a restaurant full-time. I work and study and manage a lot of different businesses. She suggested the Excelsior program because it's online and I could do it on my time," Honovich says, mentioning another advantage was the ability to stay longer at the SUNY Broome campus. "While looking at the program, I saw a lot of courses I could take while still on the campus at SUNY Broome. So, I reregistered for another year and got another associate degree in individual studies, and I am now taking my last two courses at Excelsior."
Honovich was able to transfer 68.5 credits to Excelsior College using the 3+1 program and plans to graduate with a bachelor's degree in criminal justice with a concentration in investigative forensics in 2020. The flexible course schedule was one reason she was able to finish her degree faster than she expected. "I'm taking compressed courses, so instead of 15-week courses, I take 8-week courses and that's allowed me to finish up my degree in a year. I started in January and I'm done now in December as opposed to being in school for another two full years, so that's a great benefit," she says.
She plans on eventually pursuing a career in the federal government, a professional path she feels will make the most of her passion for criminal justice and her unique linguistic skills. "I could have applied with my associate degree to be in the local police department, but I wanted to aim higher. Plus, I know a couple diverse languages, so all my professors kept telling me I should aim for the U.S. Marshals or the FBI," says Honovich.
Honovich is just one of many students who took advantage of the 3+1 program to complete coursework for a bachelor's degree in 2019. Excelsior anticipates the program growing exponentially into the future as more students seeking to complete their degrees with minimal debt see its benefits.
How the 3+1 Program Works
After earning an associate degree, community college students can seamlessly transfer to Excelsior College to pursue a bachelor's degree in business, health sciences, liberal arts, nursing, public service, or technology. By taking up to an additional 30 credits at their community college and the remaining credits at Excelsior College, students can save on the overall cost of their bachelor's degree.
There are four easy steps:
1. Students earn an associate degree at a community college (usually 60 credits).
2. Students talk with an Excelsior College admissions counselor to determine credit requirements for their program of interest.
3. Students start on their bachelor's degree by taking additional courses – up to 30 credits – at the community college, at the community college's tuition rates.
4. Students earn a minimum of 30 upper-level credits with Excelsior College via online courses, independent study for credit by exam, or a mix of both options.
---