Akila Sooriyabandara Is Going Places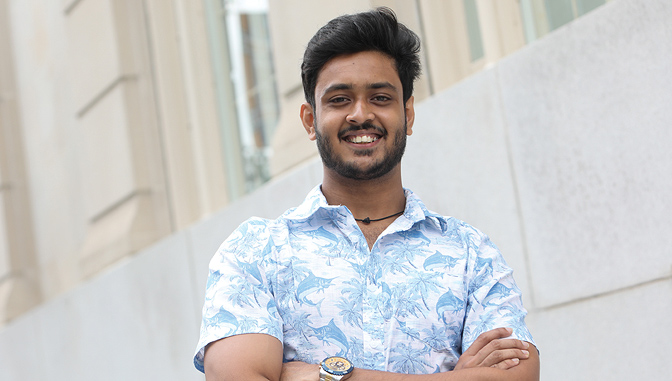 Logging more than 29 hours on planes, trains, and automobiles, Akila Sooriyabandara has the distinct honor of being the student who traveled the farthest to attend Excelsior's 48th Annual Commencement Ceremony in Albany, New York, in July 2019. However, Sooriyabandara's truly epic trip from his hometown of Kadawatha, Sri Lanka, an island country located off India's southern coast, almost didn't happen at all.
Free Time Fun:
Music and the gym
Support System:
Mom and Dad
Secret to Success:
Sticking to a schedule
The 23-year-old information technology graduate had plans to bring his entire family with him to the United States but with only a few weeks to go before the big day, his VISA appointment at the U.S. Embassy was rescheduled. With time running out, Sooriyabandara was fortunately able to secure his own VISA, but his family's paperwork did not come through in time and he was forced to make the long trip alone. Meeting up with an uncle located in Washington, DC, he made the final leg of his journey to Albany by car the day before the ceremony.
Sooriyabandara's journey to Commencement actually started years earlier as a student at the American College in Sri Lanka where his professors recommended he continue his education at Excelsior, which was then an educational partner of the college. Interested in computers from a young age, he knew right away he would pursue a degree in technology and enrolled in the Bachelor of Science in Information Technology program in 2016. He had never taken online classes before and was nervous about navigating the distance and time differences. "Before this, I had never taken online courses. So this was a whole new experience for me. And it was quite challenging. But I really liked it." He ended up relishing the new connections he made with his instructors and classmates. "They have discussions, where you had to discuss everything related to your classes. I got to meet the other friends who were in my classes. It was really nice," he says.
"Before this, I had never taken online courses. So this was a whole new experience for me. And it was quite challenging. But I really liked it."
–Akila Sooriyabandara
In addition to exploring his talent for technology with his international classmates, favorite courses like Operating Systems and Computer Systems Architecture and Human-Computer Interactive Design showed him new ways of looking at the world—an ability that will be useful as Sooriyabandara is already pursuing a postgraduate degree in diplomacy and world affairs in Sri Lanka. With future plans to work in international relations as a diplomat, Sooriyabandara's next adventure will surely include a focus on helping those less fortunate than him. "I like to help others by giving them something, or even just seeing them happy, it's such a feeling you can't describe," he says.
He credits his parents with his success so far and although they were unable to join him at Commencement, they weren't far from his thoughts on that day.
"I especially want to thank my mom and dad for making this dream come true. They believed in me when I wasn't even believing in myself," he says. "So all the credit goes to my mom and dad. And I want to thank Excelsior College, because it gave me the chance to do this degree."
---