Faculty Focus: Jim Holton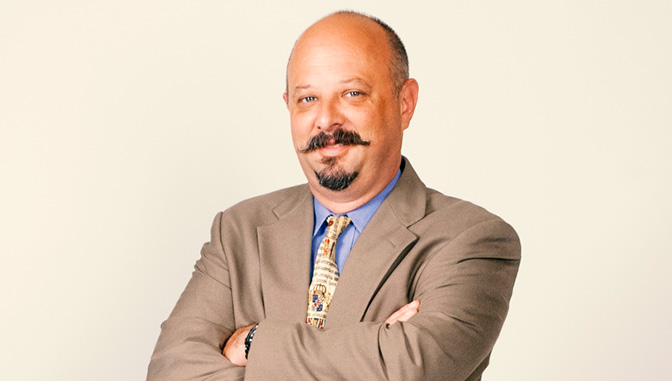 Higher education has changed a lot since instructional faculty member Jim Holton attended college, especially in the realm of technology. For example, when he started college, students still used a card catalog and computers to search for items elsewhere in the library. Now, information is readily available at students' fingertips. Holton understands that students communicate and learn differently today via online learning, and is always trying to make sure they have the best possible experience in this age of online education.
Holton, of Murfreesboro, Tennessee, has been a faculty member with Excelsior College since 2011. He teaches HIS 350 World War I, HIS 353 Holocaust, HIS 101 U.S. History, and the History capstone. Holton's understanding of the Excelsior student and his creative teaching methods earned him a Distinguished Faculty of the Year Award in 2017. A three-time graduate of George Washington University, he earned a bachelor's in international affairs in 1992, a M.Phil. in 1998, and a doctorate in history in 2002.
Holton was the course designer for the history capstone and says the revised course, "helps students to see 'behind the curtain' of the historical profession and to analyze how we as historians see the past and how we recreate the past." Instead of just memorizing facts, he says, students analyze what it means to study and how we approach the past.
Holton knows students in his courses aren't "typical" college students. In fact, he believes this term applies less and less; it's no longer for the "under-22 crowd," says Holton. "Education is also much more flexible or casual than it once was. Students take courses for more reasons, and complete their curriculum at different paces and at different times," he says, adding that it isn't unusual to have parents, career-changers, and lifelong learners in his classes.
Holton says he, "strongly believes that a good online education should make the student feel connected to the course and to the institution." To better connect his students to his courses, Holton has developed a "Holton History Help Line" for students to call him whenever they need help or want to connect with him. He also uses short videos he shoots at his home that cover anything from brief announcements to more complex topics. His calico cat will sometimes make an appearance, as well. Holton says, "She certainly doesn't add much to the historical discussion, but she certainly makes the videos stand out!"
He also has some organizational tips for his students: setting up a personal schedule to follow and looking at the upcoming course schedule. "This does the most to ensure that school work is a priority…Look at your module early in the week so you'll know what's coming up and be able to plan for it," says Holton.  Holton believes that "stick-to-it-iveness" is most important for students working toward their degree. "A student who can be involved in courses regularly will do well, and each course will seem more like a community of learners," he says.
Holton also advises students to be able to engage with other people in their subject area. "If you can make it relevant, more people will be impacted by your research," he says. He adds some job hunting tips, such as keeping your resume and curriculum vitae current, applying to different places, and relaxing during phone and in-person interviews. It's also important to be well-versed in your subject area. Holton wishes he had carved out an academic subject niche earlier than he had. He says, "Choose to start becoming an expert in a field that you like and which has potential."
When he isn't teaching, Holton can be found walking his husky mix and beagle-lab mix, watching science fiction movies, or exercising on his bike. He continues to be an innovative course designer and teacher and says his ability to be creative is thanks to Excelsior: "Excelsior really gives faculty the tools to bring their own style and knowledge to a course."